Baden
Warm region in the very southwest of Germany - among others, great rich pinots, both white and red.
I'll just quickly finish the report on Fritz Keller's and Aldi's project begun here with the rosé, third of the bunch: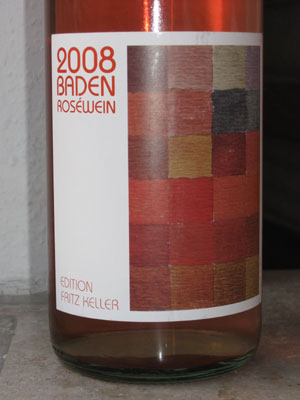 Fritz Keller Rosé
Is this the first rosé review on this blog? I'm nervous...
Very pretty salmon-copper-colour. Much lighter than the really pink stuff, but far from the dull brownish-orange that you get in many german rosés. [read the full post...]
White crystals on the cork. Shiny, golden colour. A nose of (flowery) honey and stone fruit, with a faint hint of mineral; peach. In the mouth honey, smooth, caramelised peach, very smooth, a little spice, nicely aged. At first, we noticed a little malt in the finish (think malt beer), but that disappeared after 15 minutes or so; a little bitter towards the finish - not entirely unpleasant though. It made me want to have a soft, not too sweet cheese cake.
A nicely aged Riesling that was very drinkable but lacked that little something to be truly, truly memorable.
Nicely transparent cherry red colour (good. No tampering and pampering by adding juice from more colour-intensive grape varieties here)
This wine smells seriously good - a real pinot nose of raspberries, sour cherries, and a hint of manure (which is also good - embrace it). [read the full post...]
Smells fresh, with appetizing apple and pear fruit, in no way artificial (a pleasant surprise), but not very deep either.
In the mouth, a lean wine with strong, maybe not completely ripe acidity, nicely subdued and unperfumed fruit again, a little grassy, a hint of minerality, and a shortish finish.
Rather atypical for a Pinot Blanc from Baden, where I have come to expect cantaloupe, almond and buttery flavours, this is nothing to get excited about, but a fairly honest, basic fresh white
nonetheless. It will go well with most summery food, and many people used to northern italian whites (e.g. the wine drinking population of Munich) will find this a well-made version of what they know and like. [read the full post...]
From Baden's interesting, but little known sub-region of Markgräflerland,an area between Freiburg and Basel, named after the ancestral territory of the margraves of Baden, comes another unexpectedly serious, yet fairly priced Pinot Noir:
Surprisingly dark and dense cherry red.
Concentrated smell of earthy cherries, a few plums and leafy forest floor. Very very promising. [read the full post...]
Fritz Keller, current owner of one of Baden's pioneer wineries and a gourmet restaurant in the Kaiserstuhl (http://www.franz-keller.de/), has collaborated with Aldi (Süd), Germany's legendary discount food retailer. Under the Brand name "Edition Fritz Keller", he has produced both a Pinot Noir and a Pinot Blanc from Baden, contracting with a great many smaller growers of the region for grapes. In this quest to bring top-quality wine to as many people as possible, Fritz has, as the back label pompously informs us, found inspiration in the "Bauhaus" school of architecture and art.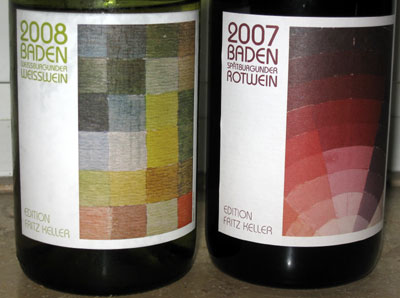 Unexpected pleasures are the most enjoyable. We had confidently expected to spend the best part of this first day of the pentecostal holidays stuck in traffic jams. But no, for once we actually managed the early start we always try for and reached the half-stage of our usual drive to the black forest, lake Constance, in good time and in beautiful early-summer sunshine, and what's best: with extra time.
I had had Aufricht, the rising star winery of the region, and arguably the lake's best, in the back of my mind for some time, and clearly, it was now or never: Over bumpy vineyard roads and after some false turns, we reached their gates, and were lucky. They were open for tasting, even for unannounced and slightly car-dishevelled customers.
Straw-coloured, on the lighter side.
Ripe apricots and other ripe yellow fruit, rich, some perfumy citrus aromas as well.
Very young and fruit-driven in the mouth, nice acidity, peach and grapefruit notes sprayed onto a creamy body.
This is very much a "made" wine (think cultured yeasts, think low temperature fermentation) and although it has substance, polish and even some spice, it could have been made in South Africa, in Friuli, or some other place where very good winemakers know exactly how their wine should taste in the end. Nothing wrong with that, but it didn't work for me just now. I can't rule out that this might have turned into something with more depth and a sense of place with some bottle ageing. Who knows?
Surprisingly dark colour for a Pinot. Smells very ripe, black cherries, some marzipan and some smoked bacon. In the mouth well integrated, but still a tad too dominant oak, very dense and powerful, nutty, no signs of age.
Undeniably classy and powerful, this Pinot ranges between the "german" (oak, warmly nutty) and the "french" (tight acidity and tannin, cherries) style. Impressive and very yummy wine from Baden's Kaiserstuhl, but I would have liked it with a bit less oak.
Tastes deeply, most interestingly of fleshy peach, tart , very cool somehow, herbal, but also of spicy vegetables (artichokes?). Very promising.
Very dry in the mouth, noble Riesling fruit with perfect acidity and great mineral after-taste, but this wine's signature is the 'cool' feeling on the palate, Gletschereis-Bonbons, you know them, and an almost sharp herbal intensity. It's like a herbal tincture on overheated skin. [read the full post...]
Cherry red, with an orange-brown rim.
Phantastic smell, finest red berries, sour cherries, dry autumn leaves, a nice sour touch.
A bit morbid and smoky in the mouth, like eating berries by a wood fire, enormous minerality.
A melancholy, touching wine with secrets, like a trail into the woods ("down from the door where it began..."). Loved every drop of it.