Weingut Keller
It's not a typo (my auto-correct feature suggests "Riesling" instead), I haven't had too much to drink (sadly), it's not a new marketing term (as you probably are not sure how to pronounce the full name of this beauty you may have figured this out on your own) --- Rieslaner is indeed yet another of those German grape varieties you may have never heard of. You don't have to be too confused though, as Riesling was in fact one of its parents. I'd like to think Riesling was the father, whereas the Silvaner grape surely must be the mother, but I am probably falling for half a dozen sexist clichés here. However, one cliché is true: this German wine is sweet indeed. Very sweet. And delightful!
So let me introduce you to the child of my two favourite German grape varieties, a bright and fun kid that just doesn't like to travel much from home.
The Keller winery in Rheinhessen is among Germany's finest, no doubt. Keller regularly receive high praise from wine critics and their wines command impressive prices. Recently, a double magnum of what some consider the top wine in the Keller range, the Riesling G-Max, fetched €3,998.40 at an auction, making it Germany's most expensive young dry wine. Now, can you imagine that the German authorities would even consider not allowing winemaker Klaus-Peter Keller to release one of his wines to the market? And yet this is what happened to the Silvaner I am introducing today.
Feuervogel gold capsule
What could have happened, you may wonder? Was the wine contaminated, a health risk perhaps? No. The authorities objected to the 'Feuervogel' arguing the wine was not typical for the region - and hence not worthy of being approved for sale.
delivery of 2009 wines
This will be a source of great joy, especially as I hear so many good things about the 2009 vintage...
My last few wine weeks were dominated by Pinot Blanc, so it seemed a good idea to return to the wonderful world of Riesling - in this case to the German wine region of Rheinhessen, where the Keller winery is based. Kellers have an awesome reputation and the demand for their premium wines is high enough that they can sell them in subscription. The wine to introduce today is not one of them, it is Keller's basic Riesling, no subscription necessary and a reasonable price.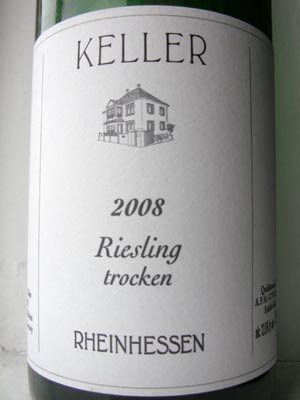 It does not happen often, but it always leaves me a little sad when it happens. You open what promises to be a nice bottle of wine and then you realise that something has gone terribly wrong. Today it was a 2008 Weißburgunder (Pinot Blanc) from Keller - it should have been a nice and jolly food companion, perhaps creamy with hazelnut, and just pleasant to drink. What came out of the bottle is still causing pain to my palate.
It started with a smell of smoke - not unpleasant, actually quite tempting and unusual. Lots of bubbles in the glass and the wine not as clear as it could have been. And then a bitter taste of smoke, burned wood, sharp, almost acidic bad feet and nothing pleasant about it. Most wines I have come across that had cork did have something pleasant, some hint of character below the nasty taste (often wet cardboard). Here: nothing. It is like something very bad had creped into the bottle and killed the wine, destroyed every memory of it. [read the full post...]