Dr. Heger, Oktav, Weißburgunder Kabinett, 2008
Yet again it is back to Baden for the Wine Rambler (this year I seem to drink more and more wine from Germany's sun-kissed southern wine region), and yet again a wine from the Heger winery: a surprisingly fresh and fruity, but otherwise very typical Pinot Blanc, if you want the short summary.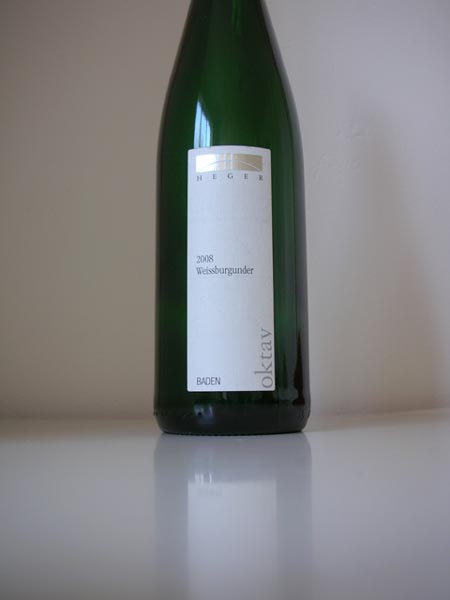 Okay, so maybe that was too short. The wine has very clear colour, if it was not for a noticeable amount of tiny tiny bubbles - it seemed rather like a fresh 2009 then an 08. The nose was quite flowery, in particular elderflower, an impression that was enhanced by aromas of orange blossom and peel, plus some grapefruit, talcum powder (so I have been told by my drinking companion) and melon.
Melon and orange peel do also make an appearance on the tongue, together with mandarin and lots of lime. This is a really fresh and light example of a German Pinot Blanc, but it is still assertive enough not to be mistaken for a faint wallflower. It also has noticeable fresh acidity - not super strong, but for a Pinot Blanc...
Not quite as exciting as the 2008 Oktav Pinot Gris, the 2008 Weißburgunder is still a thoroughly enjoyable wine that should be good fun this spring and summer.
---