2012 - looking back over a year in Wine Rambling
Vineyards in northern Yorkshire, dentists, wine museums without wine, finding the pink soul of Riesling, drinking some of the best and worst wines of Germany, finishing unfinished business in Washington, almost enjoying fermentation, sex and murder - it is hard to think of something 2012 did not have on the cards for us.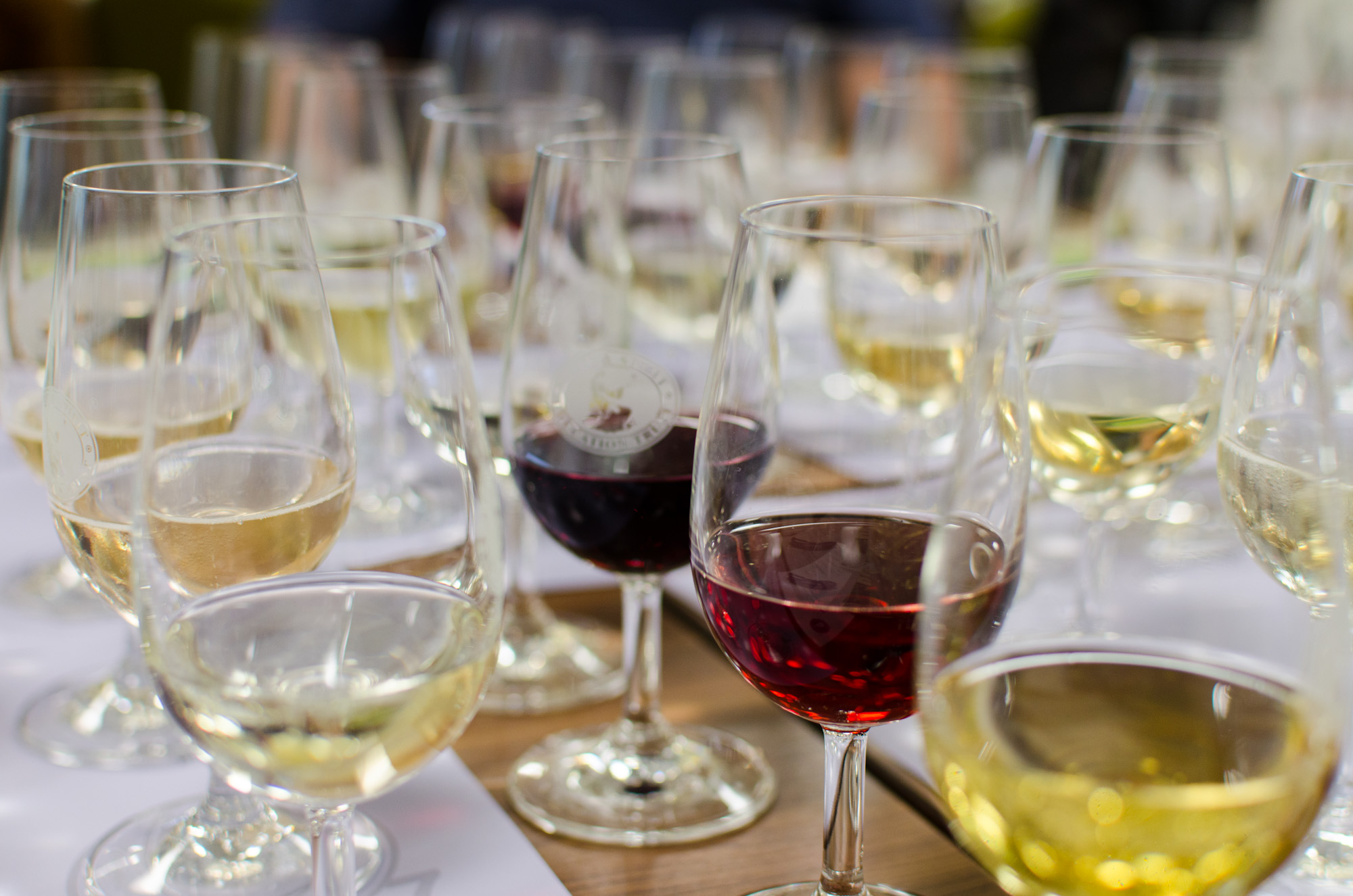 So before the New Year really starts it is time to look back over a year of wine rambling and pick up a few of the high- and lowlights.
January
January is traditionally the quiet month of the year. Everyone complains about heaving eaten too much, dreams of losing weight or drinking more sensibly. Not so me, I don't believe in this approach as statistically the best chance of ensuring an idea fails is to make it into a New Year's resolution. Julian, however, consequently follows his tradition of a wine-free January - and wants to convince you in a historical Retox vs. Detox ramble.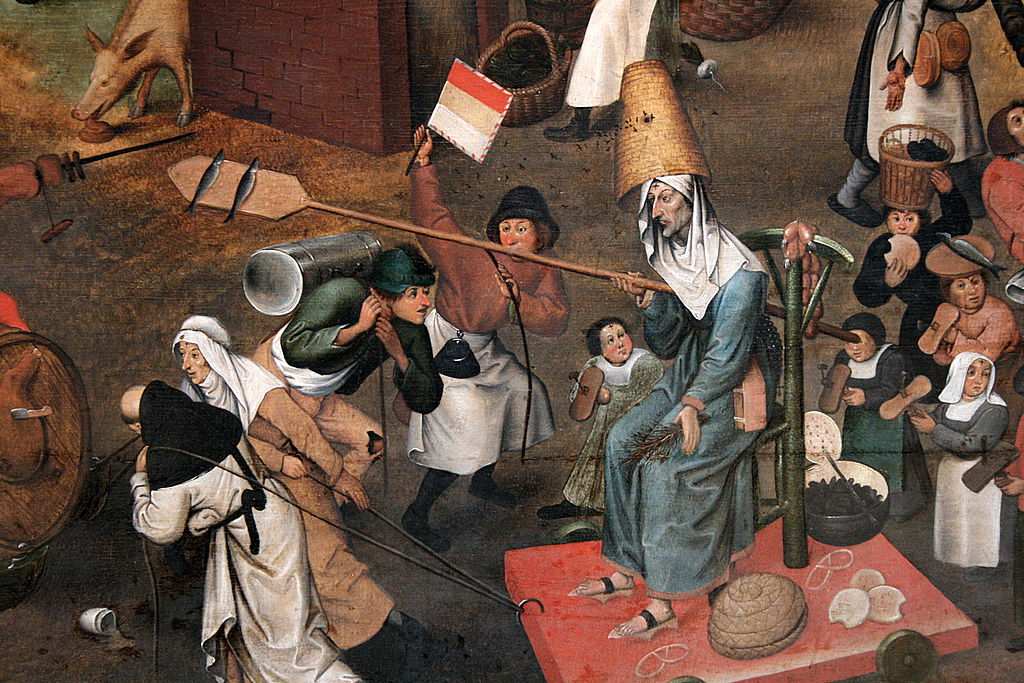 Me, well, I believe in balanced pleasure all year round, which resulted in some good January drinking, including: our first Swiss wine, a true herbal delight, or an enjoyable Australian (!) Grüner Veltliner.
Our wine of the month, however, was classic German: a stunning grand cru Pfalz Riesling from the Knipser winery that taught me that the soul is not always pink.
February
February had some good drinking as well, but also a decent amount of pain. Most notably I decided to take on mighty Dell - and failed. Much more success was had at a fantastic wine tasting in London, an event that showcased the diversity of German wines beyond Liebfraumilch.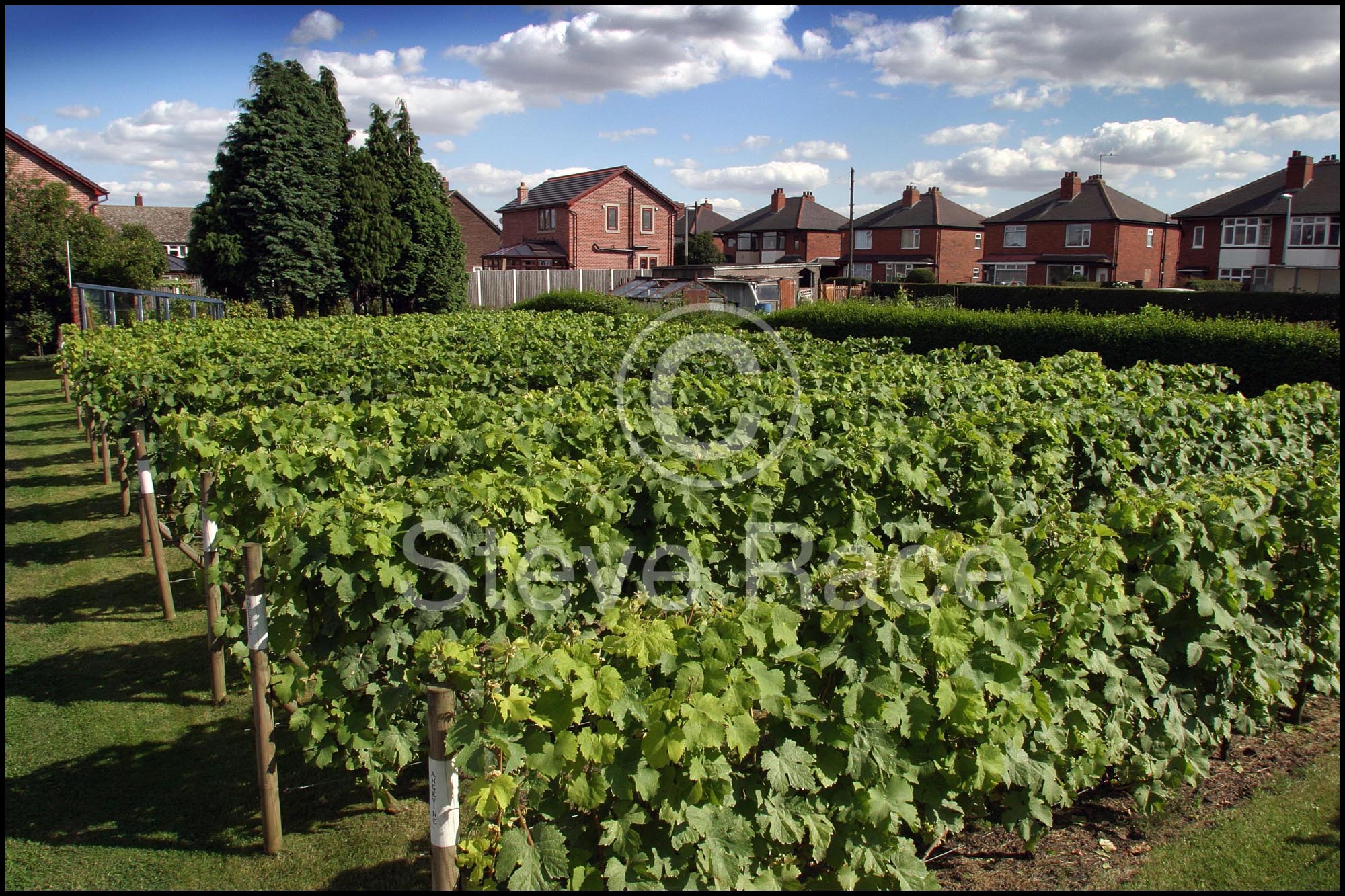 Not German at all but also very educational was our February guest ramble: A Tale of Two Vineyards - One Man's Journey Into Amateur Viticulture and Viniculture. Steve Race shared lessons learned from home wine making in Yorkshire and Spain, along with some stunning photos.
This time the wine of the month was in Julian's glass, the delicious 2009 dry Muscat from Kistenmacher & Hengerer in Württemberg. Something different from somewhere different!
March
March continued with excellent wines, especially a 17 year old off-dry German rosé, a stunning Pinot Noir from the Mosel and an outstanding Riesling from Germany's best unknown producer. Despite so much good wine at home I also went out to learn about natural wine at Green and Blue wines.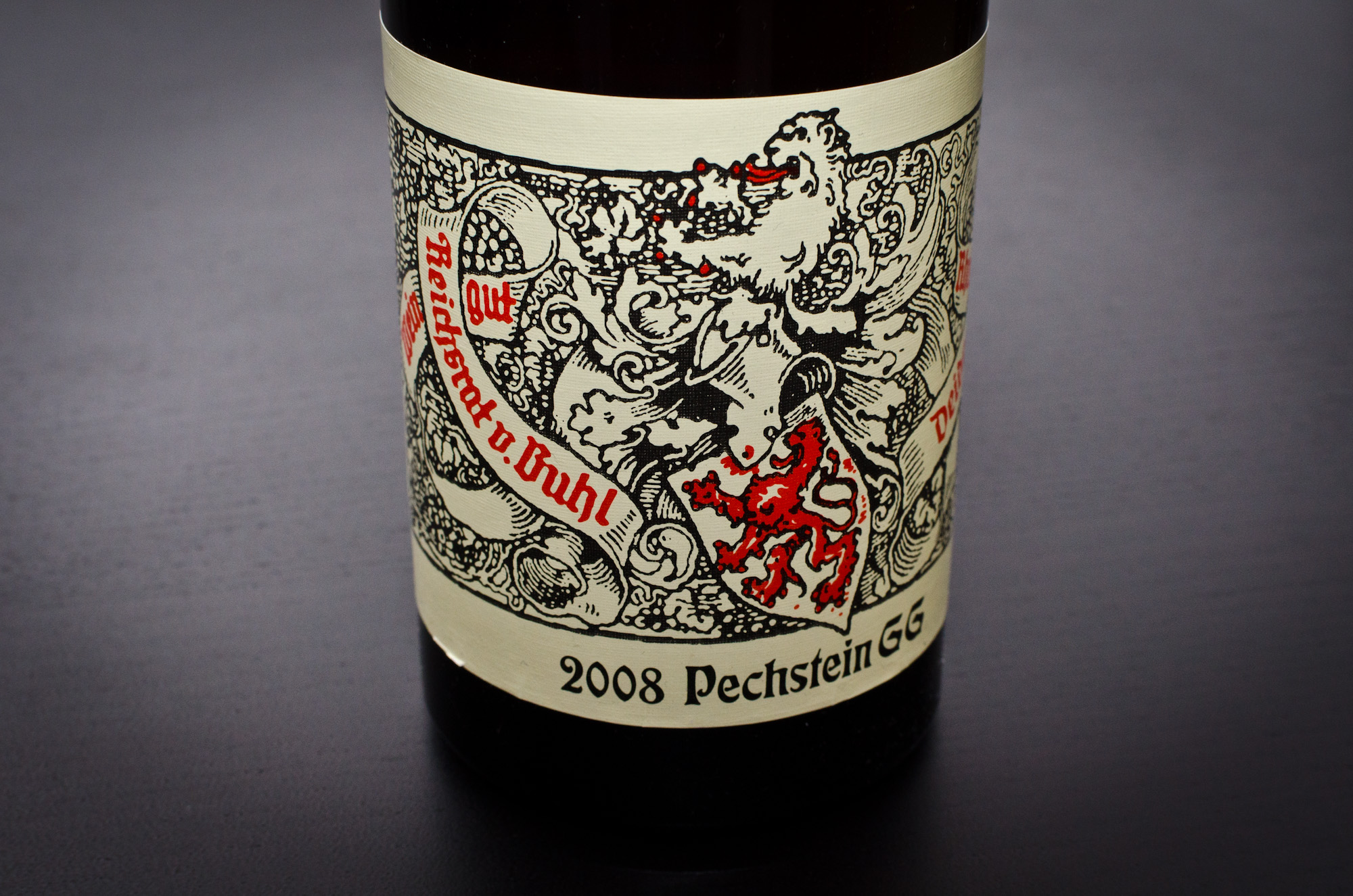 The wine highlight of the month, in fact the year, was the very Germanic looking and sounding Reichsrat von Buhl 2009 Forster Pechstein. Monumental.
April
April brought another very interesting guest ramble, this time from professional photographer and wine maker Andreas Durst who asked the question What's wrong with commercial wine photography?. We also had great wines from other European countries, including a fabulous Vouvray. In another of our infamous blind tastings we discovered we cannot tell a sparkling Loire from English fizz.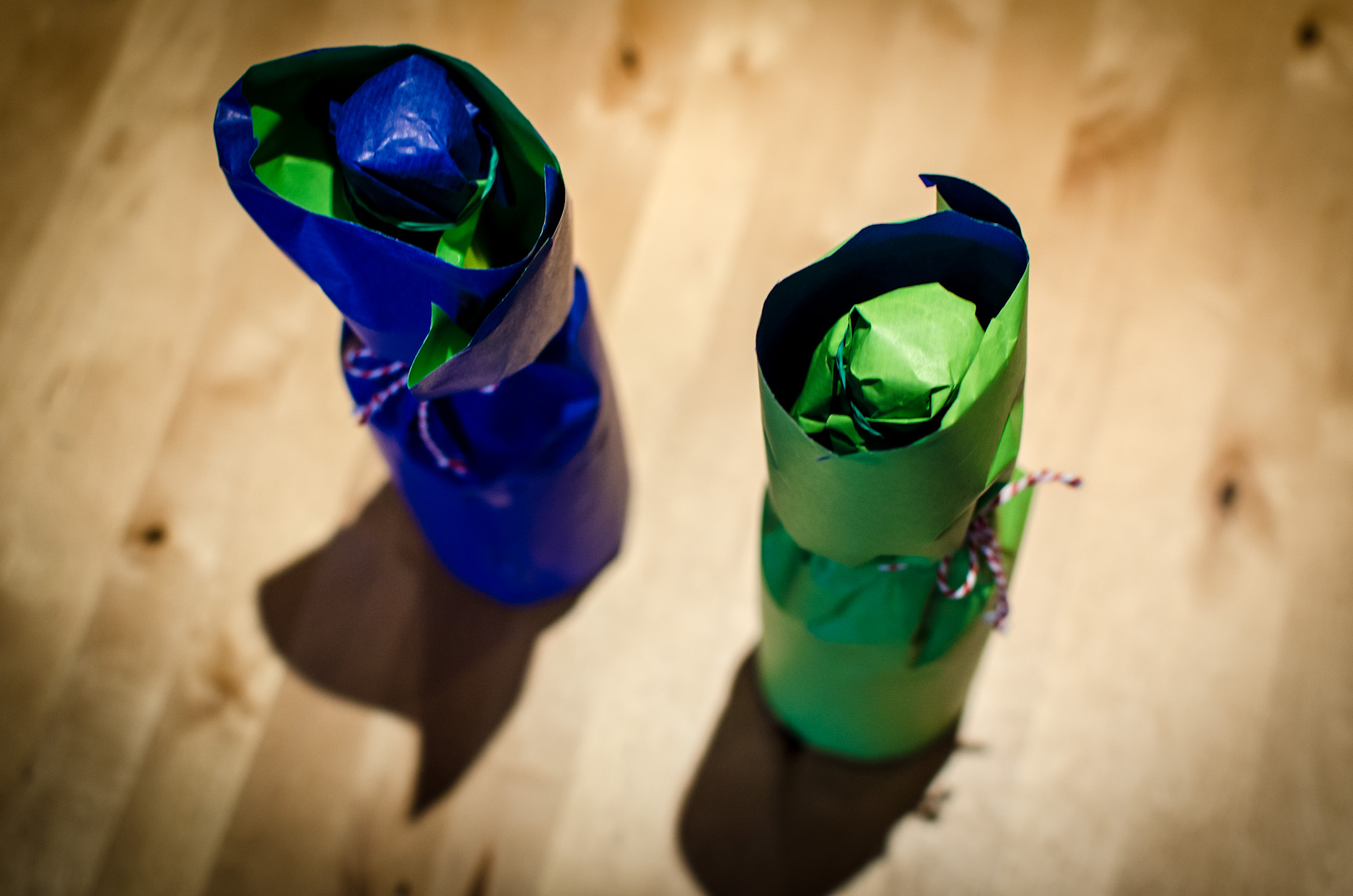 Thankfully, the pain was easily soothed by the best wine of the month, Philipp Kuhn's 2009 Kirschgarten Riesling.
May
May did not go quite so well. Julian endured the worst wine of the year, and to add insult to injury it came from the Germany state we both were born in. Perhaps this experience turned Julian into a grumpy old man, so he went to a Munich wine tasting to question the meaning of elite in winemaking. At the same time I went to The Hague to sample our first Dutch wine, a Riesling from Maastricht.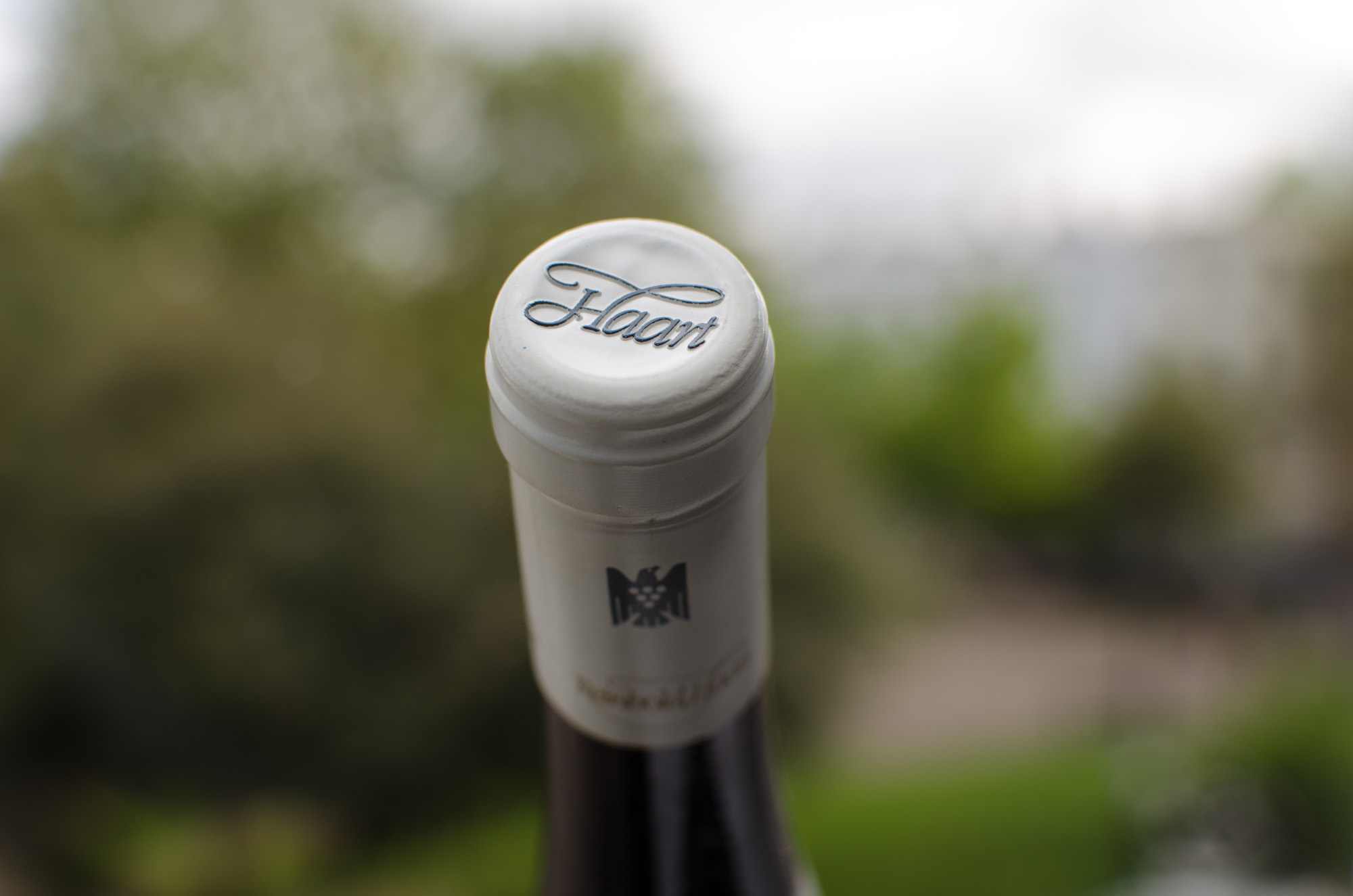 The wine of the month brought us back to German harmony and Mosel delight (Reinhold Haart Auslese 2007).
June
For me, June was a month of memories, especially regards the very memorable visit to the Kruger-Rumpf winery where I learned about herbs, dentists and winemaking generations.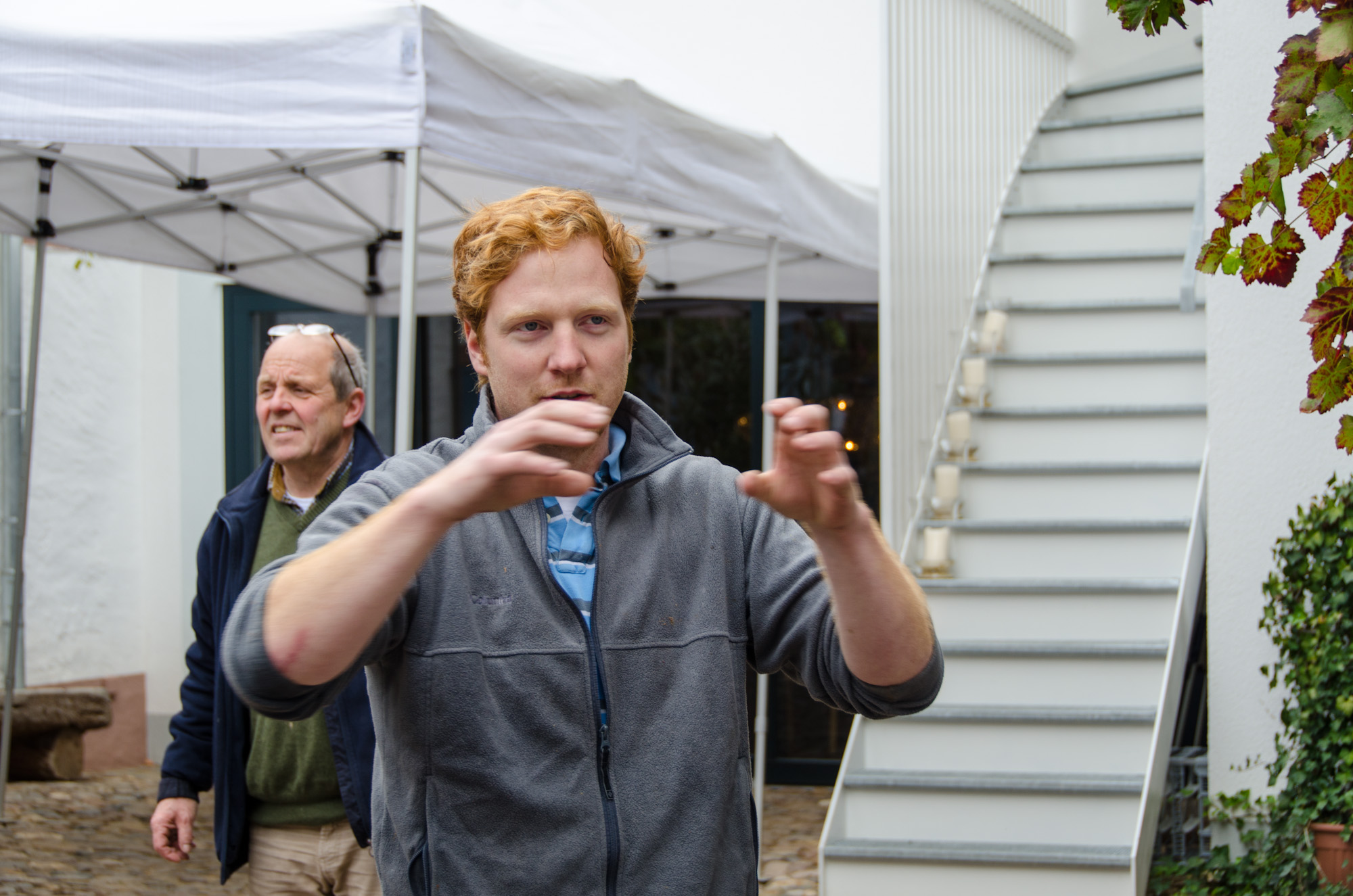 Julian also had a learning experience - while tasting his way through a sample case of Spanish wine he found out what wine journalism feels like. The wine of the month June must win the price for the best value of 2012, an excellent Loire red from Domaine des Corbillières for less than €7.
July
July had a range of good wines again, including a great value Chardonnay from the Pfalz. However, the most important wine moment came when I went Searching for the soul of Riesling - and discovered Mosel magic at a special event that was more than just food and wine matching.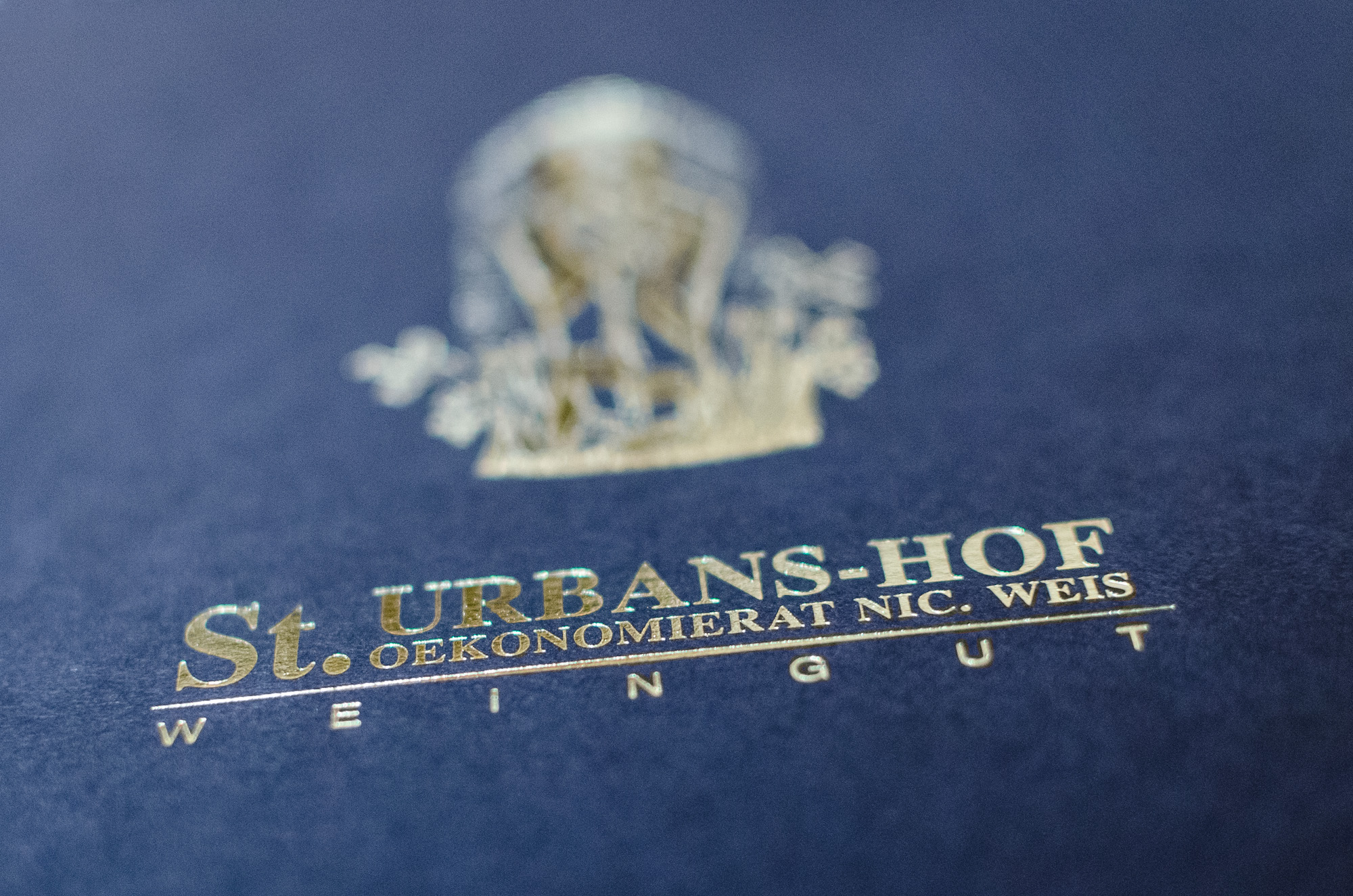 A second wine event in July did not quite deliver - that was me Not tasting wine at the Samos Wine Museum. Thankfully the very reliable Van Volxem 2011 Saar Riesling won my heart as the wine of the month, which brought some relief..
August
August was a quiet month with one Wine Rambler on holiday and the second one suffering through the peak of four months of pain with Virgin Media. It is a good thing the Wine and Spirit Education trust stepped in with a colourful introduction to English wine.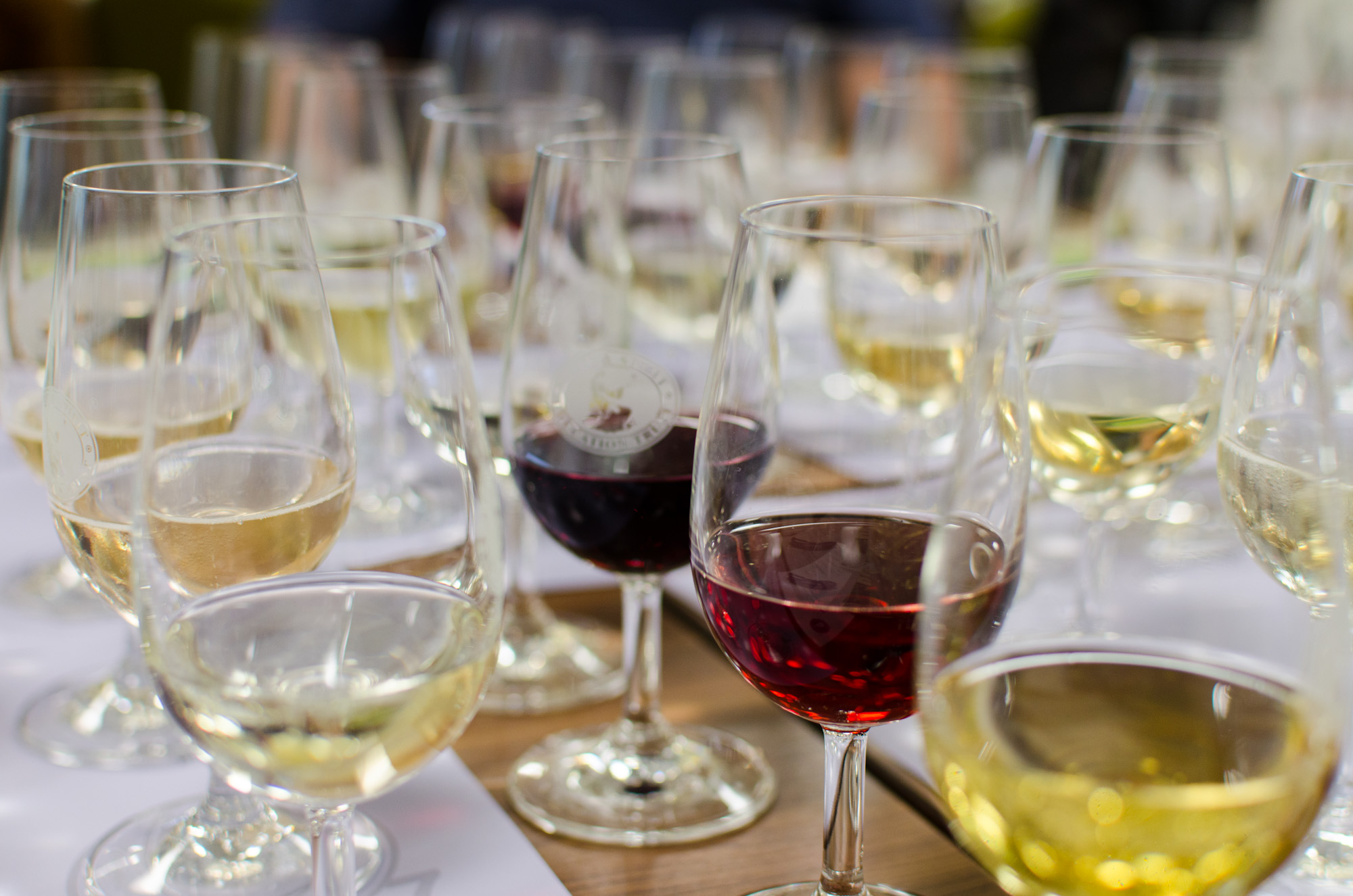 The most interesting wine of the month was a Schilcher, a rosé made from the Blauer Wildbacher grape indigenous to Austria's Steiermark region.
September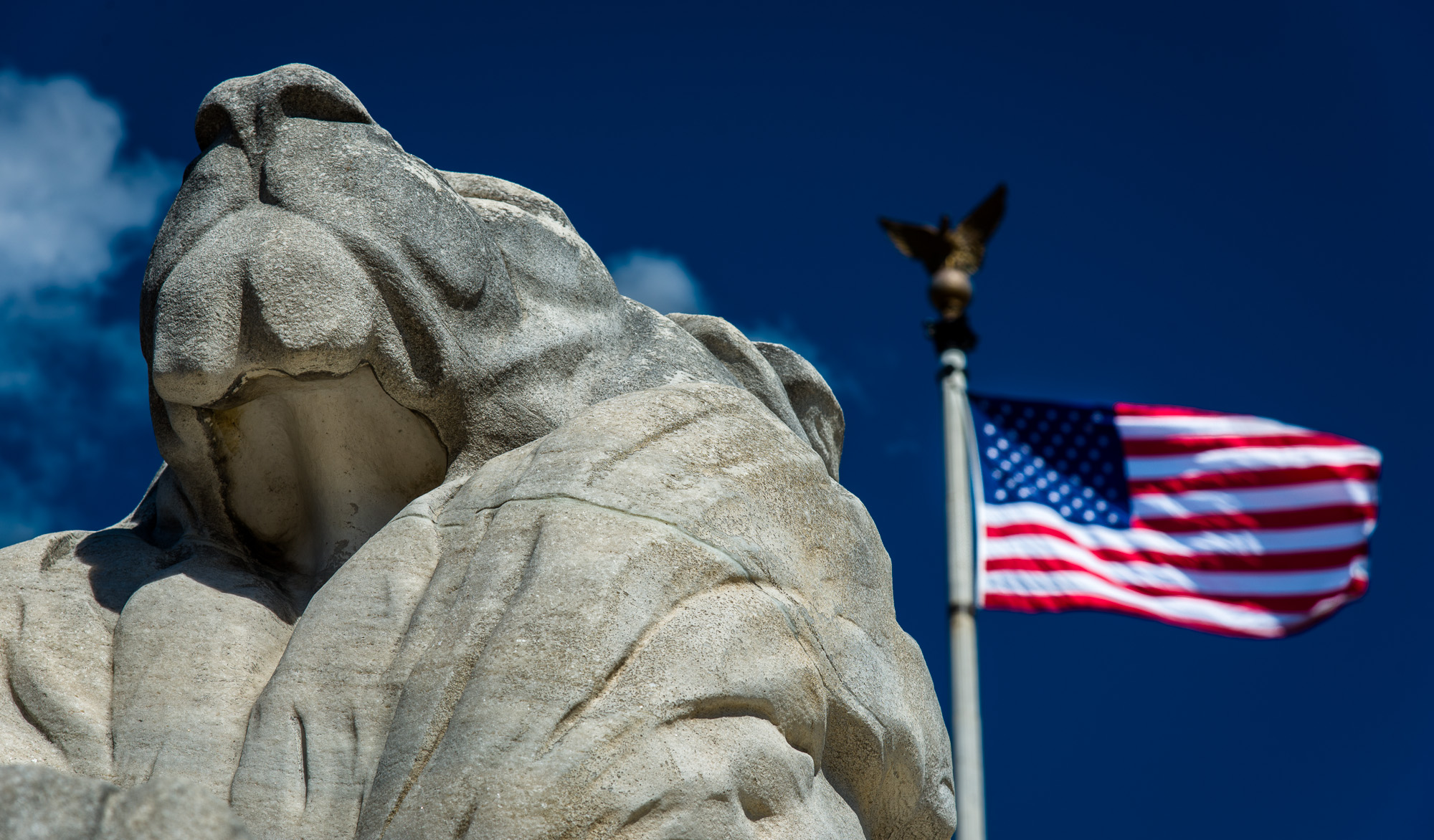 My main achievement in September was drinking wine by the label, or by the title, after all the wine in question was called "Passion has red lips". Or maybe it was going to Washington D.C. where I had unfinished business with a wine merchant. Julian, however, stayed local, and enjoyed the best wine of the month, a Silvaner from Franken with mineral and vegetable bite.
October
October was extremely busy in our day jobs, and even my occasional ventures into the wine world did not go very well, as I pretty much only seem to have managed to drink the second worst German wine of the year.
Julian turned abroad to find the wine of the month, from the dependable Austrian Veltliner grape.
November
In November I followed Julian's lead and went south, to pursue my recent love affair with Italy's Verdicchio. I also went south of the river in London for Tasting Notes - a wine and music pairing event that raised the troubling question of whether Grüner Veltliner pairs better with the "Blue Danube" or a Haydn string quartet.
The wine of the month was something unusual, an outstanding Cabernet Franc from Württemberg.
December
Following a long dearth, my wine year ended on several highlights. For instance a German Chardonnay blending oak and freshness, or a fantastic Muscat ice wine that gave me the tastiest lips you could ever dream of kissing.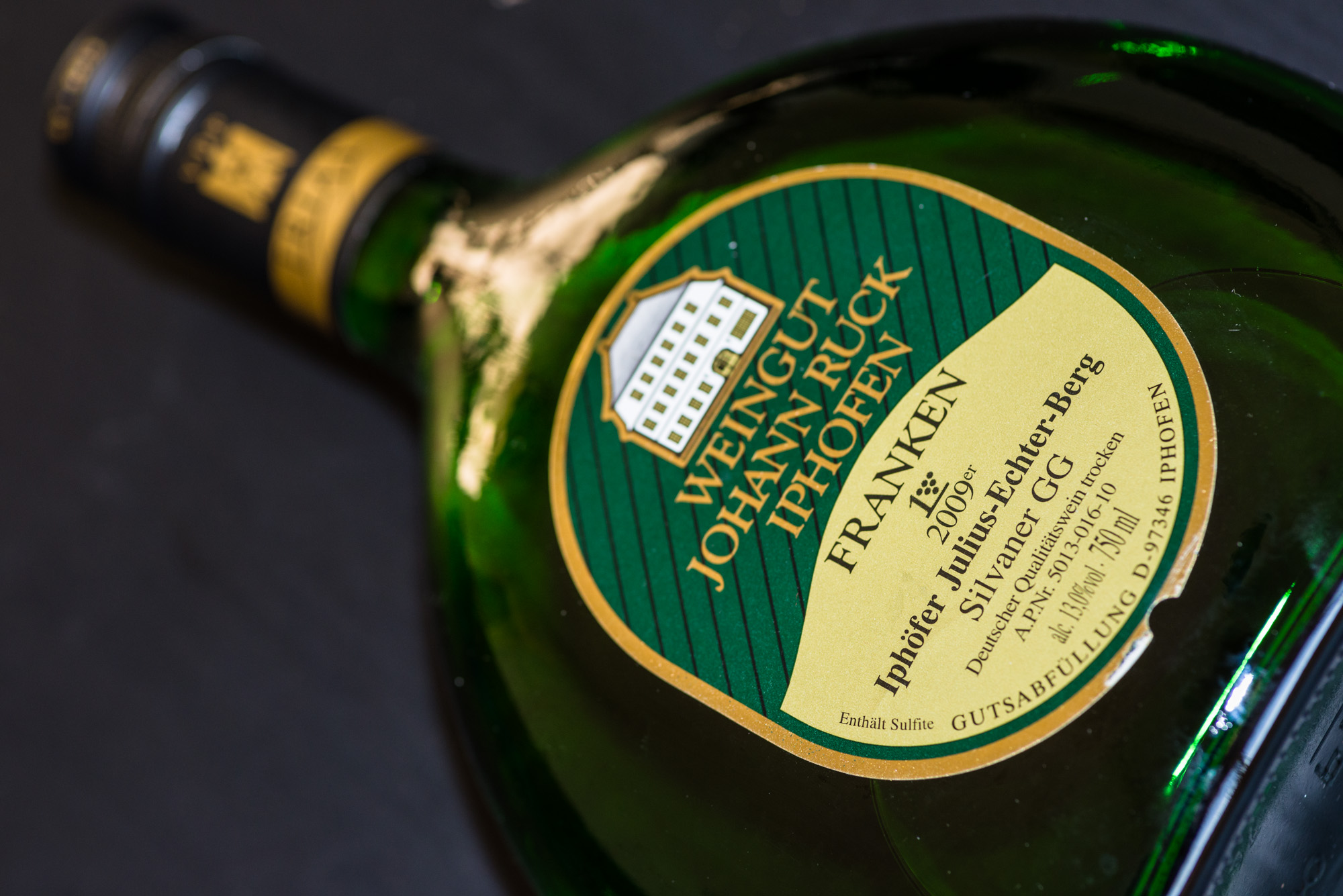 The best wine in December was dry though, a very elegant Silvaner to rival the world's best white wines. However, the wine blogging year ended with a serious crime, a story of Riesling, sex, fermentation and murder.
What 2013 may bring we don't know yet. Murder hopefully not, but Riesling and fermentation seems a fair bet. Happy New Year to you and us!