Report from the London Wine Show 2009
It has been quite a while since the Wine Rambler last attended a wine event, and so I jumped at the chance to visit the London Wine Show last Friday with a friend. The Wine Show is not one of these events where you will have to be a wine professional or at least in possession of a special invitation in order to be allowed in. Instead of a professional tasting experience, think of it rather as a show with various events and wines, all aimed more at the general public; for a small price, of course.
And as the organisers are after our money, you would assume that they make it easy to get into the show. It turns out, however, that they do not want our money, or at least not mine. For several days I tried to book a ticket through the website but failed. Instead of receiving a confirmation I was graced with error messages such as the enlightening 'error 3'. Eventually, the organisers realised that their website was screwed and redirected customers to another website. And to another error message. This time I was not allowed to buy a ticket because: 'entertainment_error_all_of_the_requested_tickets_not_available'. For some reason we persevered though and eventually managed to get a ticket.
So what did all this perseverance get us into? First of all it got us to the Business Design Centre in Islington, a building I would hardly recommend for outstanding design.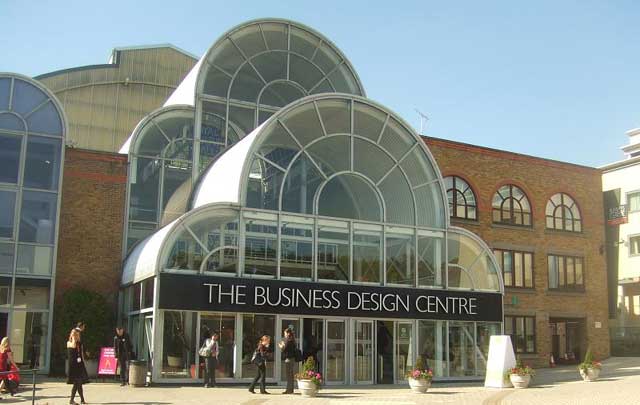 After a little tour of the building we soon realised that the name is much more an indication of what you can find inside than of the building as such: three gallery levels around the main space accommodate offices and shops of various companies selling all sort of design products, including office chairs. In quite a few of them people where still working while we wandered the hall. It must be a strange experience to do your bookkeeping or check the stock-markets (the Business Design Centre also houses investment firms) while random people stare into your office while sipping wine.
And wine there was quite a bit to sip for £12.50 (afternoon ticket), so we decided not to bother with buying any of the additional events and add-on options such as an 'Hour with Oz' (Oz Clarke, 'one of the most familiar and highly esteemed celebrity figures of the wine world') for £15, access to the tasting theatre (£8), a 'wine walk' (£10) and entrance to 'The Coutts Private Cellar' (£25), 'the ultimate fine wine experience'. Instead we were content wandering the various stalls and stands of producers, importers and businesses of all sorts. Most of them had wine to taste/sell, while a few were also trying to sell all sorts of more or less useful wine relating products such as Riedel wine glasses, wine events or a few random things such as jam.
Some of the stands were country themed and were run by organisations such as the New Zealand Winegrowers or the Wine Institute of California. Spain and Portugal were quite prominent, but there were also all the other usual suspects (from a UK perspective, I mean) such as France, Australia, Italy and New Zealand plus Chile and Argentina. We may have missed a few wines here and there, but we only found one Austrian wine and nothing German at all. While this may hurt my nationalist pride, I had much more general problems finding wine I was really excited about.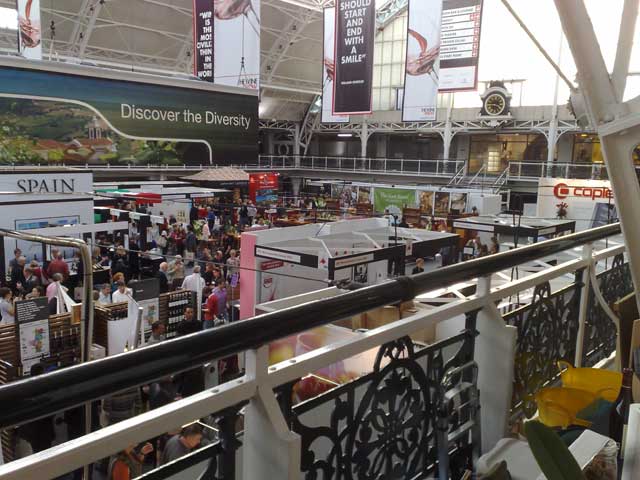 When we tried the first few wines I still had my trusty notebook ready to bring home some interesting finds to share; but after a while I realised that I found it very hard to be excited at the Wine Show. Now, mistake me not - we sampled lots of decent wines, but nothing that was tempting, with the exception of a few reds perhaps. We started with white and lots of fruity Sauvignon Blanc, international style. Fresh, fruity wines that were easy to like but also not memorable. There were Californian Chardonnays that were only lightly oaked and almost charming in their buttery texture. Several Rieslings showed up but failed to make a lasting impression - with the exception of an Australian specimen that tasted of Jelly Babies / Gummy Bears. Not unpleasant, in the sickly-sweet way that brings back memories of teenage stomach ache after too many sweets, but also lacking character or depth to be interesting as a wine. While I would have happily drunk quite a few of the white wines if they would have been served to me on a mild summer's evening, I would die happily without ever hearing of any of them again. Perhaps with the exception of that one Argentinian white that had something interesting going for it, although I forgot what it was (that in itself tells you something), and a Châteauneuf-du-Pape that was quite drinkable, but too expensive.
We faired better with the reds who, overall, where a bit more interesting, but also more expensive - many white wines were in the region of £5-7 per bottle, which was the price range where the reds just started. In a way, that was what turned me away from many of the reds, they were just too expensive for what they were. For instance, we came across a very likeable Oregon Pinot Noir - that sold for £38 (show price was £26). A wine in that price range competes against some of the best Pinots from Germany and it was just not good enough for that. A Bulgarian Pinot Noir (Edoardo Miroglio Pinot Nero) seemed like a much better value choice, selling at £9.95. We came across many decent showings from France and my friend bought a few bottles that seemed like decent value. Unfortunately though, at the time I was a little red-weary, partly due to too much Italian wine. Now, mistake me not, there is really good Italian wine and the Wine Show had some good ones too, but for me on that day we had a little too much sweet smoothness. Just not my style.
However, there were two highlights I feel I need to report back on. One were the several 'water points' scattered across the hall that allowed you to rinse your glass.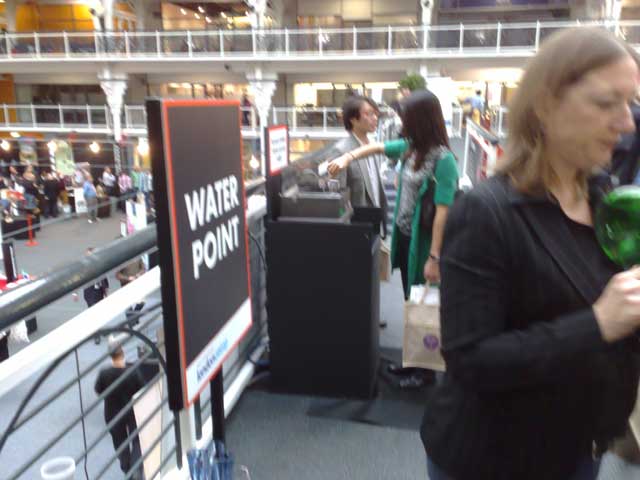 This may sound like a simple convenience thing, but trust me, if you taste several dozen wines you will end up getting wine all over your glass, making it and your hands sticky. So the cleaning stations were very much appreciated. Even more important to me they were exceptionally good fun. Each sink had two rotating brushes on which you could put your wine glass. You were of course meant to hold the base of the glass, but if you did it right you could just let the glass go and watch it spin, sprinkling water drops left and right. A beautiful sight and the most fun I had at the Wine Show!
It seems though that other people devised a rather different way of having fun with the 'water points': during one of my many cleaning runs a member of staff stopped me, all super polite, and pointed out that the water in the sink had turned all yellow-brown and that I should maybe not use it until it was cleaned. 'How that happened, sir, I would much rather not want to speculate.'
The other highlight of the Wine Show was a five letter word: Bisol. Bisol is an Italian estate famous for prosecco. I had heard about them several times, but never had a chance to sample one. This may seem unusual, but I only rarely drink sparkling wine, so it has quite some weight if I find a sparkling (of any sort) that I really like. And the Bisol prosecco has all the class, fun and taste to get really high grades from me. Also, the lady at the Bisol stand was one of the most professional and yet friendly people I talked to during our four hours at the Wine Show.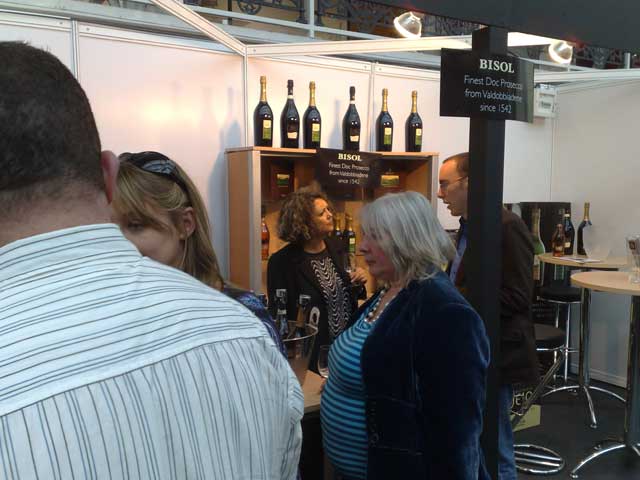 We had good fun at the Wine Show and I am happy to recommend it as a social event. The basic ticket is good value, no matter if you care about wine or if you just want to get hammered over an afternoon. However, if you have a taste of wine that is vaguely similar to mine and/or look for more unusual stuff, you may find better events - or go for the add-ons, on which I cannot really comment.