outstanding
Terrific wines that are have amazed us with complexity and character, wines that are outstanding in any way - it does not get much better than this.
Mosel Riesling, the embodiment of German wine - at least in foreign perception. Readers of the Wine Rambler will not have to be told that there is so much more to German wine than Mosel Riesling. Still, every so often reminding everyone of the fantastic wines that come out of this area cannot hurt. One of our favourite producers at the Mosel is Markus Molitor (who also makes fantastic Pinot Noir). And one of the best Molitor wines I have had is, no, it is not one of the prestigious Auslese or Trockenbeerenauslese wines, it is a 'Qualitätswein'. These quality wines are somewhere in the middle of the German classification system - but don't let these bureaucratic details fool you. You are looking at pure awesome, and at amazing value too.
You have never heard the name 'Scharzhofberg' before? Well, take a pen (or a keyboard) and write it down. Scharzhofberg is the name of a German vineyard, located near the Saar river (close to the Mosel). There are of course many vineyards in Germany, but Scharzhofberg has an excellent reputation and may be one of the most expensive bits of real estate in German winemaking - if you could buy land there, as producers jealously guard every square meter they own. Land rarely changes hands there, but the Van Volxem estate is lucky enough to own a small part of the 28 hectare vineyard. So let's have a look at what they can do with it, shall we?
Well before reaching twenty-five years of age most wines turn to vinegar. Not many wines are really worth keeping for more than a couple of years. Some last five to ten years, but only a tiny minority will make it beyond. With the exception of a few first class wines, sweet Riesling among them, not many wines are drinkable, far less enjoyable at the age of twenty-five. And yet here we are looking at a Silvaner, an often underestimated variety, of this age - does it still deliver?
Right from the start, the Franconian Silvaner impressed us with an intense, very clear golden colour that still had hints of green (which is often said to be a sign of a younger wine). It certainly looked beautiful and also as if it could comfortably age a few years more.
With at least one Wine Rambler new year's resolution still unfulfilled, a sense of duty and self-discipline finally compelled me to open a Loire white. I also wanted to try one of the esoteric, hyper-regional french wines that the really knowledgeable cats like Cory Cartwright from Saignée are always on about. I had hoped for something original to broaden my wine horizon, but this Chenin Blanc from a legendary Vouvray producer turned out to be rather more - a real shock to the Riesling-saturated system.
Both my co-Rambler and I recently came to the conclusion that we had somewhat neglected Austria - a country that makes some truly outstanding wines. So Julian went off to have an afternoon of Austrian wine, during which he was particularly impressed with a Riesling made by the Prager winery. At about the same time I found myself talking Prager with Damian from Fields Morris & Verdin on Twitter. As I had never tried a Prager Riesling, Damian kindly provided me with a tasting sample, the 2006 Steinriegl Smaragd - a Riesling that is more than just a reminder of how good Austrian wine can be.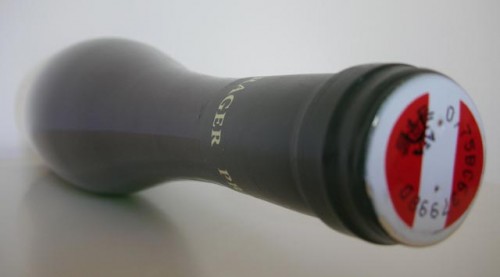 So we were drinking this German Syrah one night and - Wait, a German Syrah, you say? Yes, that is true - a Syrah from Germany, and a bloody marvellous one too.
Nine days into the new year and we're already sticking our noses into the sparkling wine again. Is that hedonistic cheek on our part or a commendable discipline in making good our new year's resolution number 2? Actually, it's neither, since this is a postscript to our new year's eve.
Lively, but not over-strong bubbles, a smell of ripe apples and quince. Bone dry and almost austere at first taste, but at the same time fairly creamy and intense, with the tiniest hint of oak maybe, and in the end, it's mature quince and apple fruit again, maybe also a hint of tangerine, with very fresh acidity all the way through.
Large wineries owned by immensely land-rich historic trusts are a typical feature of the franconian wine scene, especially in Würzburg. As these go back to charitable - or not so charitable - institutions founded in the late middle ages or the 16th century, they have had some time to accumulate land, assets and reputation. By running wineries alongside hospitals (that's where the "spital"-part comes from), nursing homes and real estate operations, they preserve a forgotten model of business, social services and agriculture whose usefulness must have seemd self-evident to citizens in many premodern cities. [read the full post...]
Württemberg, Swabia, home of the gleaming Mercedes Benz, the Bausparvertrag, the Kehrwoche and the Häuslebauer (untranslatable terms, because they describe specific anthropological phenomena). And wine country. Many a railroad passenger passing by the beautiful and spectacularly steep vineyards around Stuttgart may have wondered why these wines are consumed avidly by Württembergers themselves, but, too often uninspired and uninspiring, given the cold shoulder by the rest of the wine world. [read the full post...]
If you like aged Riesling, if you want a perfectly balanced, well rounded wine, if you crave the sensation of a wine that makes your palate feel smooth and peachy - go for this gem from the Mosel. Followers of the Wine Rambler will have noticed that we do tend to like the fruity Rieslings Theo Haart makes and this one is no exception. It is, in fact, the oldest Haart we have tasted for the Rambler and it demonstrates the potential of these wines. [read the full post...]
Not many things in life beat a late harvest Riesling from the Mosel - sweet, yes, but usually well balanced with acidity and mineral that combine to a perfect sensation that is way too elegant and vibrant to be simply considered a sweet dessert wine. On top of that many of these wines are low on alcohol too. One of my favourite producers of sweet Riesling is Reinhold Haart, a small family owned estate overlooking the Mosel river in the old winemaking village of Piesport. [read the full post...]
It has been quite a while since I tasted the sibling of this wine, the Graacher Himmelreich Spätburgunder of the same vintage; so sadly, I cannot really compare them against each other. What I can say though is that both are excellent Pinot Noirs.
The Trabacher Schloßberg ('Schloßberg' means 'castle mountain') comes in the massive bellied bottle Molitor use for their burgundy style wines. The Pinot has great colour, a very nice, intense earthy brown. The nose is gentle, very autumnal, but also fleshy; it showcases black truffle, rotten leaves, a hint of tobacco and black cherries, with a pleasant bit of vanilla and cocoa. [read the full post...]
Half bottle Rieslings are very tempting. Not because getting half the amount of wine is exciting as such, but because these small bottles often contain some of the highest quality drops of sweet molten gold. A three star Auslese ('selection') wine from top Mosel winemaker Molitor would have to be a candidate for a top quality sweet wine. Or is it? [read the full post...]