How South Africa stole the World Cup from Italy: Bibendum World Cup of Wine 2010
In 2006, when I was still living in Munich, the World Cup came to Germany. For those of you who know me a little it will not be a surprise to hear that I did not see a single match. In fact, I remember being food shopping when Germany scored a key goal, being just one of two people in the cinema watching 'Hard Candy' when Italy defeated Germany and visiting my co-Rambler for food and wine during the final. This year, however, is different. Yesterday I attended the final of the 2010 World Cup, with the champion Italy playing the host South Africa. The key difference though is that this was the World Cup of Wine, hosted by the lovely people of Bibendum in their North London headquarters, with me being one of the judges.
If this would have been the football world cup, I would have ruled myself out as a judge on account of being utterly biased. I do not care about football at all, but I often find myself drawn to the underdog and I take great pleasure from seeing arrogant favourites utterly crushed. Italy are still top on my list of countries I would want to see defeated early this year. Ideally by Ghana or perhaps North Korea. But I digress.
If it comes to our finalists in the world of wine, I am much more neutral. True, having been socialised on wine in Munich with all the Italophiles there means I have had a certain exposure to Italian wine, but then results have been very mixed. South Africa I did not know very much about, but I have of course noticed that its wines got a lot of interest in recent years. I have to declare one bias though: I often find myself drawn to light, elegant wines, particularly white ones, so one could expect that Italy would have an advantage as far as I am concerned.
Luckily, I was just one of about twenty judges, a diverse group of trade people, writers and bloggers. While Italy appeared to be the favourite, many judges seemed to think that South Africa would have a good chance at taking the trophy too. Sadly, I had missed the previous matches - on the day of the semifinals, for instance, I was busy dealing with a gas leak at home -, so I only had a vague idea of how the contestants did so far.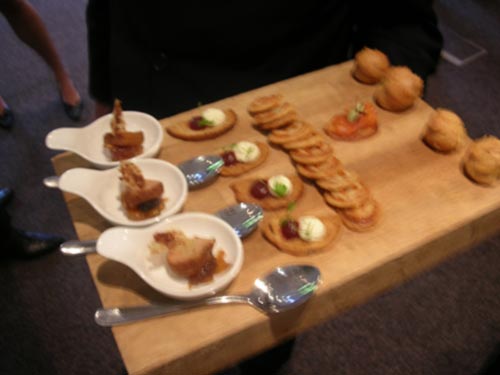 Before the games began, we were served yummy canapés prepared by Bryn Williams, chef patron of Odette's Restaurant & Bar, and a glass of sparkling to refresh us on a warm London evening.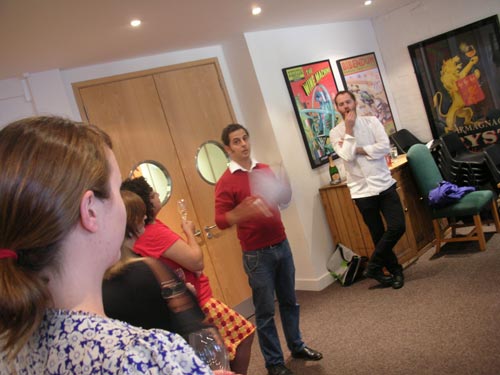 After that it was time for our host Gal to explain the rules: divided in four groups we would descend upon sixteen wines spread across four tables (two Italian and two South African wines each). With the exception of the sparkling table, two single varietal wines on each table would be tasted blind: Chardonnay vs. Chardonnay, followed by a Sauvignon Blanc and Syrah/Shiraz competition.
The templates for the tasting notes did include information on the price of all wines though and the vintages and producers for the non-blind wines - I would actually have preferred to taste all the wines blind.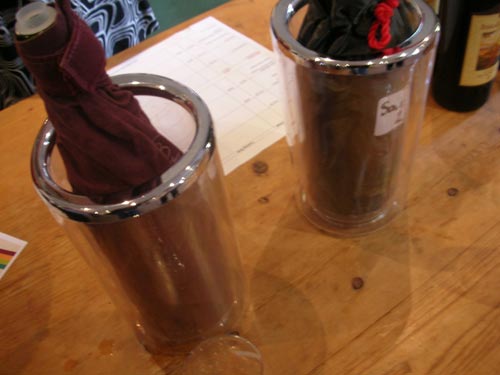 The blind tasting part was great fun and gave us a chance to speculate widely and more or less accurately. Amusingly, I got both the Chardonnay and the Sauvignon Blanc right in terms of countries (two grape varieties I usually do not pay that much attention to), but not the Shiraz. Interestingly, among the white wines I liked both Chardonnays best and came back for a second helping while the rev was going through our scores. A favourite with the judges was Alois Lageder's 2006 Löwengang Chardonnay from Südtirol (Alto Adige), a complex wine of which my tasting notes say that the oak was well integrated, with the right balance of acidity and aromas/flavours of vanilla, apple and almonds.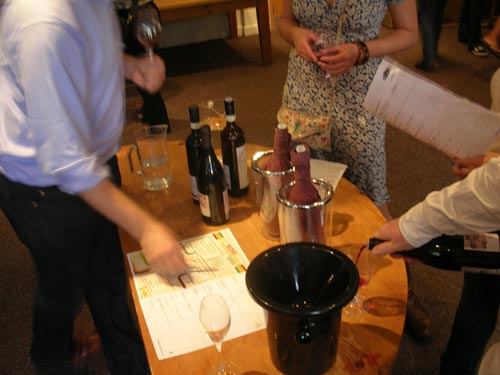 In some cases it was fairly easy to come to a verdict (Castello Banfi's Rosso di Montalcino 2008 any time over Saam Mountain's 2006 Pinotage), but a few pairings were difficult. We were rating wines on a scale of 1-10 and usually one wine 'against' the other, which made assessing the sparkling wines a bit of a challenge.
We started with Bisol's Jeio Prosecco, a deliciously fruity and light sparkler with refreshing citrus and (elder)flowery notes that was well balanced and very drinkable.
Against the Prosecco South Africa pitted a Chardonnay based vintage sparkler made in traditional Champagne style, 24 months on yeast, if I remember correctly, making it more more complex and much more on the creamy and yeasty side. So while both wines were sparkling, they were actually quite different - wines to be served on different occasions and/or to different audiences. The judges overall preferred the Bisol, but I, having never tried a SA sparkler so far, was pleasantly surprised by Graham Beck's wine.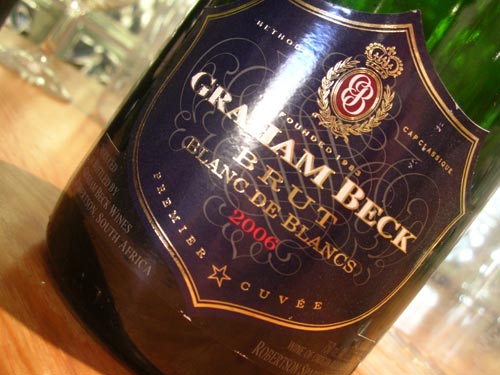 With regards to the sweet wines the majority of the judges and I seemed to have the same preference: De Trafford's 2008 Straw Wine. This sweet wine is made from Chenin Blanc grapes that are laid out to dry on straw, a process leading to a sweet and very substantial dessert wine (with strong raisin flavour) that actually did profit a lot from being aged in new oak barrels - and this comes from the Wine Rambler who is notoriously sceptical about white wine and oak, even more so in a sweet one.
Interestingly, it was the dessert wine battle that decided the outcome of the match. The Straw Wine beat Suavia's Recioto di Soave Acinatium 2006 by 21.5 points, winning South Africa the title with 857 against 837 points.
So what does this tell us? First of all that you can select sixteen wines from the range of Bibendum's suppliers in such a way that South Africa wins by a tight margin - it was not meant to be an 'objective' 'Judgement of London' on the overall quality of the wines produced in both countries, or any of the others who took part in this world cup.
Secondly, the Wine World Cup reminded me of the difficulty of comparing assessments of wine and, in case I had forgotten, of different ways of interpreting winemaking philosophies and the impact that has on scoring. An example for this would be one of the judges' favourite reds that I (despite acknowledging its quality) seem to have liked a little less than some of the others: David Trafford's Sijnn, a blend of Syrah, Mourvedre, Touriga, Trincadeira and Cabernet clocking in at around 14.5% alcohol. Interestingly, the winemaker, we were told, argues with the concept of terroir: the high alcohol content reflects the hot climate in the area where the grapes were grown, so he does not want to use 'artificial' means to reduce it. So do you score the wine down on principle because it is 'just too strong'? Or would you accept that while it is a serious heavyweight it does not feel overly alcoholic and is hence perfectly acceptable? When confronted with such wines I usually score down the ones that taste alcoholic or are just too saturating, but accept the ones that appear balanced and enjoyable.
However you feel about this, there is a choice here that may neither be right or wrong, but a matter of personal preference.
Thirdly, it seemed to me that yesterday pretty much everyone came across wines, regions or producers that were new to them and I would hope that like me the others had a few surprises or learned something. I, for instance, have concluded that I 1) should really explore Northern Italy a little more, 2) should remember that there is sparkling wine in South Africa and 3) appear to prefer Chardonnay over Sauvignon Blanc even more than I thought.
Most importantly, yesterday showed that you can set up wine tastings in a way that is fun and engaging.
Oh, and here is the list of eight German wines that the Wine Rambler tasted over the last year that, I think, would have wiped the floor with both the Italians and the South Africans ;-) (listed in sequence of the tasting tables):