Let's spit out some more Australians (wine tasting, 19/04/08, Clapham)
I was excited to learn that Wines of the World would host a big wine tasting event on the weekend my friend Oliver visited from Munich. I bought two tickets and off we went.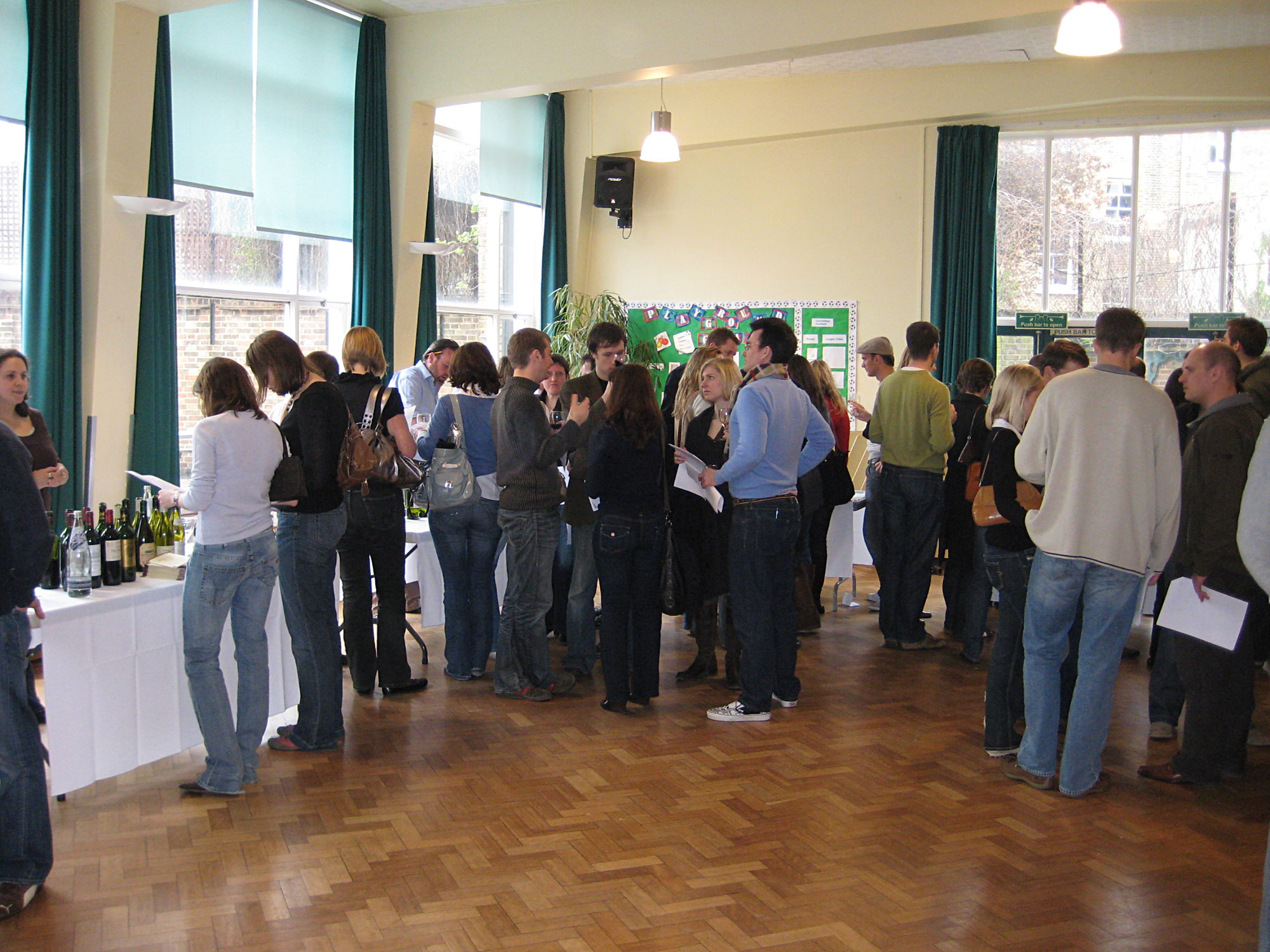 The tasting was in a small hall in the primary school just round the corner. They had eight tables with wine and sparkling and a mixed table that had ale, cider and cognac. The whole setting almost looked like a school fair and we were expecting children running around and teachers giving marks for the best science project.
The event started at 12pm and when we arrived it was only nine wine merchants starring at us and a handful of locals. Two hours later the place was packed with the trendy Clapham crowd.
The £15 entrance fee bought us 75 wines/fizz to taste, five ales, an apple juice (!), a gin, two cognacs and an Armagnac. We decided to focus on wine. According to Oliver's notes, we tasted 46 wines within 2.5 hours. The cheapest wines went for £5.99, the most expensive, an ice wine from British Columbia, sold for £49.99 (0.375l bottle). We started with some random samplings, then did the whites, the reds and finished the event with the Inniskillin Vidal Icewine - which was quite nice, sweet, round, spicy and really good; but then not much better than a Huxelrebe Beerenauslese that one of my German suppliers sells for 15 Euros.
All the tables were themed and I will summarise our comments in relation to the (mostly geographical theme). All quotes are from Oliver who was on fire.
Table 1 - Alsace, Beaujolais, Loire, Rhone
Table 2 - Bordeaux, Burgundy
Table 3 - Organic (mostly from Greece!)
Table 4 - Champagne and Fizz
Table 5 - Italy
Table 6 - Australia
Table 7 - The Rest
Table 8 - South Africa
Table 9 - Others (ale, cider, cognac etc.)
The French - "These tannins glue my mouth together."
Overall the Bordeaux did not really excite us. Among the more interesting wines were the Ch. De Breuil 2004 (Fronsac) that had a nice leathery touch for £8.99 or the Ch. Minvielle 2005 for £6.99, but overall we got the impression that we would have to pay more for the quality we were interested in. These might be okay with food, but on their own it was just too much tannin.
At an average price of £9 we found the Rhône wines more approchable. Also, they were coherent in style and taste: very round, lots of cherry, also nice rock sugar. Our favourite was the "Hold up" 2006, produced by "The Rhône Gang" (£9.99).
The Beaujolais were in the same price range, drinkable, but not really exciting. In fact, I cannot remember anything apart from the fact that Oliver said they were better than he remembered Beaujolais. Maybe there is a theme about memory loss here.
The Alsace brought us a nice Gewürztraminer (Domaine Gerard Metz) 2006 for £10.99 that was spicy and fresh. Even better was the Pinot Blanc 2005 from the same producer (£23.99), presenting a nice, fresh mixture of honey and cloves. Go, Alsace!
The Loire was very lemony and drinkable (Sauvignon and Pouilly-Fumé).
That brings us to Burgundy. It was the best French region, with the price surprisingly fair. The cheapest (£7.99) was Giroud Mâcon-Villages 2006: tingly passion fruit. Next was Rousset VV Mâcon Péronne 2005 (£9.99) that was spicy freshness with a hint of petrol (which I liked and Oliver not so much). Similar was the Domaine des Crais St Veran 2006 (£10.99), maybe a bit lighter and more sophisticated in taste. Also quite fresh. A nice one. Really good was the Louis Robin Chablis 2006 (£11.99), a smooth mixture of butter, shellfish and apple - creamy, round. Also noticeable, but not nearly as good, was the Chartron & Trebuchet Chambolle-Musigny 2004 (£23.99): a proper bread-and-leather red.
French highlight: butter-creamy Louis Robin Chablis 2006 (£11.99)
Organic - "goes nicely with a bit of cow"
"Is' griechisch heute." (''Is Greek today.') - that was the phrase a bouncer used many years ago to deny Oliver and me the entrance to a bar in the heart of Munich. The organic table was dominated by Greek wine, but we were allowed in nonetheless. Interestingly, I found that the gentleman running the table looked like David Fury, one of the producers/authors of "Buffy" and "Angel". He was enthusiastic about Greek wine but luckily not preachy about organic wine.
The Silogi Moraiti White 2007 was Greek and that is all I can say about it. Their Red 2004, £10.99, also was Greek, but my notes randomly said it tasted like a slightly boring Italian. The Hatzidakis Aidani Assyrtiko 2006 (£12.99) sounded Greek and hell, it tasted Greek. If you ever want to drink a coniferous forest - this is it! This wine is perfect for the one occasion where you would want that taste and I doubt there is any wine doing this better. I am just at loss what occasion this might be.
Next was the Domaine Les Aphillantes Rosé 2007, a surprisingly strong rosé, I think it was made from Cabernet Sauvignon, from the Rhône. Not bad, not exciting either. There also was the 2002 Le Combal from the Cahors region, made by Matthieu Cosse, a former rugby player who is now growing organic Malbec. According to WoW this one has "elegance and balance" and is creamy, fruity and subtle. We found it to be full bodied at first and then somewhat shallow for its £13.99. The Le Pigeonnier 2003 from Domaine La Terrasse d'Elise tasted almost like a Chianti and we could not say anything nice about it other than that it would go nicely "with a bit of cow" (£18.99). Actually, "David" said that.
Organic highlight: none
Italy - "not unpleasant"
The gentleman running the table was very enthusiastic about his wines, his enthusiasm never going down, no matter how often people asked him the same question.
The Italians surprised us. They were mostly moderately in price but quite drinkable. No wine was really bad, but also no wine that completely blew us away. Nice and easy to drink was the Caldora Pecorino 2007 for £8.99 - it came with a nice peachy finish and made a very good start. The Gavi del Comune di Gavi 2006, £9.99, had a nice nutty finish. The Ortonese Sangiovese Merlot 2006 (£5.99) reminded us of the Rhône wines - hard sugar, cherry, nice sweet taste. From the Feudi di San Marzano vineyard there was both a Primitivo and a Negro Amaro 2006 (£7.99 each), both spicy, the latter a strong taste of earth. Earthy and spicy was also the Yume Montepulciano d'Abruzzo 2004 (£10.99) that had some nice stone fruit too. A nice and full-bodied wine was the Caparzo Brunello di Montalcino that we liked instantly - until we saw that it came for £32.99.
Italian highlight: earthy Yume Montepulciano d'Abruzzo 2004 (£10.99)
Australia - "the Australian [whites] were not that good anyway, now we can go and spit out some more [reds]"
The "Australian" gentleman was quite opinionated but his three whites did not really convince us (although I liked them better than Oliver), so Oliver gave the above (prophetic) quote before we turned to the Australian reds.
But back to the start. From wine maker Kaesler came three whites. A Viognier 2006 (£16.99) that was very dominant and had a surprisingly present initial taste. The Old Vine Semillon 2007 was very oily (£11.99) and the Old Vine Riesling 2006 (£11.99) was not too bad, but the "great mineral taste" could not compare to the Mosel and the citrus fruit lacked power. I did like the petrol taste of it though, but Oliver wasn't too excited and almost started an argument with the gentleman who claimed that all Rieslings taste of petrol.
These were the circumstances under which we returned for four reds (£12-17) from Fool's Bay and Kay's Amery Vineyards (Shiraz and Cabernet Sauvignon). And, well, not really our cup of tea. The Cabernet had some cherry flavour, but as Oliver said: "Das war ja schon fast Freundlichkeit, dass man da noch die Kirsche entdeckt hat."
Australian highlight: none
South Africa - "that wine does nothing for me; but the merchant is right, it goes with chicken salad"
At the South Africa table we were told much about the landscape and the location of the vineyards but not so much about the wines. What we were told is that the Ataraxia Sauvignon Blanc 2007 (£13.99) was "very precise, very stiletto like" (Oliver burst into laughter as he thought of high heels) - we thought it was al-right. Next we had a mildly oaked Ondine Chardonnay that was decent but not memorable. It was mainly described in relation to the chicken salad it would go nicely with. We skipped the two reds.
South African highlight: none
The Rest - "that taste creeps in nicely"
Burgundy aside, this was the most interesting table. There was the Ayler Kupp Riesling 2002, a "Spatliess from the Mousel-Soor-Roure region" that would have wiped the floor with the Australian Riesling (for just £9.99) - lemony mineral. The Cline Viognier 2006 (£10.99) had a nice taste that "creeps in" and a fresh, creamy peach finish.
Next came the Kotare Sauvignon Blanc 2006 (£10.99), a wine that in the most wonderful way tasted of lemony asparagus. Really, lemony asparagus. It was very nice. Now I want it with some Schrobenhausener asparagus. The Marqués de Pluma Cosecha 2006 was a bit flat (£6.99), but the Schmitt Söhne Dornfelder 2006 surprisingly was a drinkable, sweet cherry red - just £6.99. This was followed by the Kotare Pinot Noir 2006 (£12.99) that was oaky and light and the Olssens Jackson Barry Pinot Noir that was a little less oaky: light, fresh, spicy. The last red was Château Ksara 2003, a Lebanese wine for £13.99 that tasted like wood-cherry-butter.
We finished the tasting with the Inniskillin Vidal Icewine (0.375l, £49.99) that was oily, creamy, sweet, spicy and delicious.
Rest highlight: asparagus wonder Kotare Sauvignon Blanc 2006 (£10.99)
General comments
To us, the most interesting wines were the Kotare Sauvignon Blanc and the Louis Robin Chablis. Noticeable also the German Riesling and Dornfelder and the Yume Montepulciano d'Abruzzo. The Rhône wins for consistency and France was very good with Alsace and Burgundy.
It was interesting to see how the Brits reacted to the table setting. They were not overly keen on the organic one and did not pay too much attention to "The Rest". France was well visited, but there were also quite a few fans of Australia. The busiest table was Italy. It was also interesting to see that so many trendy, cute Clapham girls had boyfriends that in no way could match the girls' style.
I am sure that there were nice wines we did not do justice, especially among the reds. Unfortunately, many of them suffered from what the Bordeaux tannins did to our palates. Still, we had great fun and enjoyed the setting a lot.