Matching food and wine: oven roast pheasant and Pinot Noir
Pheasant is one of my favourite birds, and luckily it is available in abundance in England. Obviously, it is no longer in season, but as I did not get around to write this posting in winter let me invite you to join me in the memory of past delights. And to think ahead to the pleasures of next autumn. I am not only a fan of pheasant, I also adore Pinot Noir. Even better, I think the two can be an excellent match, particularly when you roast the bird in the oven and serve it with a lighter sauce and herbs.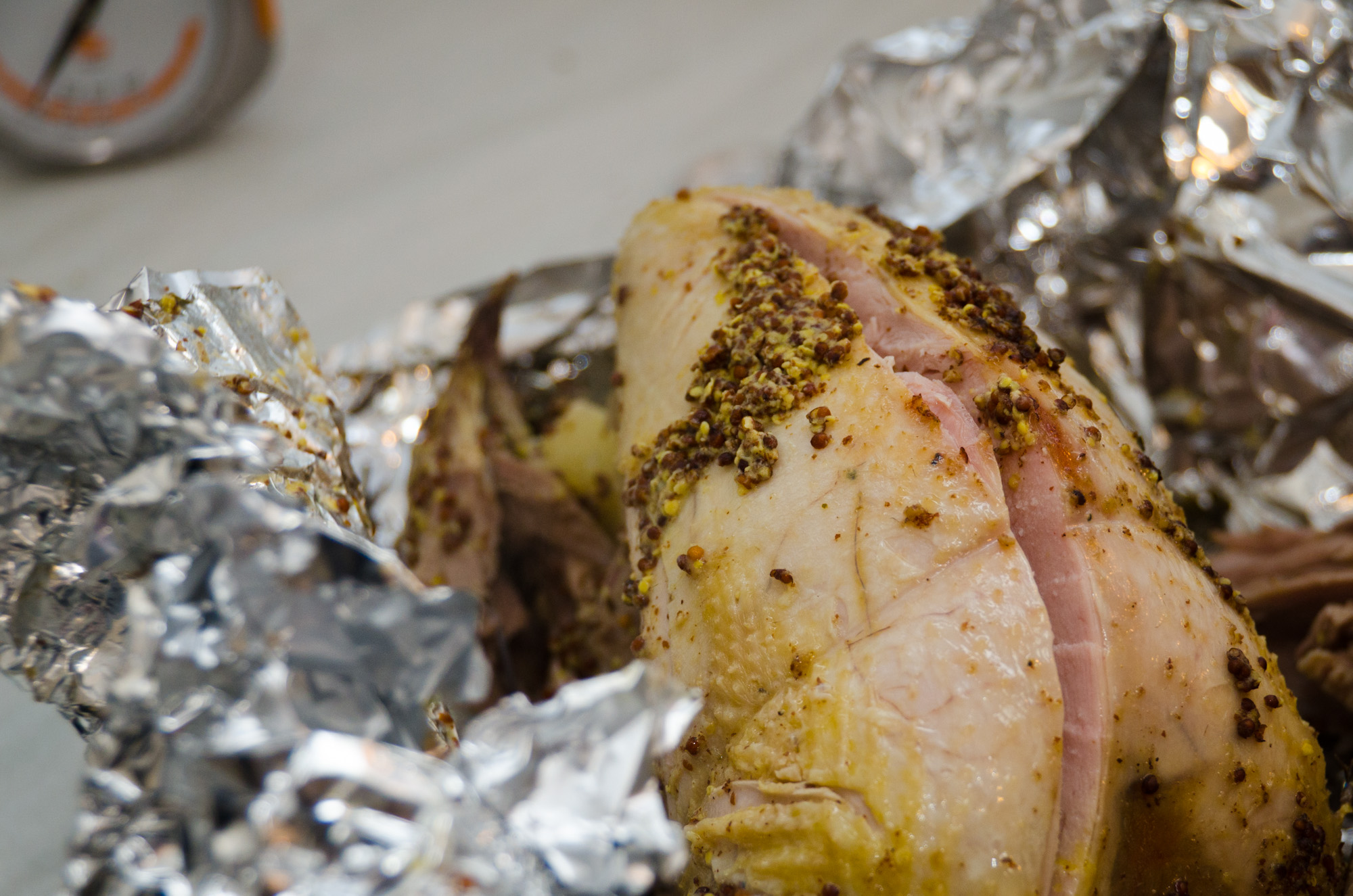 The reason I mention the sauce is that it is actually more important to match sauce and wine than to think too much about matching meat and wine. Chicken with a spicy sauce might be good with Riesling, but in a casserole with a cream sauce it could go with a Chardonnay and if it was a red wine casserole even a heavier red might be suitable. So why pheasant and Pinot Noir then?
The type of Pinot Noir that I usually drink, the German Spätburgunder, tends to be more on the lighter, smoother side and features aromas and flavours such as red berries (often cherry), herbs, bread, pepper and spices, leaves and vegetable, often enhanced by a certain toastiness and roast wood aromas. Now think of a oven roast game bird, a nice crispy skin, a light sauce with herbs and spices plus a hint of fruit - and we have a winner.
First of all you need a nice pheasant - my local butcher sells them for about £6 a piece and one bird is enough to feed two, with sides. You will also need: olive oil, onions, carrots, apples, parsnips, potatoes, bacon, coarse grained English mustard, parsley and thyme. In addition, a little of the red wine you intend to serve with the bird - I find that using the same (or at least same type) of wine for the sauce ensures that wine and food go together nicely.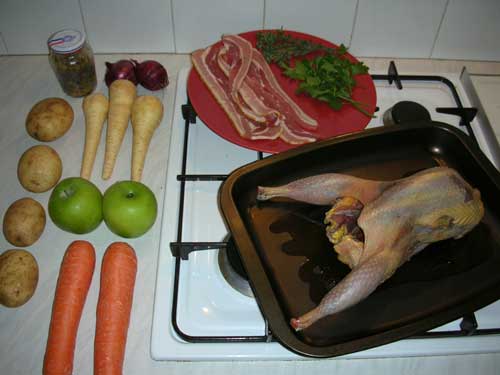 Take a roasting tray and cover it with the oil. Season the bird with pepper and salt and place in the middle. For the cavity, prepare a filling of chopped apple, onion, carrot and parsnip, seasoned with pepper and salt, and add a little thyme and parsley.
Chop up the potatoes and the rest of the vegetables - I prefer larger chunks, in particular for the onions which I usually slice in half. Make sure to cut the potatoes into smaller pieces though so that they cook through (you can also place them on a separate roasting tray to keep them drier and crisper). Arrange the vegetables around the bird in the tin, season with pepper and salt and add the rest of the herbs and some red wine.
To give the bird a little more flavour, cover it with the mustard - just use a normal spoon and/or your fingers to spread the mustard; it will add to the tasty crust. After that cover the bird with the bacon.
And in the oven it goes. I vary temperature and time depending on the size of the bird, but I find that about 200 C for twenty minutes followed by about 180 C for 35-40 minutes gives good results for the average pheasant. When the bird is done, take the pheasant out of the oven and set aside to rest for 5-10 minutes. I wrap the bird in two layers of tinfoil.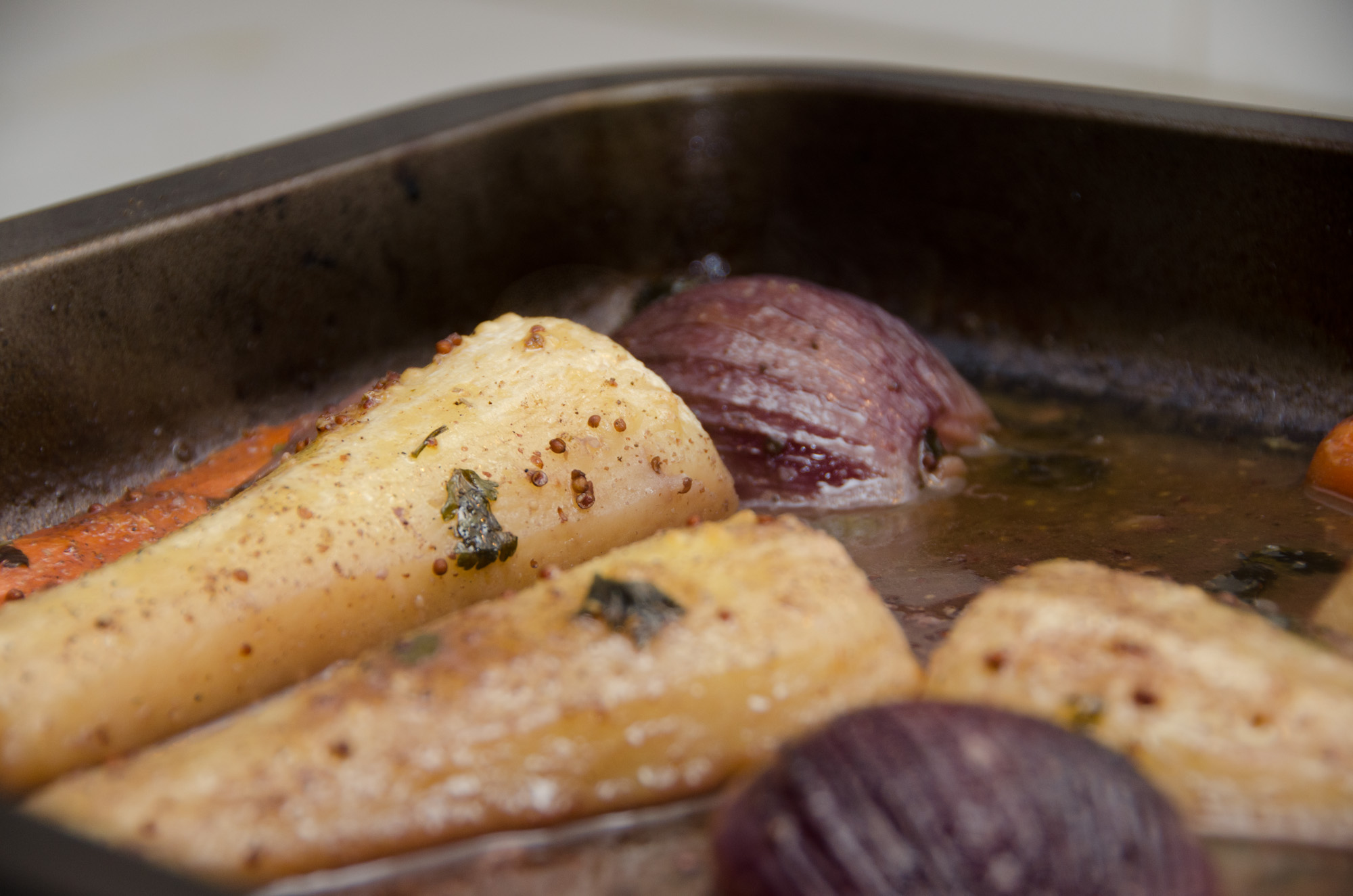 While the bird rests, put the roasting tray on the cooker (gas is ideal of course) to reduce the sauce a little. Perhaps add some butter to thicken it and season to taste. And now all you need to do is put the veg on a plate, slice up the bird and get yourself some more wine!
Of the wines I had recently, I would particularly recommend a Bavarian Pinot Noir (or Franconian, as I am sure the locals would prefer it to be called). To quote from my tasting notes on the Luckert Spätburgunder:
The colour is a darker red, noticeably more intense than most of the lighter German Pinots I usually drink. The same goes for the aromas: a robust nose of leather, cocoa, cherries and woodland herbs, all with noticeably earthy undertones. The Spätburgunder also shows noticeable muscle on the tongue; it is by no means a heavy wine, but more robust than you might expect from a German Pinot. Noticeably dry with good tannins, the Luckert also has a good medium finish that again shows off those coffee/cocoa aromas.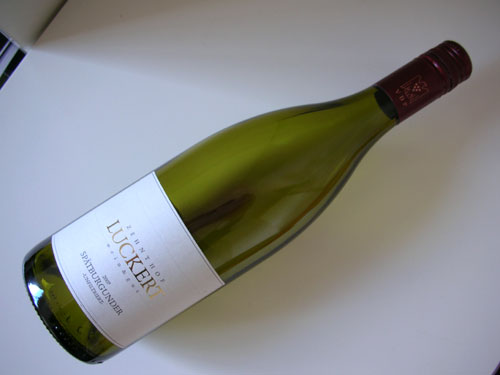 If you do not happen to have this particular wine at hand, any other good Pinot Noir should do; perhaps avoid a super strong, tannic muscle beast as well as the very weak and super fruity ones - having said that, even a lighter quality Pinot should be fine and I think it comes together quite nicely with the apple and onion (the latter will soak up much sauce, making it very tasty).