Trockenbeerenauslese Graacher Himmelreich, Anyone? A guest ramble on German wine by Lesley Trites
"A German wine label is one of the things life's too short for," begins the famous Kingsley Amis quote that is the Wine Rambler's motto, "a daunting testimony to that peculiar nation's love of detail and organization." We will not argue about the love of detail and organisation, but we always try to make the point that the wines behind the labels are worth your time. Today we can leave that task to someone not suspect of national bias: a Canadian - Lesley Trites, also known as Girl on Wine.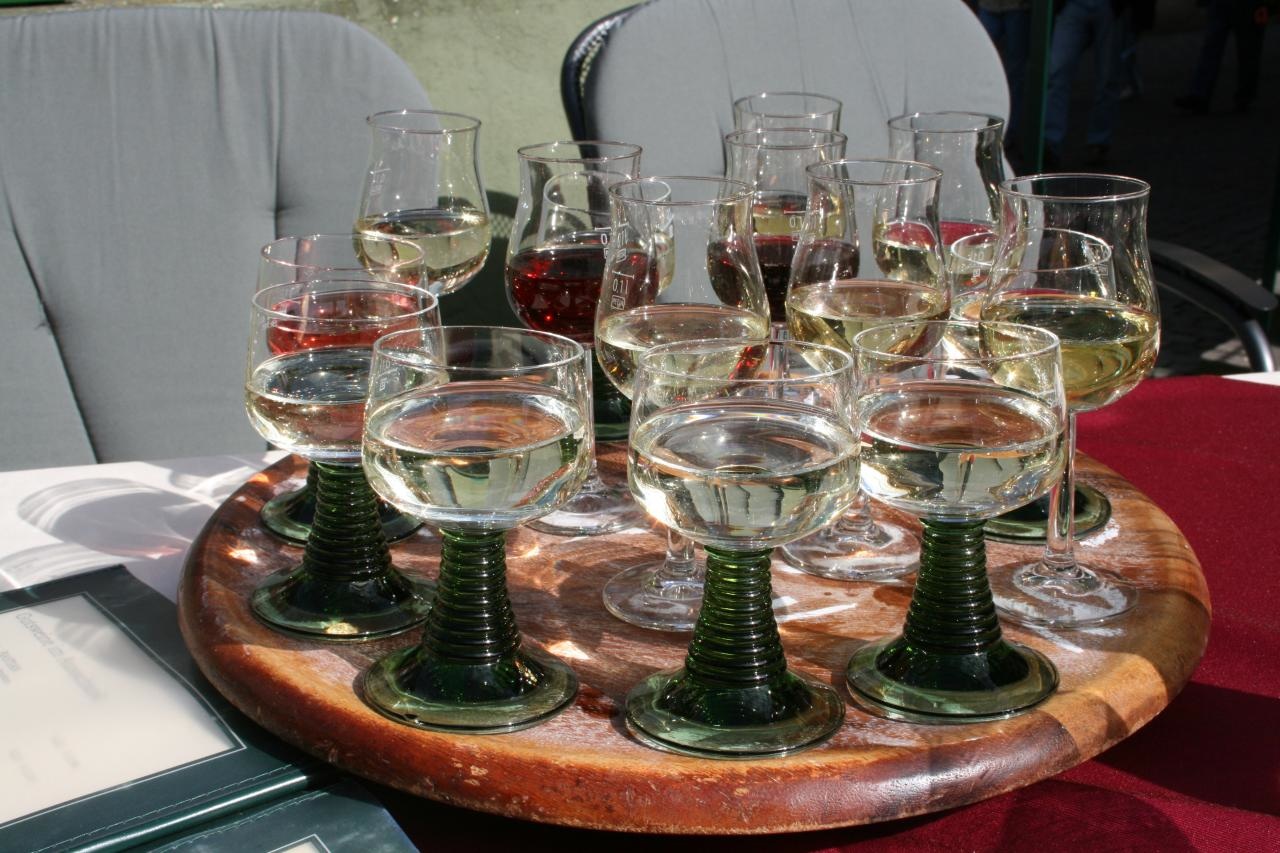 In our latest guest ramble, Lesley tells the story of how she was lured into German wine and shares a foreigner's perspective on German wine (labels) and culture. Enjoy, and learn.
Trockenbeerenauslese Graacher Himmelreich, Anyone?
The first time I went to Germany was in 2006. At that time I knew next to nothing about German wine and, to tell you the truth, not all that much about wine in general. But I at least had an interest in trying local wine, in the same way I was interested in trying local food.
Prior to moving to Montreal and taking a job with a German company in 2006, I spent two years on the West coast of Canada in British Columbia, where I liked to wander down to my favourite local wine shop by the ocean for their Sunday afternoon tastings. While there I usually asked for recommendations and picked up a couple bottles of local B.C. wine. Around that time my friend and I embarked on a Sideways-inspired wine-tasting road trip up Vancouver Island, and for the first time I had the chance to come face to face with producers pouring me a glass of their own wine. That peaked my interest in winemaking.
But my fixation with alcoholic beverages started long before that, somewhere around my late teens when I was serving glasses of wine with foreign-sounding names at a Greek restaurant in my small home town in eastern Canada. And then there were my early university days in Toronto, when my room mate and I would feel sophisticated when we splurged on a bottle of Wolf Blass Yellow Label. Gradually, I started to pay a little more attention to what I was drinking, learning a few grapes or regions that I liked.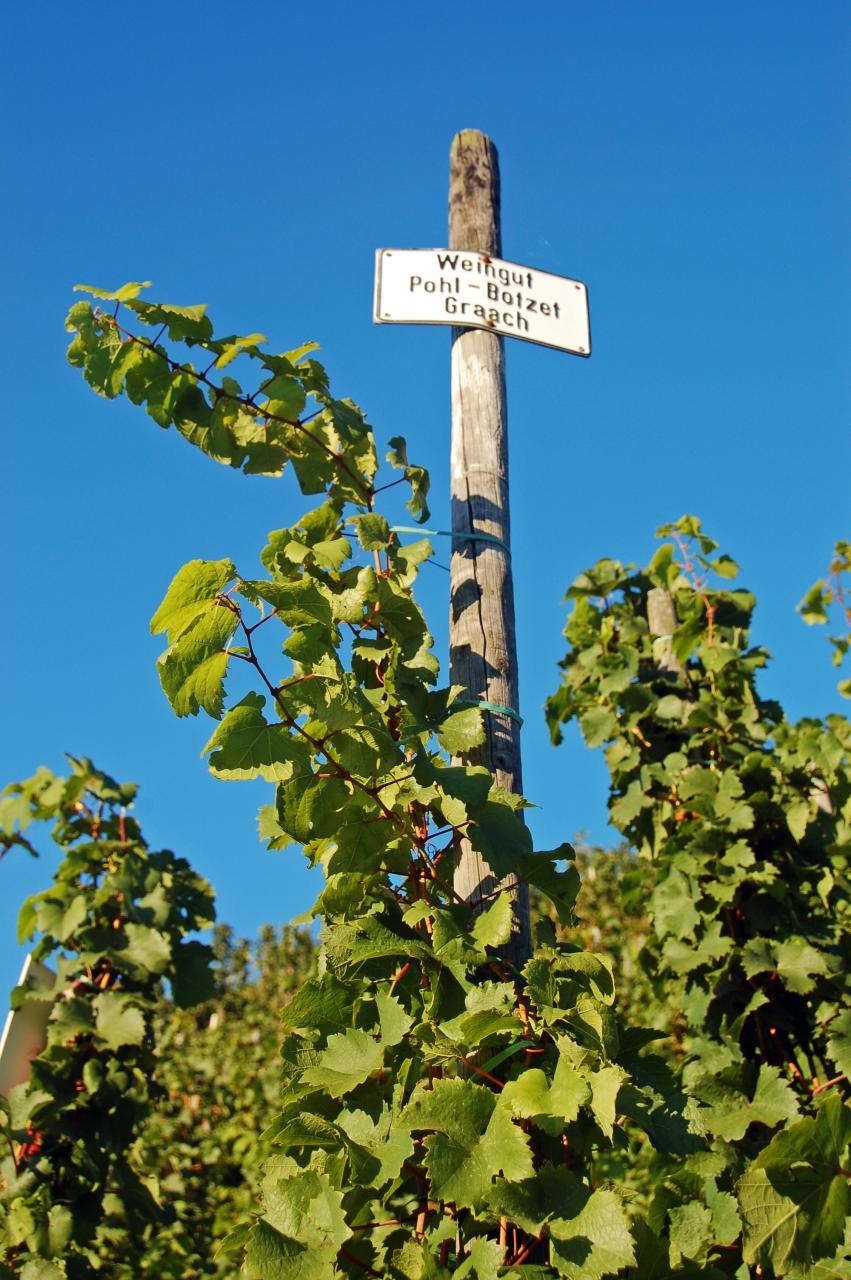 None of that prepared me for German wine, however. When faced with the frighteningly-long and complicated names on a menu, I'm pretty sure I stuck to ordering "red" or "white," that first visit in 2006. I knew enough to know that Germany was better-known for white wine, so I tried some white, even though I didn't normally drink white wine back then. And I liked what I tasted, enough that when I returned home, I no longer shied away when the opportunity to drink white wine presented itself. Most of what I tried didn't compare to the white wine I had in Germany, though.
In the couple years that followed, I gradually began to learn a little more about wine. It was during a wine tour in Mendoza, Argentina, while learning to sniff and swirl like a pro, that I really caught the bug. When I returned to Montreal, I enrolled in my first real wine tasting course.
And so the second time I went to Germany, in 2009, I was more prepared. I gradually came to realize that if I wanted to try serious German wine, I was going to have to overcome my prejudice against sweet wines. The average, non wine geek, North American palate is (in my opinion) attuned to huge reds from Australia or California - basically the antithesis to sweet German Riesling. The more I learned about wine, though, the more I got away from that. But before overcoming my prejudice against sweet wines, I'd had to overcome my prejudice against white wine in general. My first wine tasting course helped with that – it focused on French wines, and I tried many excellent French wines, many of which were white. I think it was my first taste of Gewürztraminer from Alsace that really sold me. Alsace wine, after all, has more in common with German wine than with wine from the rest of France. Unlike the rest of France, both Alsace and Germany usually include grape varietals on their labels (a practice that was popular in Germany well before it became a trend in California and the New World).
But it was only in 2010, when I had the chance to spend five months living in Germany, that I really began to understand German wine. I learned about the various categorizations of the quality wines (called Qualitätswein mit Prädikat in German), which are based on several factors, but to put it simply you could say they're based on the level of sugar in the grapes. If, like me, you aren't fluent in German, the names can be hard to remember, but gradually I began to recall that a Spätlese is usually sweeter than a fruity Kabinett, an Auslese is usually sweeter than a Spätlese, a Beerenauslese is even sweeter than that, and that a Trockenbeerenauslese is the sweetest of them all. Once you wrap your head around the terms, a German wine label can actually tell you quite a bit about the wine, more than labels from many other countries. The German classification system is very precise that way.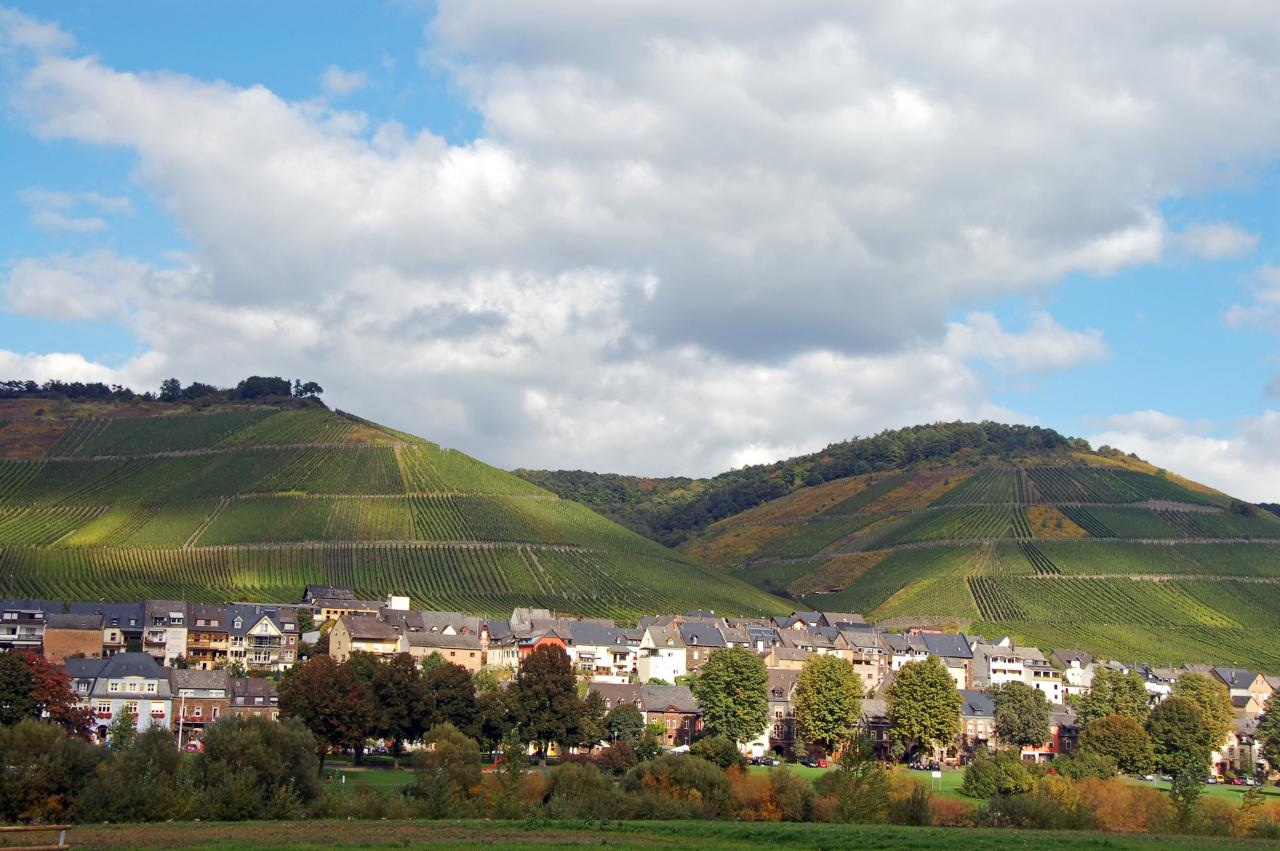 I've never been all that into sweet wines, but see, Germany does sweet wine differently. I think the main thing is the acidity: it balances out that sweetness. While making casual week night dinners in our temporary German apartment, I quickly learned that Riesling is very food friendly – it can be paired with a wide variety of food, such as fish, chicken, sushi, Vietnamese, lighter summer fare, or even the heavier stuff, like the traditional German sausage and sauerkraut. We still most often drank the easier-to-come-by dry or slightly off-dry Riesling. While I tried some good and some very, very good Riesling in this category, it was really when we were in the Mosel Valley tasting several different sweeter wines, some of them almost 10 years old, that I really felt like I was drinking something special and unique.
In the Mosel area I visited the Dr. Loosen estate and did a pretty comprehensive tasting of some of their sweeter wines. And that night at a "walking dinner" put on by the Markus Molitor winery, we had the opportunity to try some older sweet wines. That was especially rewarding, as it's after some age that the balance between acidity and sweetness in Riesling really shines. Trying a variety of sweet wines with a variety of small courses (veal, octopus, lobster ravioli, and panna cotta, for example) also really emphasized how food friendly even the sweeter Rieslings can be. These wines certainly don't need to be reserved for the dessert course.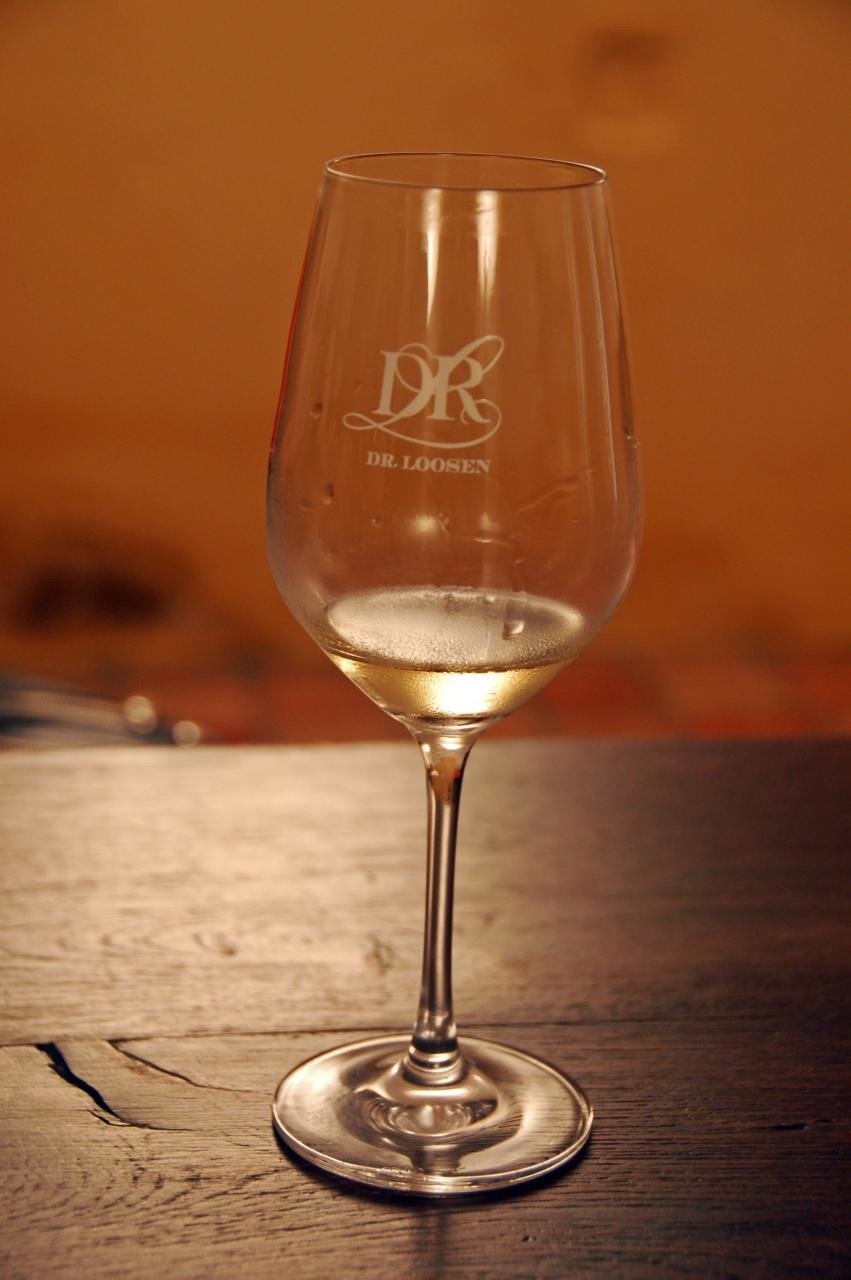 One thing that really struck me about Germany is how much wine is integrated into the culture, much more than in North America. Everywhere we went, we encountered wine festivals, where people of a wide range of ages were enjoying a glass of wine. We often came across small stands or wine markets, some permanent while others just sprung up for a weekend. We travelled through several small towns whose entire raison d'être revolved around wine. In such towns you might see an old mural with pictures of grapes, vines, and wine chalices adorning a building.
And in what could be called Germany's version of a beauty pageant, a German Wine Queen is crowned each year after a competition among wine queens from various German wine regions. Contestants must demonstrate their wine knowledge through blind tastings and questioning by a panel of jurors.
In Mannheim, where we lived, there was a wine market that opened outside a gourmet food shop every Saturday. We often stopped there on the weekends we stayed in town, in between running our errands (as did many others, we noticed – the place was always packed). You just had to pay a deposit for the privilege of drinking out of a proper wine glass in an unrestricted area (much nicer than a plastic cup, in my humble opinion), and then you could pay by the glass.
In Stuttgart we saw one of the more elaborate wine festivals – there were several streets that had been shut down and were dedicated solely to the elaborate wine booths that were set up, many of them complete restaurants with wooden beams and booths. There were people in traditional German dress, oompah oompah bands, and people swaying to the music from their spots on long wooden benches all completing the picture. Those were some happy people.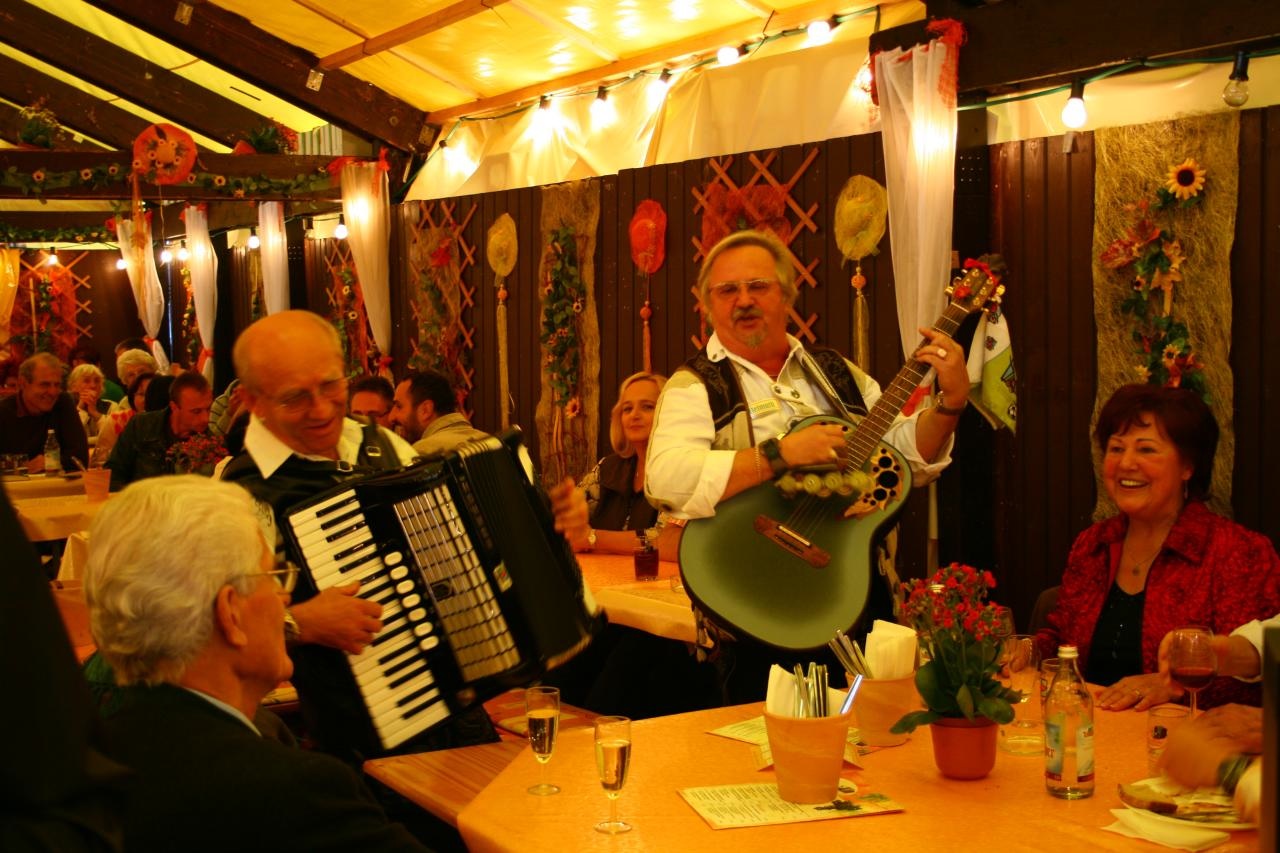 I didn't realize quite how far I'd come in my understanding of German wine until recently, when I was reading Jay McInerney's A Hedonist In The Cellar: Adventures in Wine and came across this (page 31):
Trockenbeerenauslese Graacher Himmelreich, anyone? Even hardened wine wonks ask themselves whether life is long enough to learn the difference between Spätlese and Auslese.
Now I'm not quite at the point of considering myself a "hardened wine wonk." But after several months in Germany I know that Trockenbeerenauslese is a very sweet and hard-to-come by wine made from grapes that are so ripe their skin has shrivelled and they've reached a state of "noble rot" (as opposed to the ignoble type of rot, I suppose). Graacher Himmelreich is one of the top vineyard sites in the Mosel Valley. It carries the Erste Lage designation (which is similar to France's Grand Cru designation). We drove by and then tried wine from the Graacher Himmelreich vineyard when tasting at the Dr. Loosen estate. It's really a treat to drive through those beautiful Mosel vineyards, especially on a sunny fall day.
And so, I think I did learn the difference between Spätlese and Auslese in the end. If I can do it, you can too!