A Wine Rambler beer tasting: Belgian Trappists, plum beer and a chocolate beer dessert
The Wine Rambler is all about wine - or are we? Actually, we also sometimes, oh shock!, drink beer. This Tuesday, the London branch of the Wine Rambler had a few friends over to try an unusual selection of beers, all provided by my friend Mike. Mike, it turns out, is a beer aficionado. Like other people buy wine, Mike buys beer and then stores it for a decade or longer to see how it develops; some of the beers he likes do actually require to be stored for a few years before they develop their full potential. If this seems odd to you, the next sentence may seem even more strange: fifteen year old beer can be damn tasty and certainly age better than many wines.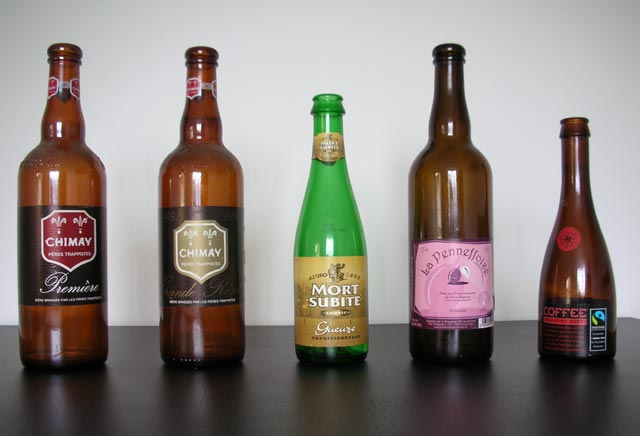 Before I tell you something about the beers we had this Tuesday, let me remark on the crowd of tasters. We were all blokes - how very stereotypical of us, you might say. But do not draw any premature conclusions; there actually is a large number of women who enjoy beer and I had invited a couple of them to join us. One of them, who shall not be named, dropped out at the last minute. Her excuse was that she had attended a Champagne tasting beforehand and was too hammered to drink beer. Arguably, there is some kind of style here, but going for the Champagne first and then finishing the evening with a taste of Belgian beer, that would have been the serious approach to drinking we are looking for! Having said that, we were actually quite modest - at least as far as the alcohol intake is concerned.
So let's start with the first beer. It came from the Chimay Brewery, a Belgian Brewery run by Trappist monks. They make beer in four different varieties, the Chimay Rouge, around 7% and with a sweet, fruity aroma; the Chimay Bleue, a darker ale of 9%; the Chimay Blanche, a lighter coloured beer of 8%; and the Chimay Dorée, a light ale that is reserved for the monks.
We started with a Chimay Rouge, or Première, - 7% and from 1992. At first Mike was very concerned that it might not have survived too well as it is meant to be drunk within ten years or less. Handling the beer was actually quite difficult as it had to rest at my flat for two months, standing, for the yeast to settle down before we could drink it and even so we had to be very careful pouring it.
The Première still had some bubbles, even though it was not very foamy. At first, the nose irritated Mike, particularly aromas of metal that made him think it had gone off. The beer indeed smelled of metal, and also left a taste of iron on the tongue, but it turned out to be quite drinkable. The nose was mostly dominated by raisin and overripe fruit. In fact, it reminded us of a Danish pastry covered with cinnamon-vanilla, or a German plum cake made of seriously overripe plums - or, actually, a mix of both. Both the nose and the taste were quite yeasty too, especially as we got to the end of the bottle. The finish brought back the iron, but also the raisin. The beer was drier than Mike expected it to be, perhaps the result of secondary (bottle) fermentation. Tom commented that it 'does not taste like a beer at all [but almost] like Madeira wine'.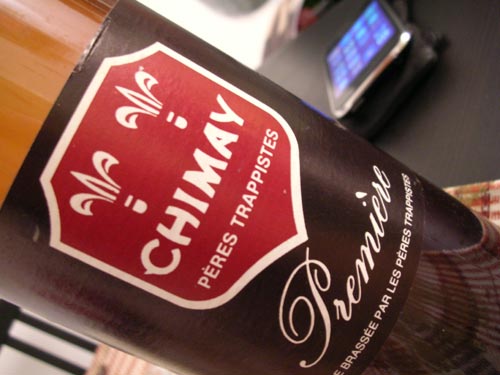 I quite liked it, although a bit more sweetness would have added complexity. It was certainly different from the beer I usually drink and quite substantial.
The second beer was a Chimay Grande Réserve, made in 1995.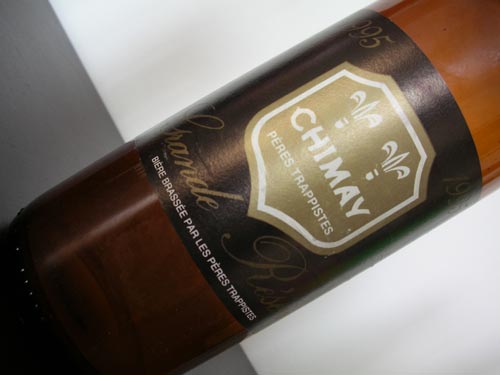 With two percent points more alcohol the Grand Réserve had aged better and it felt noticeably fresher than the Rouge. It was not too dissimilar in style, but less metallic and less raisiny. I found it quite elegant and certainly very well rounded, with just the right amount of sweet-sour fruitiness. It felt fresh, in fact a lot fresher than quite a few wines of similar age I have had. It was my favourite of the evening. Tom commented that the Grande Réserve was 'sort of like the other one, just more amplified' - he preferred the Rouge.
It also needs to be said that the Grand Réserve went very well with our dinner: roast squash filled with a goats cheese, sun-dried tomato, pine nut, herb and honey. An excellent combination. We thought the beer might also nicely complement a mild curry.
Our third beer was Mort Subite, Gueuze Traditionelle, again from belgium, but less old; this one was also much lighter at 4.5%. The interesting fact about it is that it is a lambic beer, meaning that it is produced by spontaneous fermentation. As a wine drinker I find this quite interesting as there is such a big push among quality wine makers to go for spontaneous fermentation, where you leave the dirty work to local, indigenous yeast cultures as opposed to industrialised yeasts that guarantee a more stable, unified (boring?) wine experience.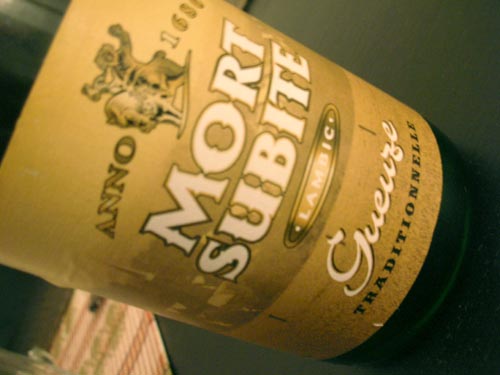 The lambic process leads to a beer that is more like cider, with a somewhat sour after-taste. This is actually a good summary of the beer we tasted: a sweet-sour nose, bordering on sickly sweet with a touch of vinegar, and a very refreshing, almost cider like taste that reminded me a lot of cloudy, unfiltered apple juicy with a bit of a punch to it. There was also noticeable ginger, leading Tom to comment that it tasted a little like Jamaican ginger cake. This was Tom's favourite beer of the night.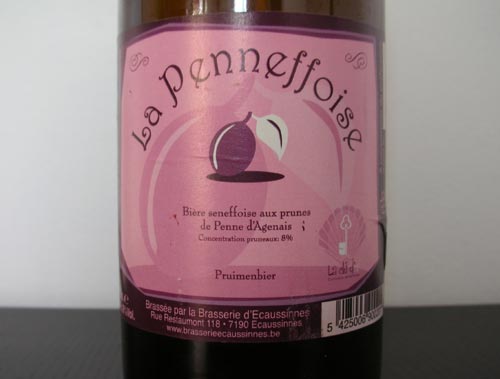 After this refreshing experience we moved on to beer #4; a La Penneffoise, a plum beer or 'Pruimenbier', clocking in at 8%. Unfortunately, I put it into the fridge horizontally, which is not ideal for a very yeasty beer. So instead of plum we mostly got yeast, yeast and yeast. Plus a good dosage of caramel and a liquorice finish that I found quite pleasant. Interestingly, it reminded me a lot of Karamalz, a German malt 'beer' that, with 0.2% alcohol, is not actually considered to be a beer at all and was reasonably popular with teenagers in the 80s, before it became very uncool. Because of this memory I did actually quite like it, but it was so yeasty that we just could not finish it.
Instead, we finished the evening with a heavy, chocolaty dessert - and I am still not sure if I refer to the beer or the pudding. The beer was a Meantime Coffee beer, 'a combination of Fairtrade Rwanda Maraba Bourbon coffee hand roasted by Union Coffee Roasters, and the finest East Anglian Barley' (4%). It is also a really sweet thing of chocolaty coffee character that felt a little odd. Tom said that even for a hardcore drinking Brit this was 'pretty weird' and that 'on its own it is like sword swallowing'. However, with the dessert it really came into its own: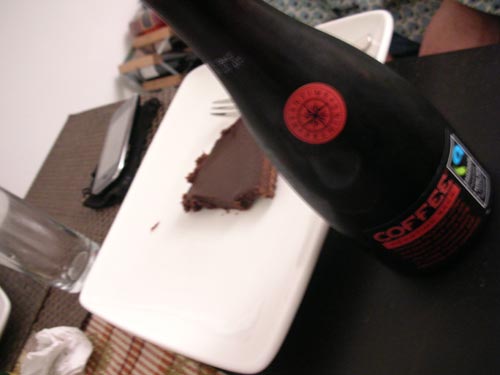 Tthe taste of the beer became much more chocolatey, almost turning it into a flat chocolate coke. It really complemented the chocolate tart very well. On its own I would probably not drink it, but with the dessert it was a good match.
We had a really good evening and I learned something new about beer. First of all tasting those old beers I was very impressed with how well they age - not many wines are still drinkable, much less enjoyable, after having been stored in a spare bedroom for 18 years. Obviously, only very few beers survive that long, but I felt privileged to be given a chance to sample a few. Secondly, I can now see why Mike says that really good, mature Belgian beers can rival wines in complexity. The Chimay beers were really quite something. Thirdly, a beer tasting can be as much fun as a wine tasting and it also includes cork, even though you do not need a cork screw as you can just pull it out of the bottle.
Many thanks to Mike for providing beer, education and good company! I have a feeling this will not have been our last beer tasting...