Wine Rambler German Spring Tasting 2010 - sparkling rosé to cocaine Chardonnay cut with brick dust
The seasonal wine tastings hosted by the London branch of the Wine Rambler are now something like an institution. So much so that this time change was needed ('change you can believe in' - after all it is election time here in the UK). My message for the electorate was quite simple: 'no Riesling'. This does not mean that I have suddenly lost my love for this amazing variety, not at all. However, it is good to every so often remind people that there is so much more to German wine than just Riesling. So what did I choose for that mission: a sparkling vintage rosé, a Silvaner, a Chardonnay, a Pinot Noir and a Bordeaux-style blend of red grapes, including Cabernet Sauvignon.
As always, all wines were tasted blind, their identity only to be revealed after the judges had come to a verdict. For this tasting, we were only a small group as several of the regulars had to drop out on short notice, citing excuses such as childcare arrangements. We did not let this defeatism impact on our evening and spent a good six hours eating and talking. Drinking too, of course.
A click on a thumbnail image gets you the full record of the wine in question (for those of you interested in the gory details).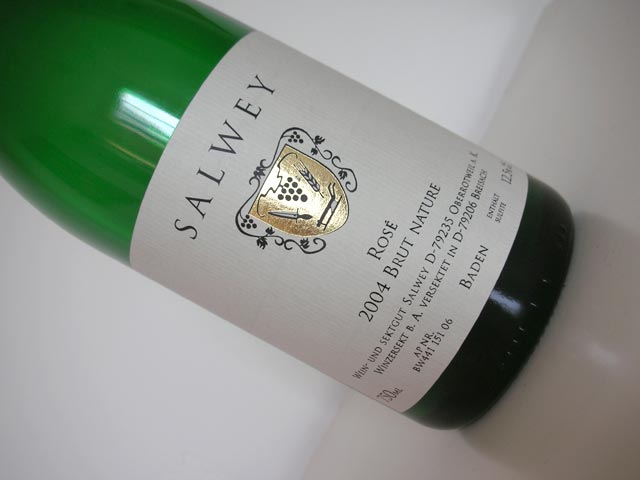 We started with a sparkling wine from Baden, a wine that amazed us with the most exciting deep amber colour I have ever seen in a wine (Tom described the colour as 'not quite Irn-bru'), and one of the most enticing aromas of any sparkling wine so far, a well balanced blend of strawberries, honeydew melon, ripe peaches and other deliciously fruity elements (for instance papaya) with a aromas of honey and the faintest hint of petrol (two text-book elements of aged Riesling) and horse manure. Compared to the beautiful colour and the charming nose, the rosé Brut Nature from the Salwey winery disappointed a little in the mouth. Yes, it had lots of fresh acidity and also good fruit, particularly unripe strawberries - like when they are still too white -, with a bit of nut in the finish, but it also almost disappeared mid-palate, only to gently resurface in a fairly long, but not too substantial finish. Mind you, it was still pleasant to drink, but just think what could have been!
Members of the German tribe of the Franconians like to pour their wine from oddly shaped 'Bocksbeutel' bottles. Our second wine, a Silvaner, came in such a bottle. And like the bottle, it was quite green, starting off with a greenish nose of apple, earthy notes, a hint of ground pepper and some mineral. A reasonably full bodied (but by no means heavy) dry wine, the Silvaner still showed off a certain amount of fruity juiciness and a dosage of citrus acidity with some herbal notes.
It had something very consistent, rock-solid to it, a well rounded workhorse and, in particular, a great food wine. We had sausages with it; in particular the English pork-and-apple sausages went very well, both enhancing each other.
The next wine, a German Chardonnay, featured a nose of mineral, it was almost stony; Anna went so far as to call it 'brick dust'. The fact that the wine took a little time to open up added to the initial stony impression, but soon this was joined by fruit, in particular lychee, pear and pineapple (pineapple drops, to be precise); add to that some cassis and hazelnut and we are in business. On the tongue the Chardonnay was quite lively, with good acidity, dry with some crisp moments, but well balanced by good dosage of fruit (lychee, berries, melon and more exotic yumminess). The wine showed a clear presence, was focussed and had good substance. The finish added some buttery creaminess and more nut, and despite being more on the medium side it eased off very slowly and gently.
The following summaries were given by the English audience: '...a medley of lychee, powder and hazel...'; '...may taste of nut-butter, but that sounds like a horrible euphemism...'; '...the only time I had cocaine it was cut with brick dust, and I swear it tasted like this...'. I wonder if this is what winemaker Philipp Kuhn had in mind? Either way, I really liked this one and I will seek out more German Chardonnay.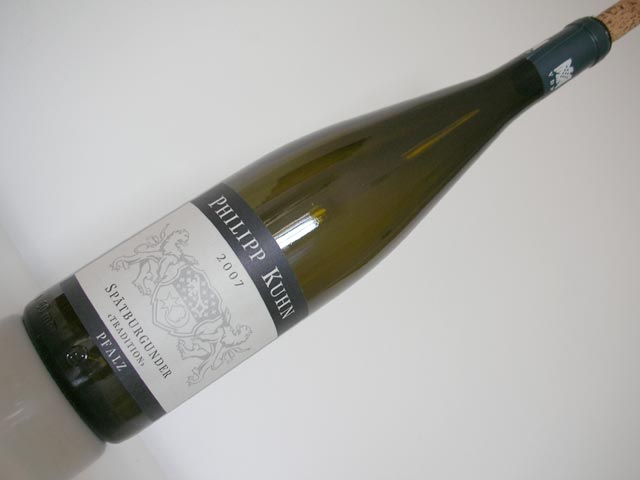 Next came the red, a Pinot Noir, again from the Kuhn winery. Its medium-dark colour was just screaming deep berry flavours. The first sniff showed that this was not an empty promise: cherries, yeast and mushroom, but also black currant and a bit of mustard came together with leather aromas and a hint of chocolate to form a robust, but very smooth and enticing nose. The same could be said about the tongue sensation: very well rounded, smooth, but not too smooth, fruity and substantial, with just the right amount of acidity to keep it fresh and interesting; lots of cherries and berries (think woodland strawberries). And then there was a twist, a spicy, peppery finish with: an echo! What started out as a good, but not really remarkable finish suddenly came back a second time to grace my tongue with a final goodbye from the well integrated tannins - very pleasant. A thoroughly enjoyable wine, Philipp Kuhn's Spätburgunder even received praise from Mieko and Tom, two members of our tasting group who are not usually attracted to red wine.
The last wine was a blend of several red varieties, including Cabernet Sauvignon and Dornfelder, and it was not really what you would expect from a German red. The colour was dark and intensive, think blackcurrant juice. The bouquet combined smooth aromas of dark berries, cassis, rose petals, a hint of menthol and then the smooth butter, vanilla, sausage and spice combination. The oak aromas were well integrated and by no means overwhelming. On the tongue, the smooth tannin, lots of berries and sweet fruit came together in a full (but not really heavy) bodied red with a medium to long finish.
Despite its undeniable qualities though I felt it lacked that bit of surprise lurking out of the well made, international style. It was quite interesting to compare the reactions of two of my friends. Anna felt that the finish was 'a bit boozy, without being complex [enough]', to which Steve replied: 'You say that as if that is a bad thing!' Still, for a German red wine for less than ten Euro, the Cuvée Gaudenz from the Knipser winery had a lot going for it.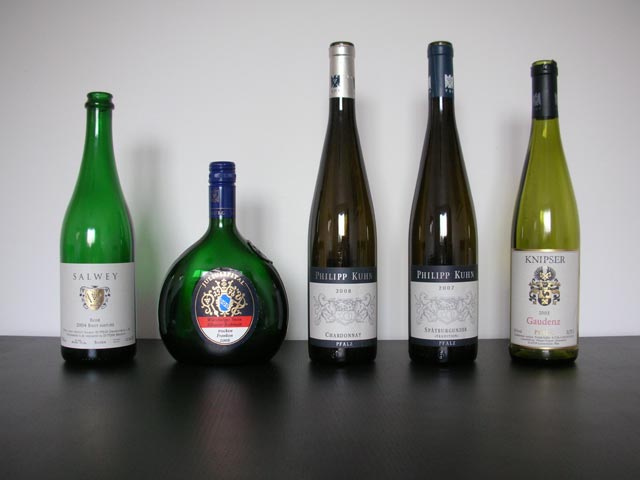 One night, five wines. For me the most interesting wine was the Chardonnay, especially because it reminded me that I should not limit my Chardonnay intake to the more heavy French wines that I often get as part of tasting menus in London restaurants. The most consistent wine was the Silvaner. Even though it did not truly excite the judges (I rated it a little higher than the panel), it did really deliver as food companion.
The most highly rated wine of the night was Philipp Kuhn's Pinot Noir that, especially as it is priced below 10 €, really stood out and received high praise from the judges, including the non-red wine drinkers. The most inconsistent wine was, without doubt, Salwey's Brut. The vintage sparkling wine had such amazing colour and the most charming nose, but then lost it somewhere on the palate. Oh, what could have been! Knipsers' red wine blend was liked, and as a more typical international style red, if you will, appreciated by the red wine drinkers, but still overshadowed by the Pinot.
Because of this, the winner of the night clearly was Philipp Kuhn, the winemaker from the Pfalz. One to watch, no doubt, in particular as we only tasted entry (Pinot) and mid-range (Chardonnay) wines.
Another winner was, as always, our group of wine judges and friends. I am already looking forward to the next night of frolics, fun and wine.