You shall know them by their shoes - tasting wine at Bayerischer Hof, Munich
If you follow this blog regularly (and if not: why not?), you will know that the VDP, Germany's trade association of elite wine estates, hosts an annual tasting in Munich every November that has special significance for the Wine Rambler. We have reported on it last year and the year before that. And we will do so again in a minute. Just a few words to introduce the photographic theme of this posting: Since that chandeliered, psychedelically carpeted lounge has become an extension of our living rooms, as it were, we also take a keen interest in the other tasters gathered there. There are always some sociological observations to make, of course, and to discuss afterwards, about age structure and gender of the sample group, and in fact I think we can report some tentative progress in those two categories, wink wink. But this time, it was something rather different that caught our attention: Shoes.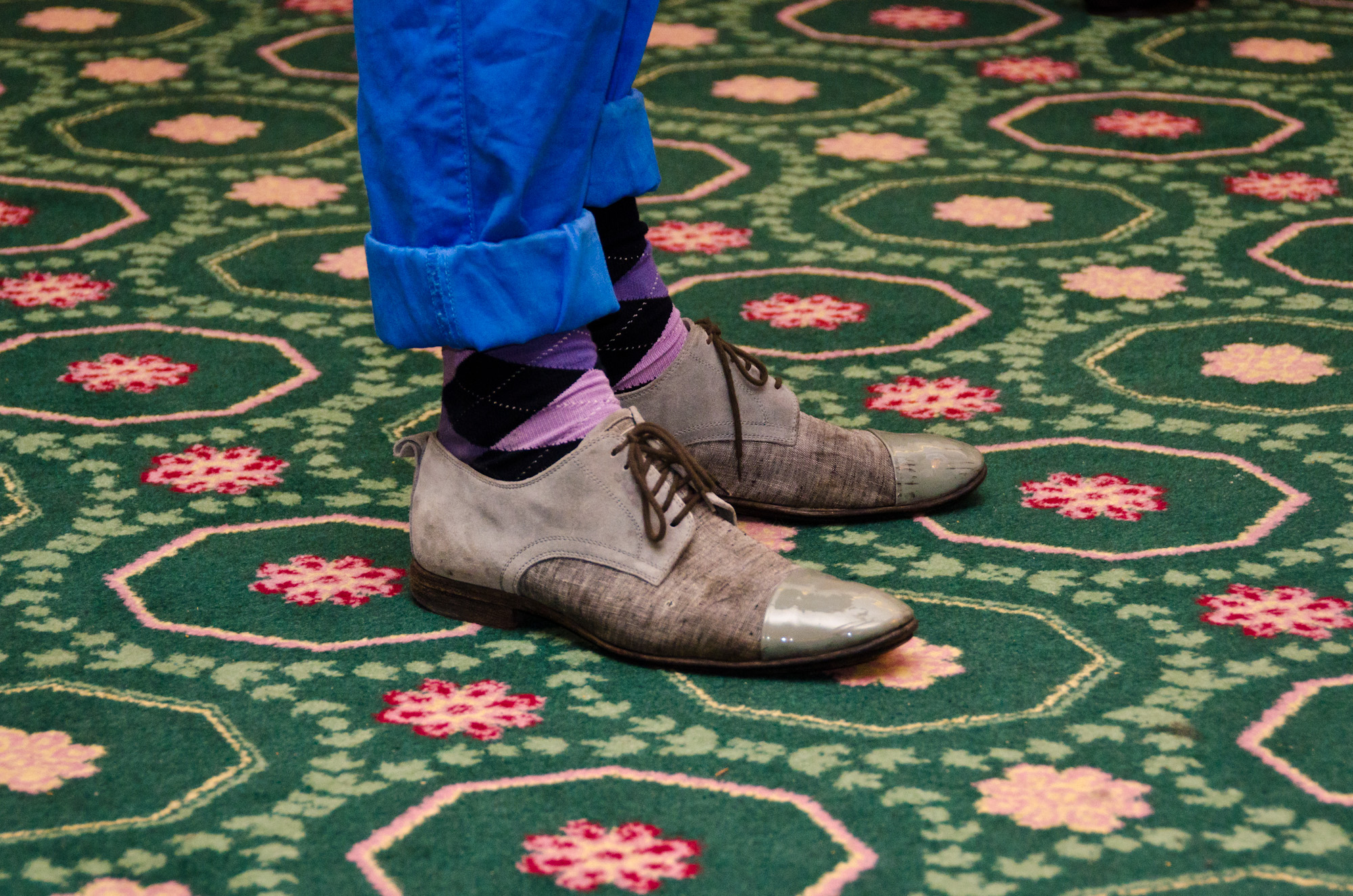 Hip shoes, boring shoes, sexy shoes, sensible shoes. Endless variety with a few common themes, which makes shoes a bit like wine. That's the kind of thought that looking at mind-altering carpeting in state of growing tipsiness will bring up in the course of an afternoon. In pursuing it, however, we could profit from Wine Rambler Torsten's keen photographic eye, as well as some underhanded camera moves he learned by prowling London as a street photographer.
Our very general impression of the 2010 whites that were mostly on offer (with notable exceptions, where aged whites stole the show) was that high acidity was undoubtedly an issue, with many wines a little awkward yet, and Riesling generally getting the better of the Pinot varieties and of Silvaner. The 2009 reds we got to taste, on the other hand, were seriously good throughout, and some of them truly spectacular.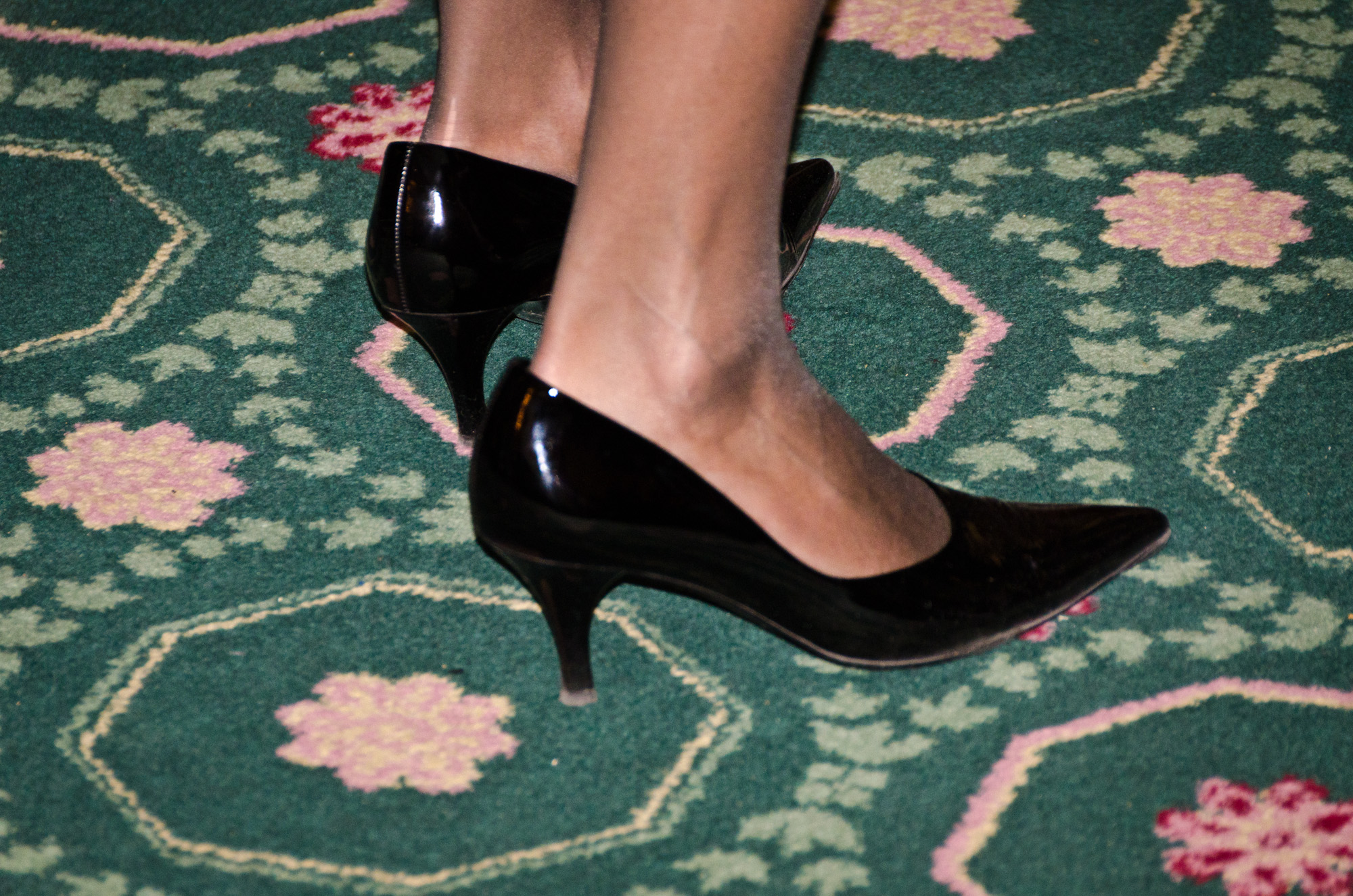 From the Künstler estate we have come to expect mainly two things in this setting: Incessant wisecracks from the genial old geezer manning the table, and top bunny Riesling. On both fronts, we were not disappointed: The 2010 "Finesse" was, to me, the most convincing of the entry level Rieslings of the evening, but the 2010 Hochheimer Stielweg "Alte Reben" (old vines) laid on an extra layer of Riesling charm - ripe and complex, slightly smoky, with absolutely none of the disharmony felt elsewhere. The "Erstes Gewächs" from the Hochheimer Hölle vineyard, Künstler's dry flagship, managed to top even that: With a little more acidity, but still enormously harmonious, coated with mineral and finest fruit, marvellously drinkable. Künstler is and remains a safe bet. Much like a pair of black high heels, you know what you get, and you don't go wrong.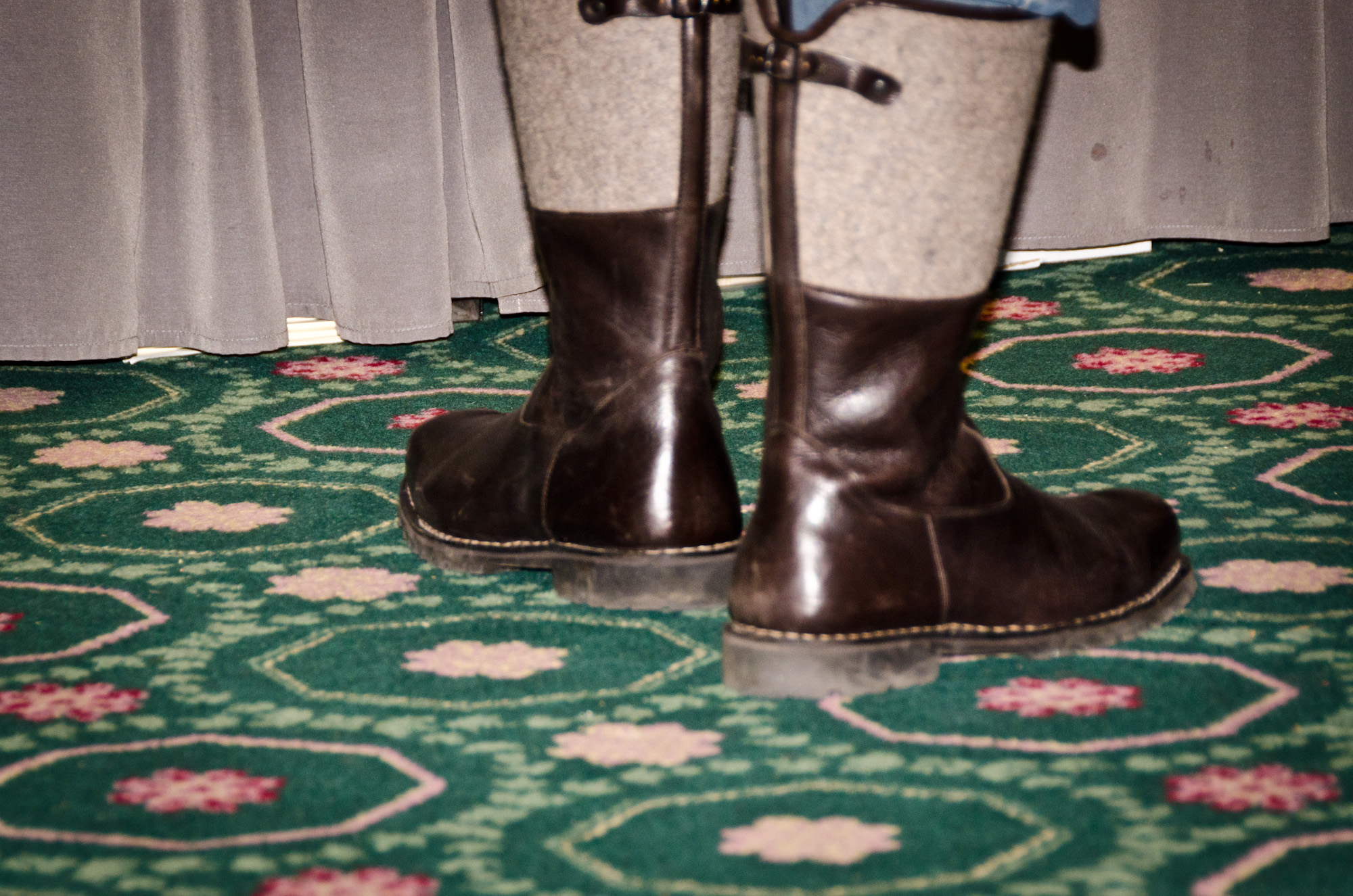 Wirsching, the large and prestigious Franconian winery (whose owners do not so much present their wines as hold court for their many Munich friends and admirers), has always stood for bigger-bodied, ample whites, both from Silvaner and from other varieties. Interesting to see how they dealt with a somewhat cooler vintage. Not too bad, evidently:
The great growth-Silvaner from the Julius-Echter-Berg vineyard of Iphofen was ripe, even slightly overripe, full, earthy, with plump pear fruit. Paradoxically, I actually found it somewhat lacking in acidity, from which it might have benefited for a longer finish and a livelier mouthfeel. Its twin Riesling (same vintage, vineyard and category) was similarly solid, though naturally rather fresher, with fresh herbs, ripe peaches and laundry room notes in the nose (the last one sounds much worse than it was), displaying a very round and concentrated style of Riesling.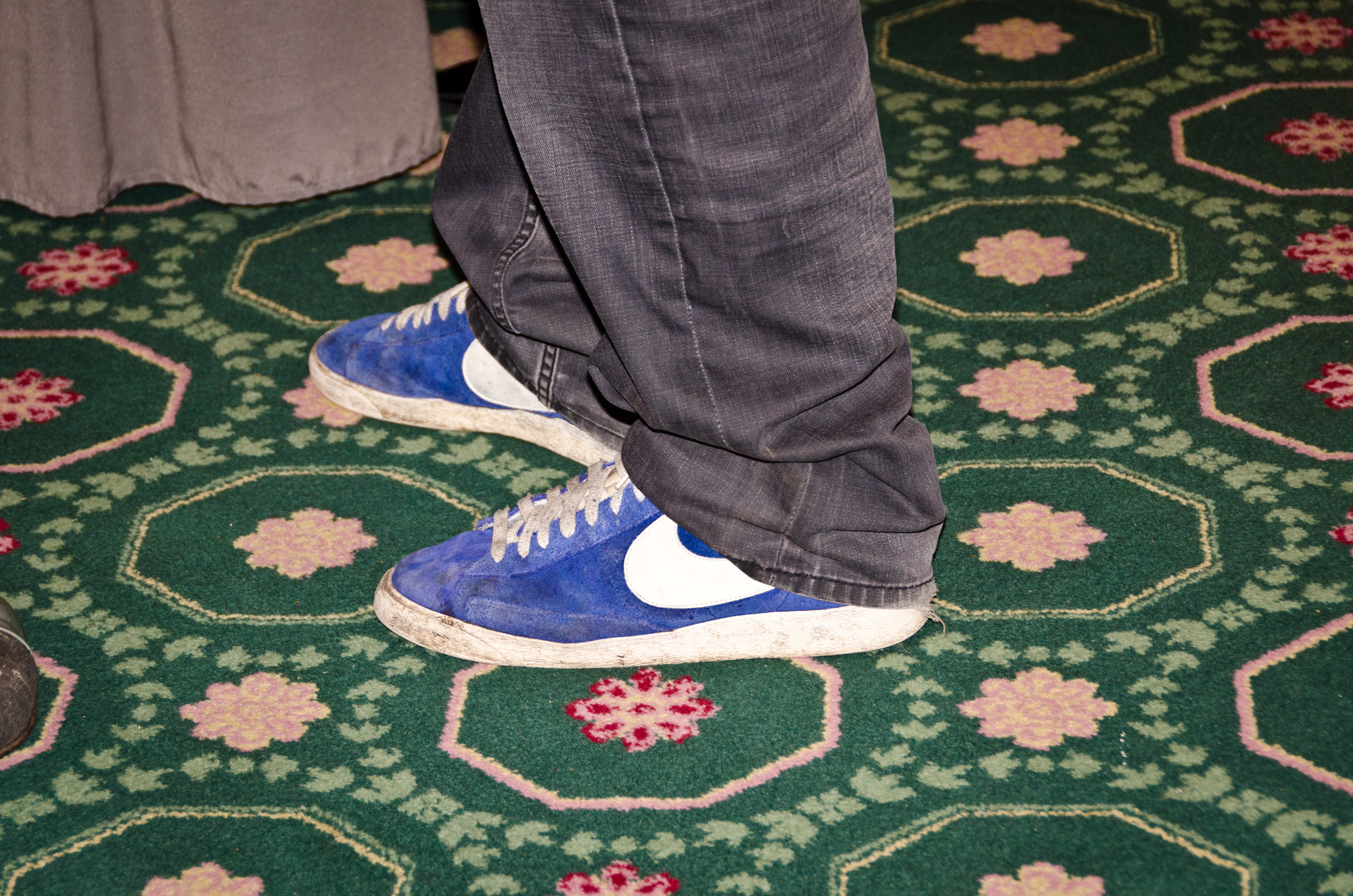 This pair of shoes is probably a little unfair to associate with the very fine Dr. Heger winery of Baden's Kaiserstuhl. When we say that their wines spelled comfort, not greatness to us, we don't mean to imply or lack of proper polish complacent products (and by this, we intend no disrespect to the shoes' owner either), but rather a measured approach that doesn't go for the maximum of what is possible, but for what is enjoyable. That is what Dr. Heger's wines are: likeable and approachable, much like the very friendly and well-informed chap that regularly staffs the tasting table.
We both liked the 2010 dry Spätlese Riesling from Ihringer Winklerberg, with a fragrant nose, exceptionally well integrated acidity and a finish of herbs as if frozen under blue glacial ice. The Pinot Gris of the same vintage, vineyard and category was also very convincing, with herbal notes, acidic freshness and insistent minerality, while the same year's barrique-aged version of the grape, "Vitus", was enjoyable in an oaky, nutty way, but did not promise much improvement with age.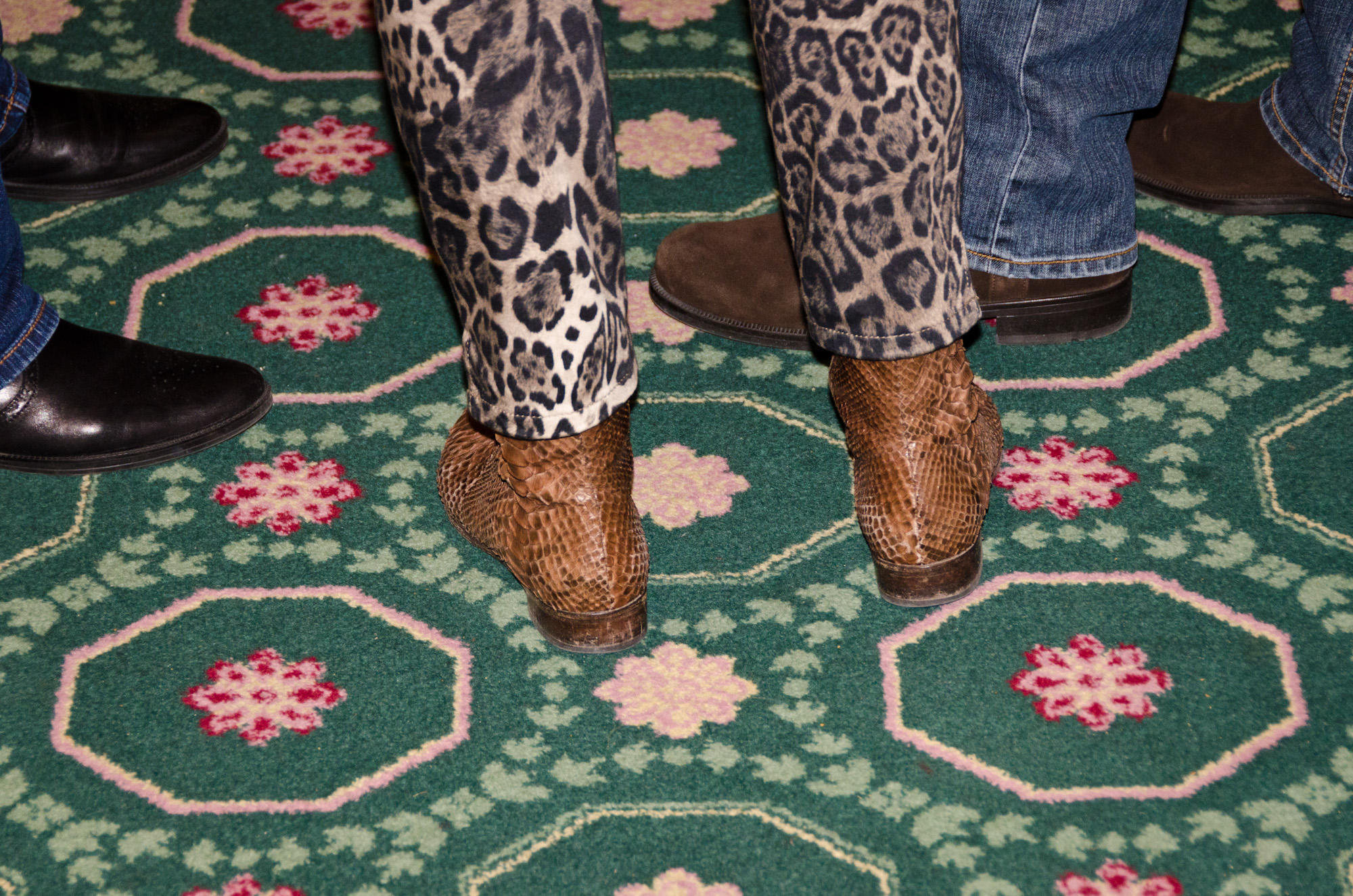 Salwey, whom we have come to hold to the highest standard imaginable, presented quite a contrast to Heger's just-right-approach: wines that left us somewhat underwhelmed in some cases, and blew us clean away in others. The simple 2010 Spätburgunder Weißherbst (Germany's version of rosé, for which Salwey is famous) was fresh and acidic, with traces of berries, but also a metallic streak and a hint of bitterness and sharpness in the finish. The two mid-range white Pinots, Weißburgunder RS and Grauburgunder RS, were leaner than in previous vintages, with prominent acidity, oak and buttery fruit coming together rather better in the Blanc than in the Gris version. I, for one, preferred Dr. Heger's more polished and finished version over either of them at that time. Their bigger brothers, the "Großes Gewächs" Pinots from the Oberrotweiler Henkenberg vineyard clearly had enormous potential, but we found them in an awkward phase of youth as well.
The 2009 Pinot Noir is a different story altogether: Both the Große Gewächse from the Glottertaler Eichberg and from the Oberrotweiler Kirchberg are stupendous achievements: Ferocious, electrifying reds with a focus and clarity of fruit, a perfect dose of acidity and a mineral bite that I don't think I have ever encountered. At 30€ and 45€ respectively, these are world class Pinot Noirs by any standard, but also unlike any other - you have to taste them to believe them.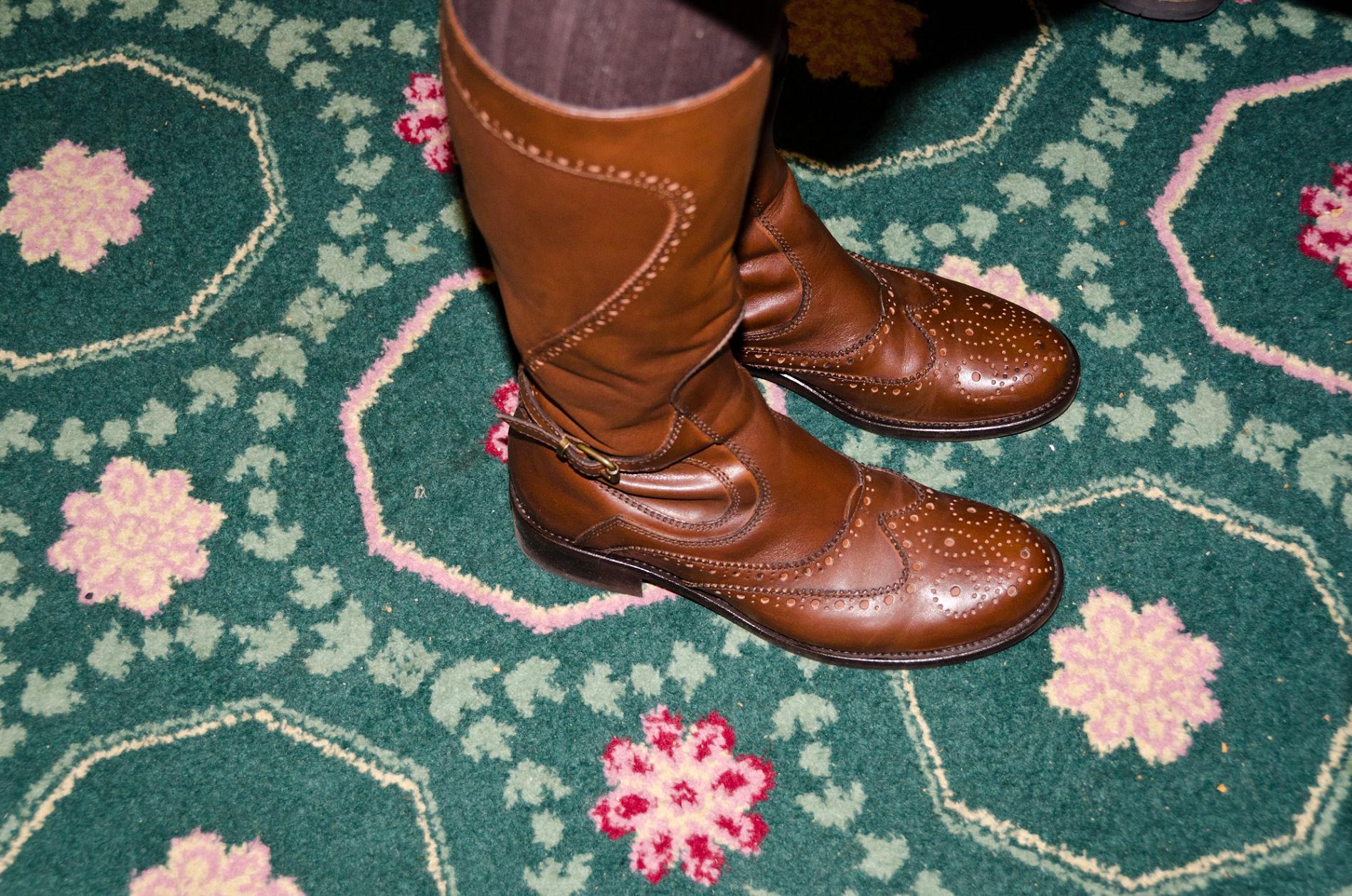 We would say that the Aldinger family of Württemberg has made great strides towards catching up with the core of the German elite, if that didn't sound so terribly patronising. Again, we encountered confident, well-shined boots, sorry, wines. The 2010 "Rebhuhn" (partridge. The pun on "Rebe" (vine) only works in German) was tightly lemony and didn't leave much of an impression other than being a straightforward, very solid entry-level dry Riesling. The Fellbacher Lämmler Großes Gewächs was in a different league altogether, a powerfully mineral, yet harmonious Riesling that promises early drinking pleasure.
Among the reds, the 2009 Untertürkheimer Gips Spätburgunder GG shone as a almond-scented Pinot with the lighter kind of fruit (think strawberry) as well as some blackberry and malty notes. Very well made, but lacking that extra bit of character and complexity. The three-starred Cuvée C, a blend of Cabernets Sauvignon and Franc, is described as "very ok" in my notes, which I guess means good: Red peppers, tobacco, much too young, and suffering from the common defects of most German reds of this type (to my mind, at least): they're very good, but at the end of the day, there's more interest in a good Cru Bourgeois from the Médoc.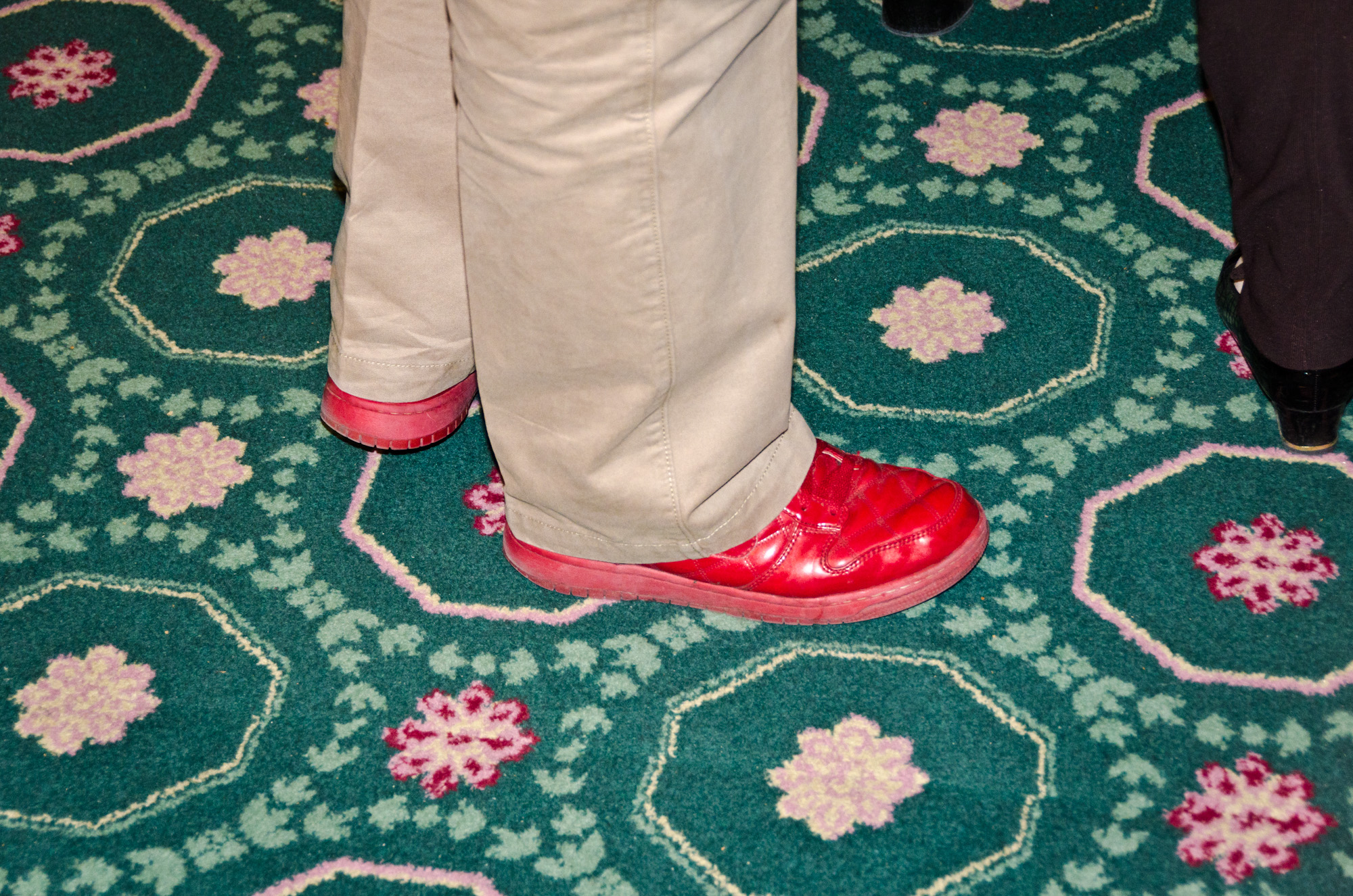 The other Swabian estate present, Drautz-Able (with whose offerings we frankly have had our difficulties in the past), presented, among many others, two versions of Sauvignon Blanc, both of 2010: The three-starred version brought the trademark cassis leaves and gooseberries and all things green and sharp. Certainly zesty and very typical for the variety, but also hard for us to judge, since we sometimes keep a more polite distance from Sauvignon Blanc. The Barrique version ("Hades") was, well, essence of oak, and both our responses could be neatly summed up in a three-letter word: Why? The politer way to put it, as goes for the above pair of very red shoes, is that they allow for very divergent opinions. And oh, before I forget: My Co-Rambler informed me that the 2009 Beerenauslese "Jodokus", a dessert wine from a mix of varieties, was very satisfyingly sweet, with herbs, herbal tea and caramel notes, and so certainly interesting value for just 18€.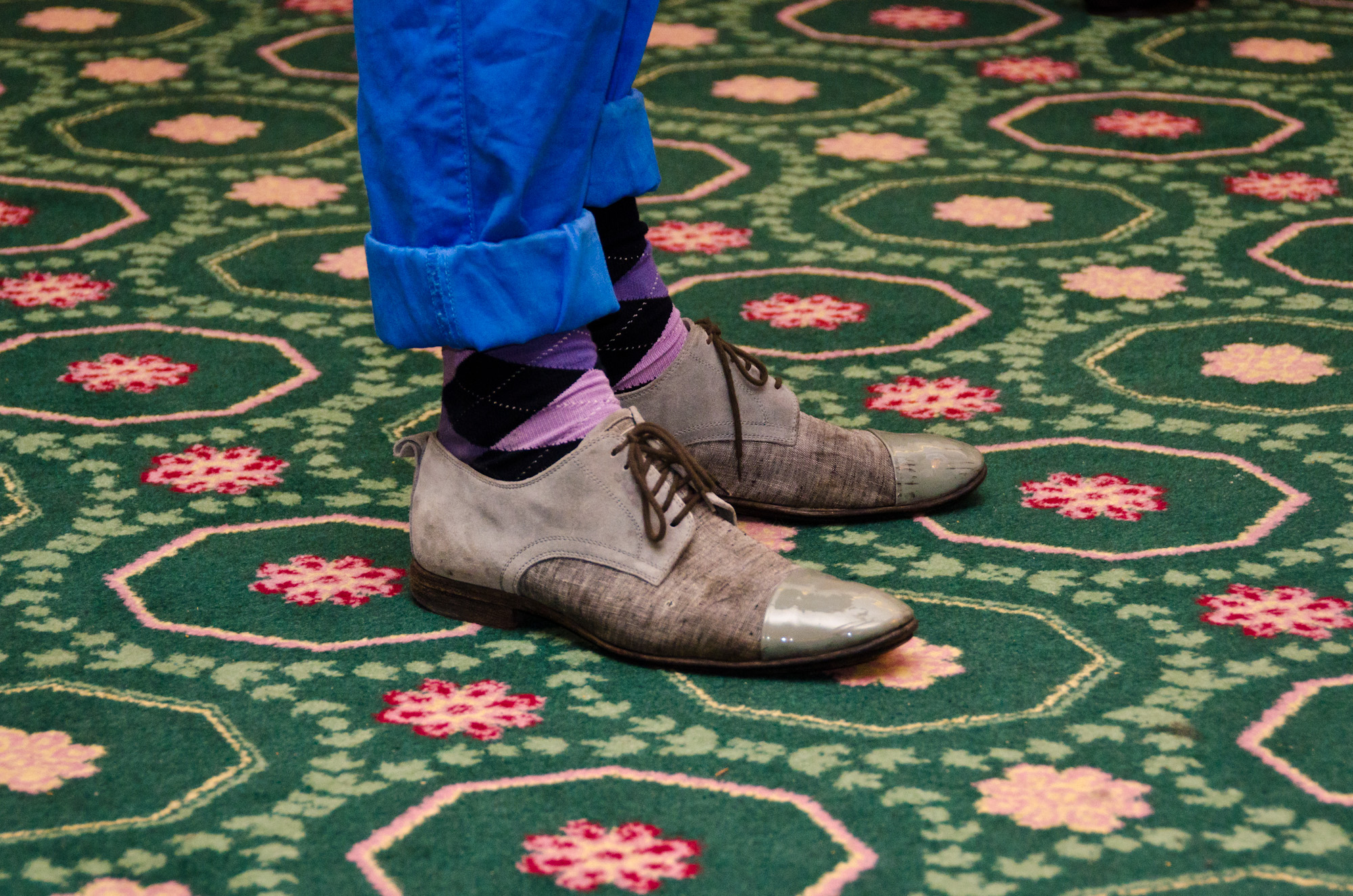 And so we come to the Knipser family of the Pfalz. Knipser, who run arguably Germany's most accomplished and versatile winery, are increasingly unable to turn out wine that is less than great. They can easily afford to let their wines age as long as they see fit before marketing them, and they have by now perfected a style of Riesling that is lean and hungry and spells ripe, candy-coated opulence at the same time.
Case in point: The 2008 dry Spätlese "Halbstück", a dream made of petrol, ripe peaches and caramel that was easily the most attractive and immediately seductive of all Rieslings on offer that evening. But the 2010 Mandelpfad Großes Gewächs, though younger, was hardly less appetising: soft and full, yet taut and limber, with an endless finish, hard to describe, but extremely easy to drink, though we both supposed that it would drink even better in a few years.
Knipsers Pinot Noir demonstrated how well it pays off to give their wines at least a couple of years: the 2007 Spätburgunder Kalkmergel had attractive toasted notes, a darker spectrum of fruit and a more international approach than the more Germanic Pinots on offer elsewhere. It was wonderful nonetheless. The 2008 Kirschgarten Spätburgunder Großes Gewächs was a very similar wine, but even more concentrated and wrapped in an extra layer of dark red velvet. Extremely polished, it ought to be a revelation for those taking their bearings from a more international style of red wine.
If the shoes we have taken a bearing from for this year's report on the VDP tasting are a revelation for our international audience I could not say. With regards to some of the wines we have tasted, however, I would go out on a limb and say they definitely would be - despite several less convincing wines on show this year. I am not sure if there is any connection between the quality of wines and shoes on display, but we will definitely explore how both come together with the psychedelic carpet in 2012.