Juliusspital, Iphöfer Julius-Echter-Berg, Silvaner Spätlese, 1985
Well before reaching twenty-five years of age most wines turn to vinegar. Not many wines are really worth keeping for more than a couple of years. Some last five to ten years, but only a tiny minority will make it beyond. With the exception of a few first class wines, sweet Riesling among them, not many wines are drinkable, far less enjoyable at the age of twenty-five. And yet here we are looking at a Silvaner, an often underestimated variety, of this age - does it still deliver?
Right from the start, the Franconian Silvaner impressed us with an intense, very clear golden colour that still had hints of green (which is often said to be a sign of a younger wine). It certainly looked beautiful and also as if it could comfortably age a few years more.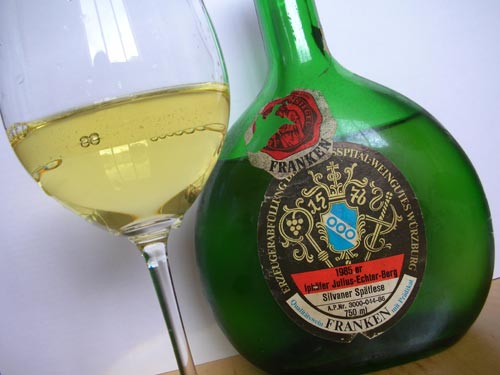 torsten
Wednesday, 30/06/2010