Rumble of the Rosés (Blind tasting madness, Part 2)
Two rosés from the languedoc, both predominantly Syrah, with some Grenache, Cinsault and Carignan, one from Paul Mas, via Jacques Weindepot, around 5 €, the other from Olivier Jullien, via K & U, around 12 €.
Up went the brown paper, professionally applied and stylishly decorated by my lovely assistant, who deserves very special mention. Those sharp of eye and quick of wit will quickly see which is which, but for 24 hours, I had no way of knowing. You can follow the links any time you get bored.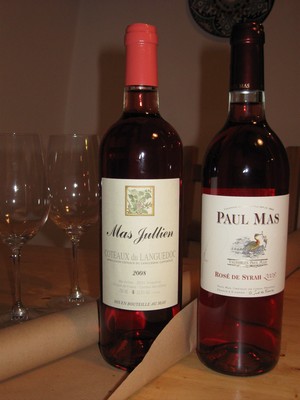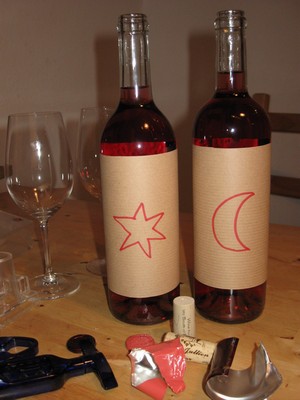 Julian
Saturday, 22/08/2009
Mas Jullien, Cotes du Languedoc, Rosé, 2008
Tasted blind here.
Very dark pink.
Smells of raspberries, rose petals, a lot of red and black currants, and a green, fresh touch, as if the leaves and stems of all those fruit had been thrown in as well.
In the mouth, good concentration, very spicy currant fruit again, some wildness, good acidity and a bit of tannin. Fairly long.
Good, seriously made rosé, whith a bit of a rough edge that makes it a food wine much more than a porch sipping wine, but gives it some character. Mind you, rosés are generally not my kind of wine, so I'm not sure I can describe this with any authority. It does seem a bit pricy.
Julian
Friday, 21/08/2009