The future of German wine in the UK: London Riesling & Co tasting & German Wine Question Time
The future of German wine in the UK market. You will not be surprised that this is a topic the Wine Rambler is very interested in. Earlier in May I went to the Delfina Gallery, near London Bridge, to attend the Riesling & Co tasting and the German Wine Question Time panel discussion that aimed to address the topic of how to improve Germany's place in the UK market.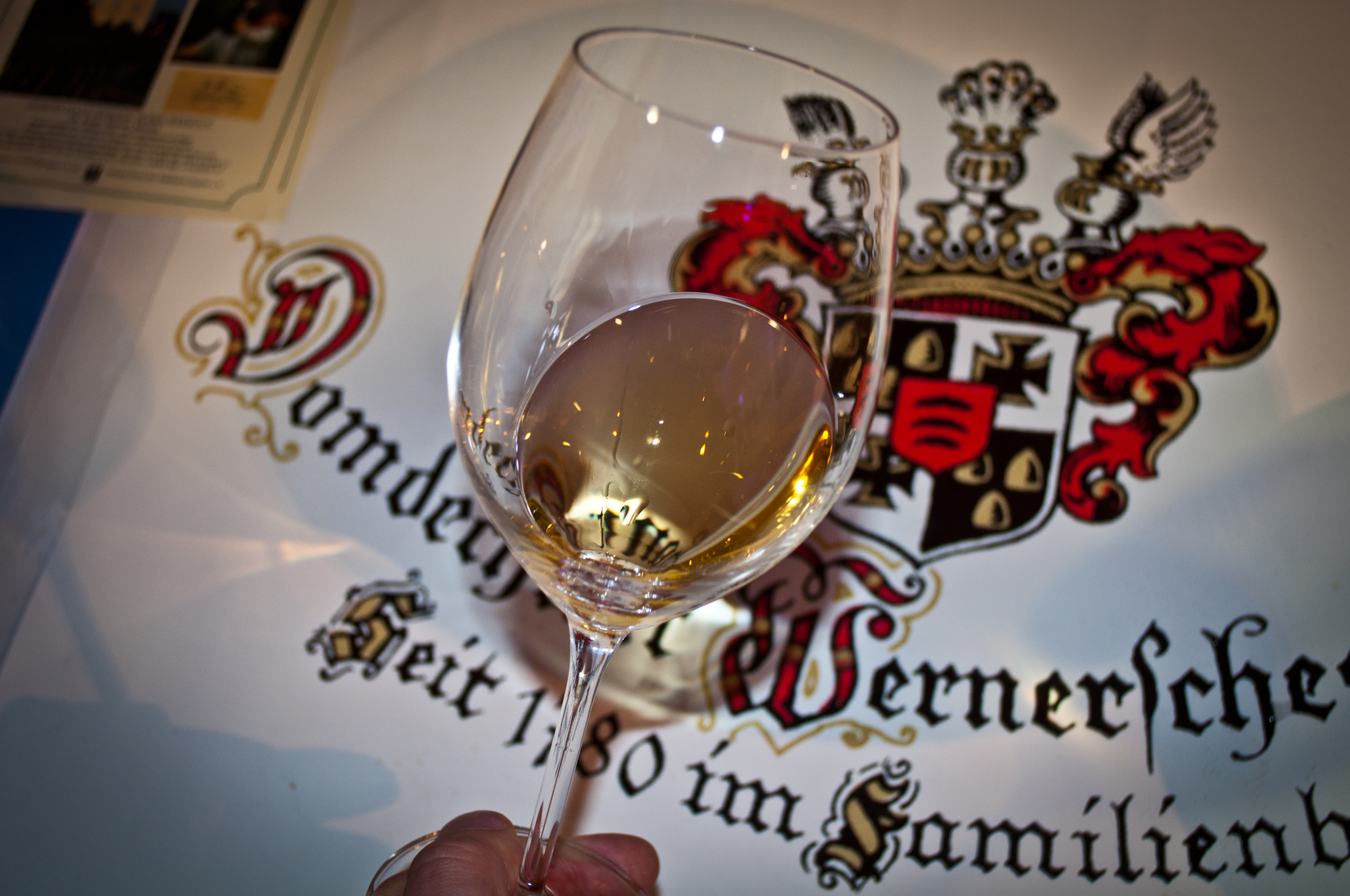 The Riesling & Co agenda is closely linked to this, driven by "a group of dynamic German winemakers who collectively have set themselves the task of reviving the German wine industry across the world." An ambitious mission, and one that also influenced the brief for the panel discussion:
The UK trade has been talking of a Riesling renaissance for the last 10 years, but despite the hype, Germany - arguably the home of the greatest Rieslings worldwide - still hasn't cracked it. What can the UK trade do to make sure that UK consumers don't miss out on what Germany has to offer?
German Wine Question Time
The panel consisted of, from left to right, Andrew Bird (Marks & Spencer), Christine Parkinson (Hakkasan), Richard Halstead (Wine Intelligence), David Brown (Justerini & Brooks) and Andrea Ruggeri (Matthew Clark).
Wines of Germany) in the centre" src="/sites/default/files/images/questiontime2011_panel.jpg" width="500" height="341" align="center" class="inline inline-center" />
All panel members shared the conviction that Germany has a very good product, but was not as good at selling it in the UK as it could be. I would assume that many of the issues that were discussed would also apply to other export markets, although the UK has a special relationship to the cheap, sweet and mass produced wines like Blue Nun and Liebfraumilch that have dominated the British perception of German wine for decades.
The discussion was wide ranging, with many different issues raised or touched upon. In some cases there was a clear consensus - especially with the suggestion that getting consumers to taste the wines is critical -, whereas the panel disagreed on questions such as whether Germany should stick to its supposed strength, i.e. sweet and off-dry Riesling, or feature other varieties or dry wines. As a German who has tasted the fascinating range of dry wines from Germany and who knows how much demand there is in the German market for dry I was a little amused by the suggestion Germany should forget about them, but there is obviously a question on how to approach specific markets and market segments.
When you deal with markets, the concept of brands will inevitably come up. On the topic of "Brand Germany" the panel was divided. Does Germany need a single, focussed message or can it play on diversity, or in fact should it do new things? Should Germany be just about sweet and off-dry Riesling? After all, there is no other country that can compete with Germany in this area. Panellists who favoured this approach argued that Austria and especially New Zealand have been very successful internationally with a clear and consistent message of what "they are about". A marketing strategy could then be developed around such a key message.
In principle this seems like the reliable answer from Marketing 101, but had I been on the panel I would have raised two points. First of all, from a personal point of view, I don't want German wine to go down the route of NZ Sauvignon that is sometimes in danger of being boring by being overly consistent. Secondly, German consumers want Pinot Noir, Silvaner, Pinot Blanc and other wines - and they want these wines and especially their Riesling dry. As long as the German market works in this way producers will supply it, and they could care less about what the UK market may want them to do.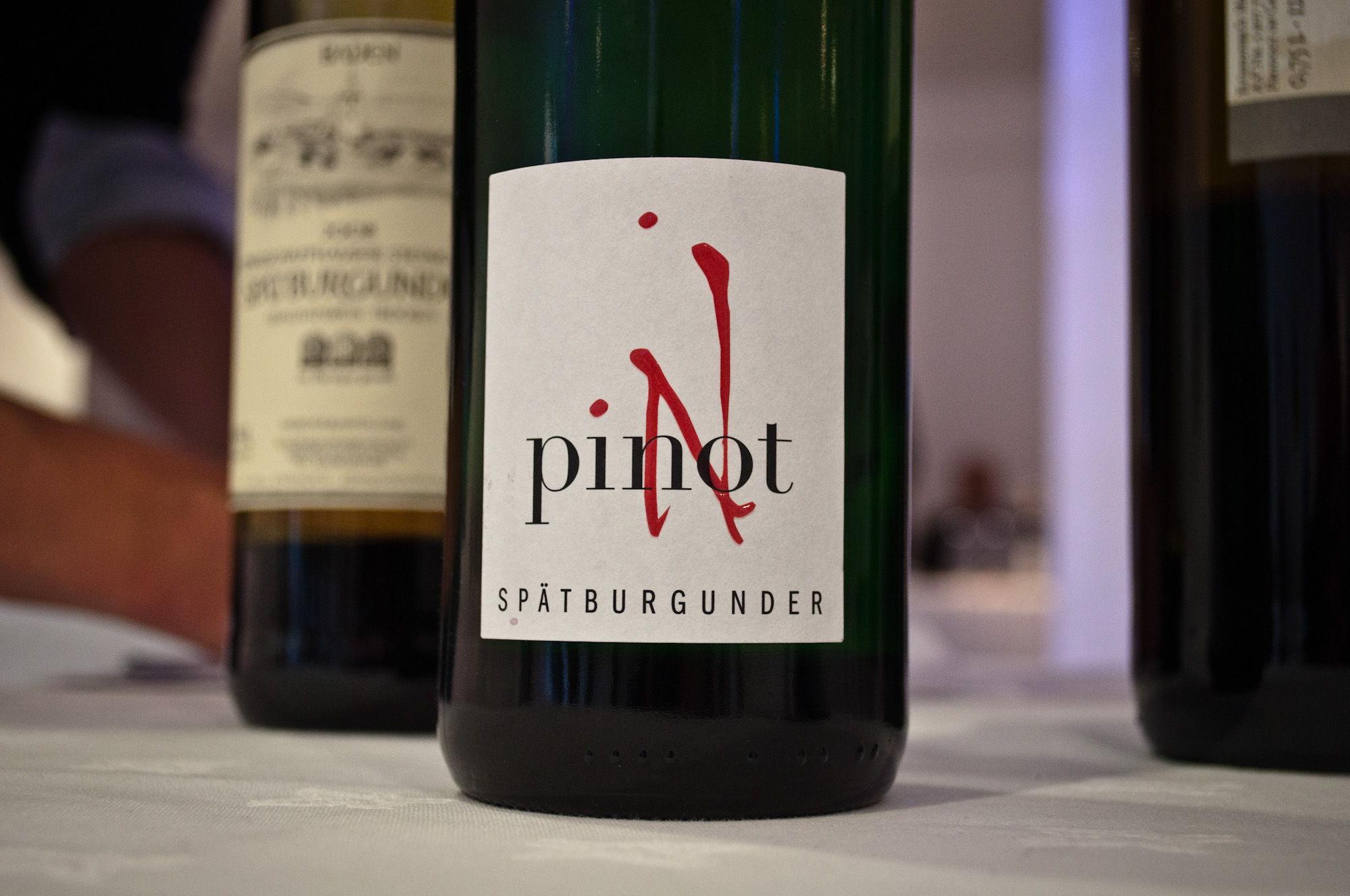 There is of course the issue of what Germany should mean for the export market, and this is how the panel approached it. So I guess the question is whether Germany should make an effort to showcase its diversity abroad or just enjoy it at home. It was suggested that German Silvaner would be a type of white wine that could be very successful in the UK, Christine specifically made that point. If you are a regular reader of the Wine Rambler you will not be surprised that Silvaner was featured in the discussion, after all we have always said it should be Germany's second white grape variety - and top Silvaner does not to have to hide from any white wine in the world. In the context of whether Germany should be a "one trick pony" (Riesling) or let its diversity shine, the point was also made that Germany is the world's third largest producer of Pinot Noir - most of which the Germans drink themselves. Interestingly, the panel agreed that German Pinot, with its increasing quality, should be a product for the premium and midrange market in the UK.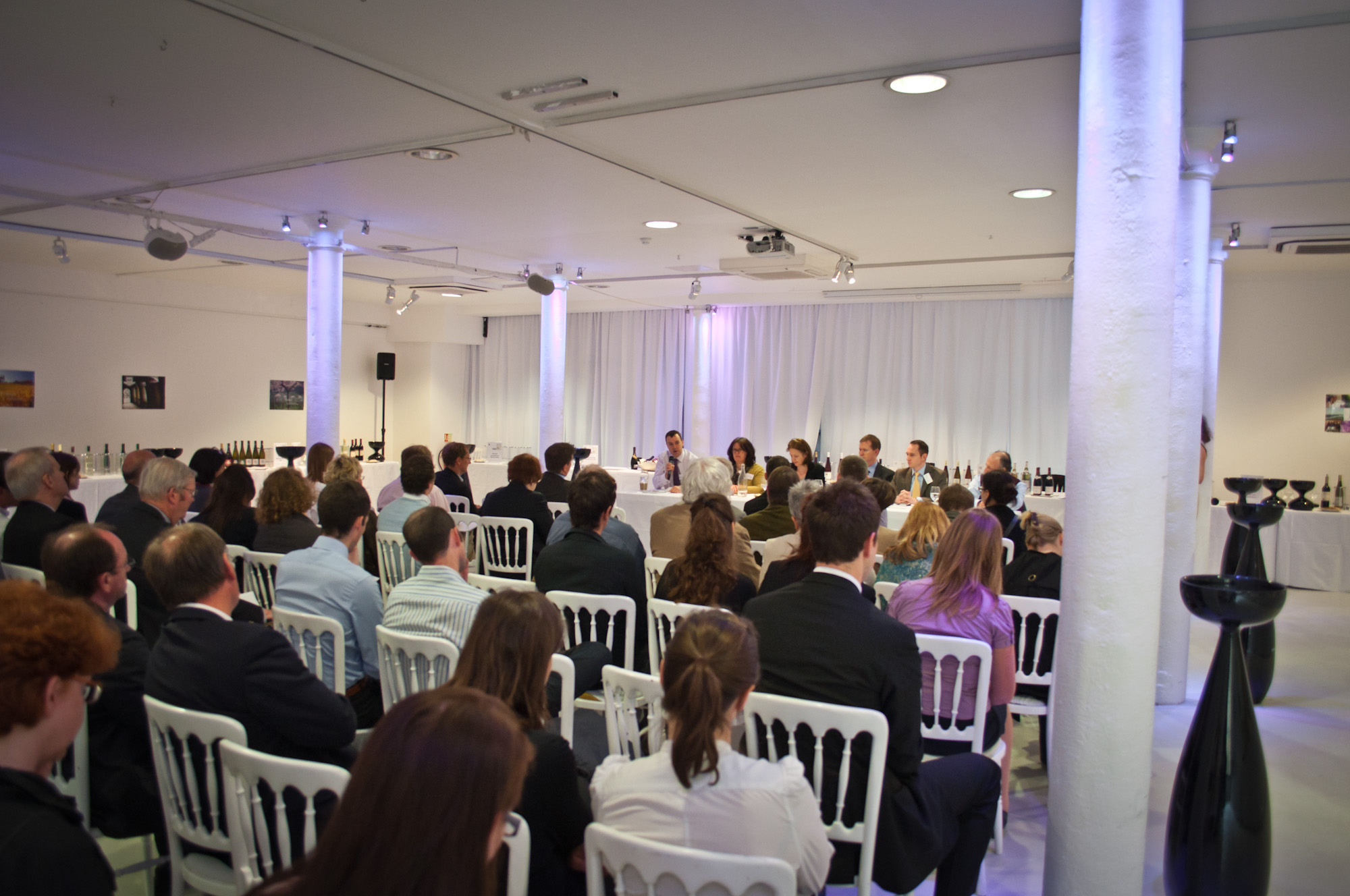 This brings me to a point that maybe should have been emphasised more in the discussion as it might have helped clear up some of the apparent disagreements between the panel. Different segments of the UK market may need a different message or marketing approach. Let me explain with regards to the inevitable topic of labels. German wine labels are too complicated, they confuse the customer. I have heard this said numerous times, and schizophrenically I strongly agree and disagree with it.
First of all let me make the point that the label can only be part of the answer, it is about the overall image of German wine. After all, customers happily buy French wine, despite not even being certain whether a word on the label is the region, the grape variety or the name of the producer - many people believe Chablis is a type of grape! And yet customers buy French wines because of an all powerful image of what French wine is, and that it is as good. If James Bond drinks Claret, so should you, even if you don't know that Claret just means Bordeaux.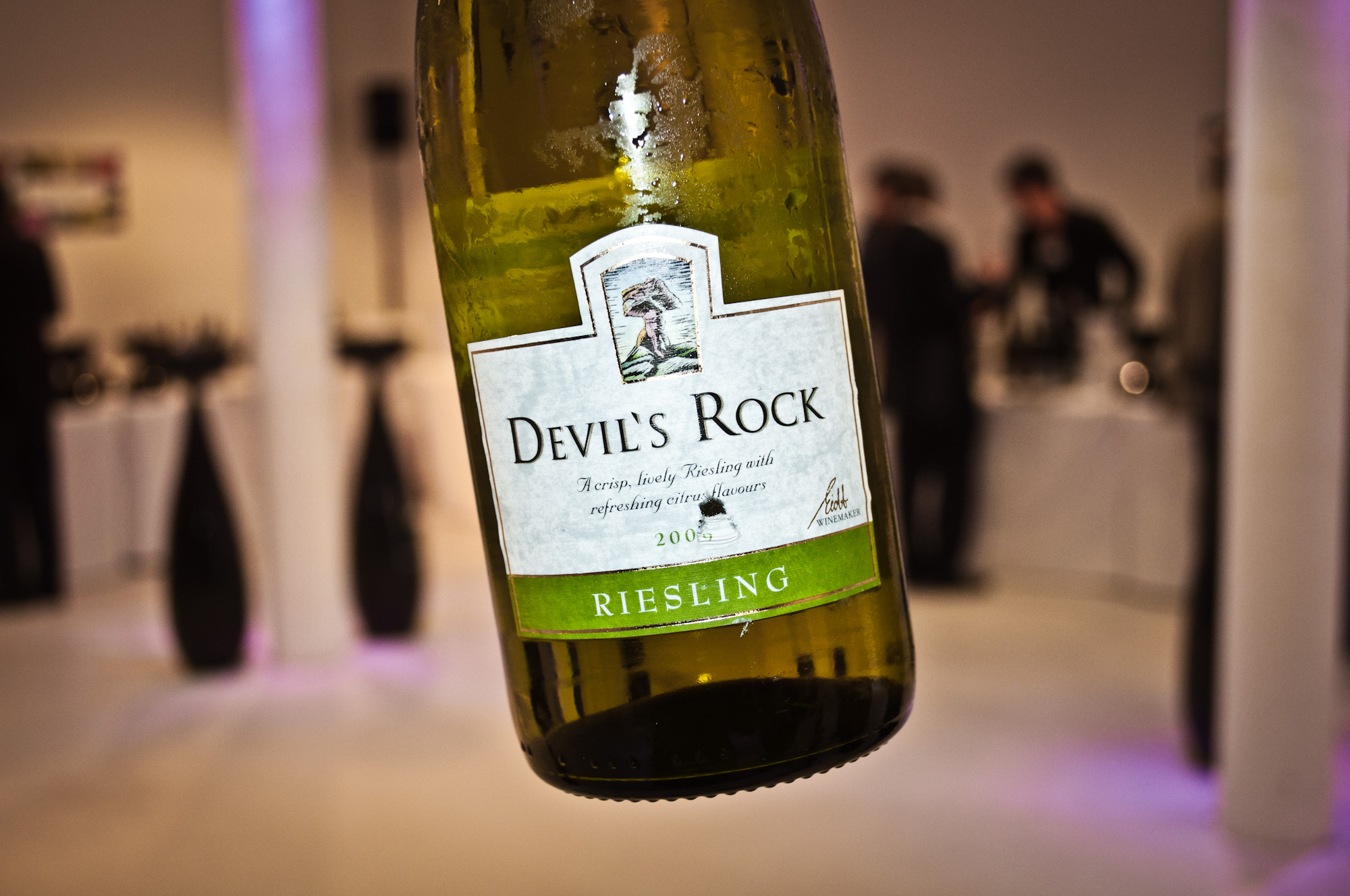 If you just change the labelling for German wine, you will not change the average consumer's perception, but you risk alienating wine connoisseurs across the world who like and understand the current design, also because it helps them to establish their credentials by knowing the difference between Premier and Grand Cru as well as those between Auslese and Kabinett.
So don't change the labelling for the premier market, is my point. Diversity, character, individuality, they all play well in the premier market and Germany can be very good here. For the mass-market Blue Nun and Liebfraumilch, or brands like Black Tower, have demonstrated how you can be successful, so there you have the answer for the other side of the spectrum. For everything in-between, I tend to agree with the suggestions made by the panel. Keep information on the front label to a minimum, design it and the bottle to communicate the key message of what the wine is about to the customer in a clear way, and put all the details and boring stuff on the back label. In principle, this does apply to all types of wine, but it will still result in different designs for different market segments.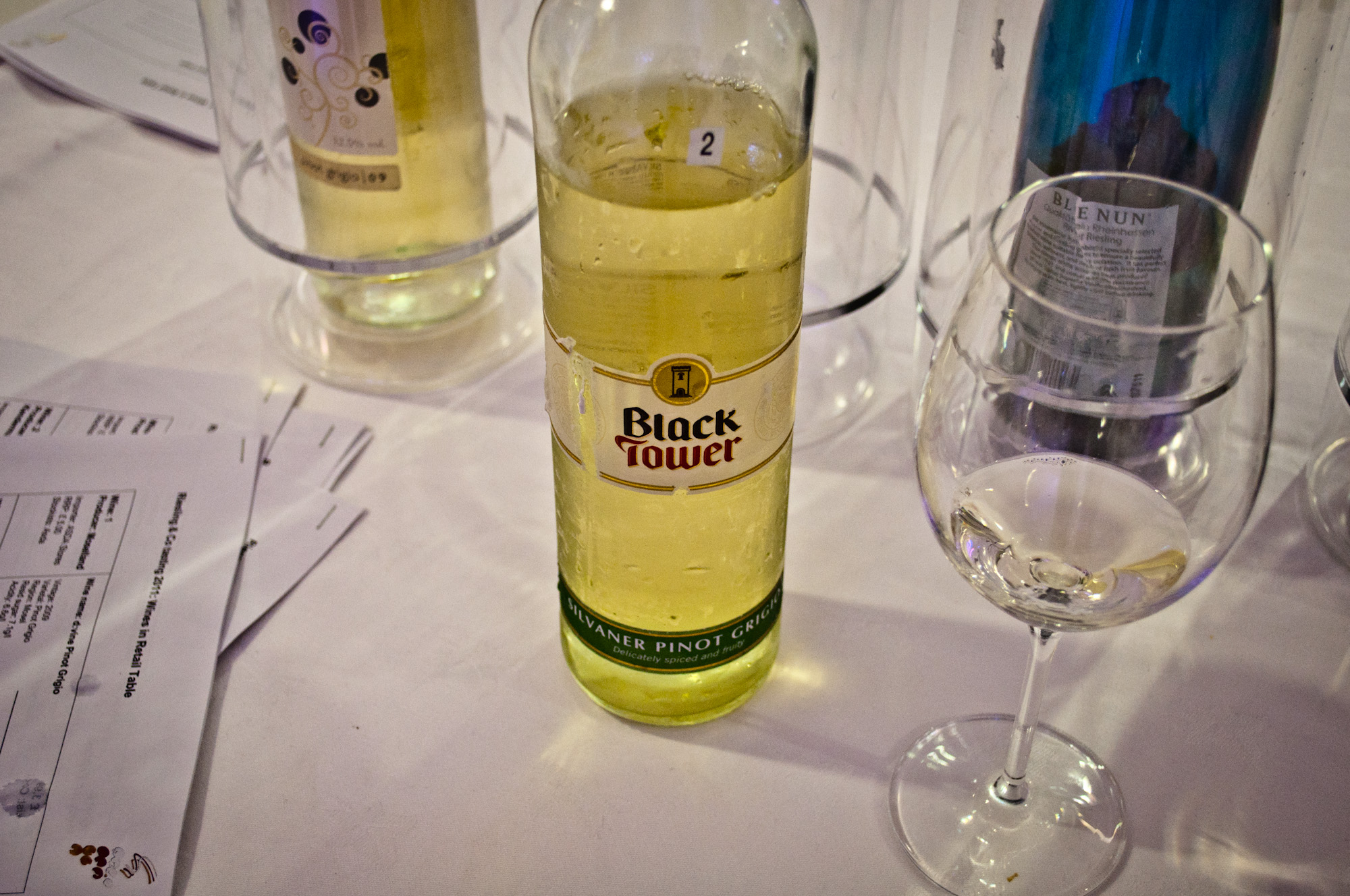 A German producer who has really clever labelling and also categorisation of their wines are Salwey from Baden. The label usually only has the name of the producer, the year, the grape and a classification: GG for the top wines, RS for what used to be late harvest, Kabinett and then a range of more entry-level wines with what I like to call "mood"-labelling. In the last category, Salwey have a "Sommer Cuvée" and we have recently tried the new rosé that is simply labelled according to the drinking temperature: 9°.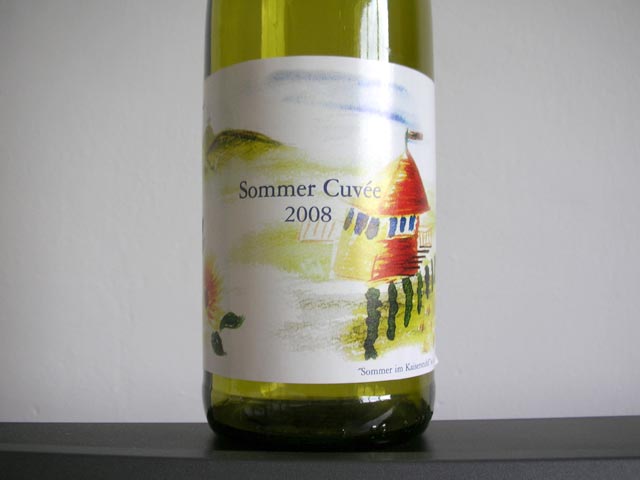 Have a look at the clear yet German design Salwey use for their wines. This is mostly for the domestic market, by the way, but we Ramblers see it as a good example for convincing and consistent labelling that speaks clearly to different types of customers and gets around some of the confusing bits of the German wine law classification. Interestingly, this was a topic that did not really come up in the panel discussion, even though I think it is part of the problem as even German consumers don't understand the classification. Having said that, I am not sure consumers understand French or Italian wine classifications that much better.
How do you get to the consumer to change their perception of German wine? The panel had three suggestions. First of all work with the on-trade. Restaurants are ideal places to try new wines, so you need to work with sommeliers. The second suggestion was to do tastings, tastings and tastings. Not just tastings for wine lovers, hidden away from the public, but tastings in public spaces like shopping centres where you have a chance to get many people actually try the wines. This was seen as particularly important because (according to all sorts of studies) consumers will tell you they want dry wine, but in tastings they actually often prefer the off-dry ones.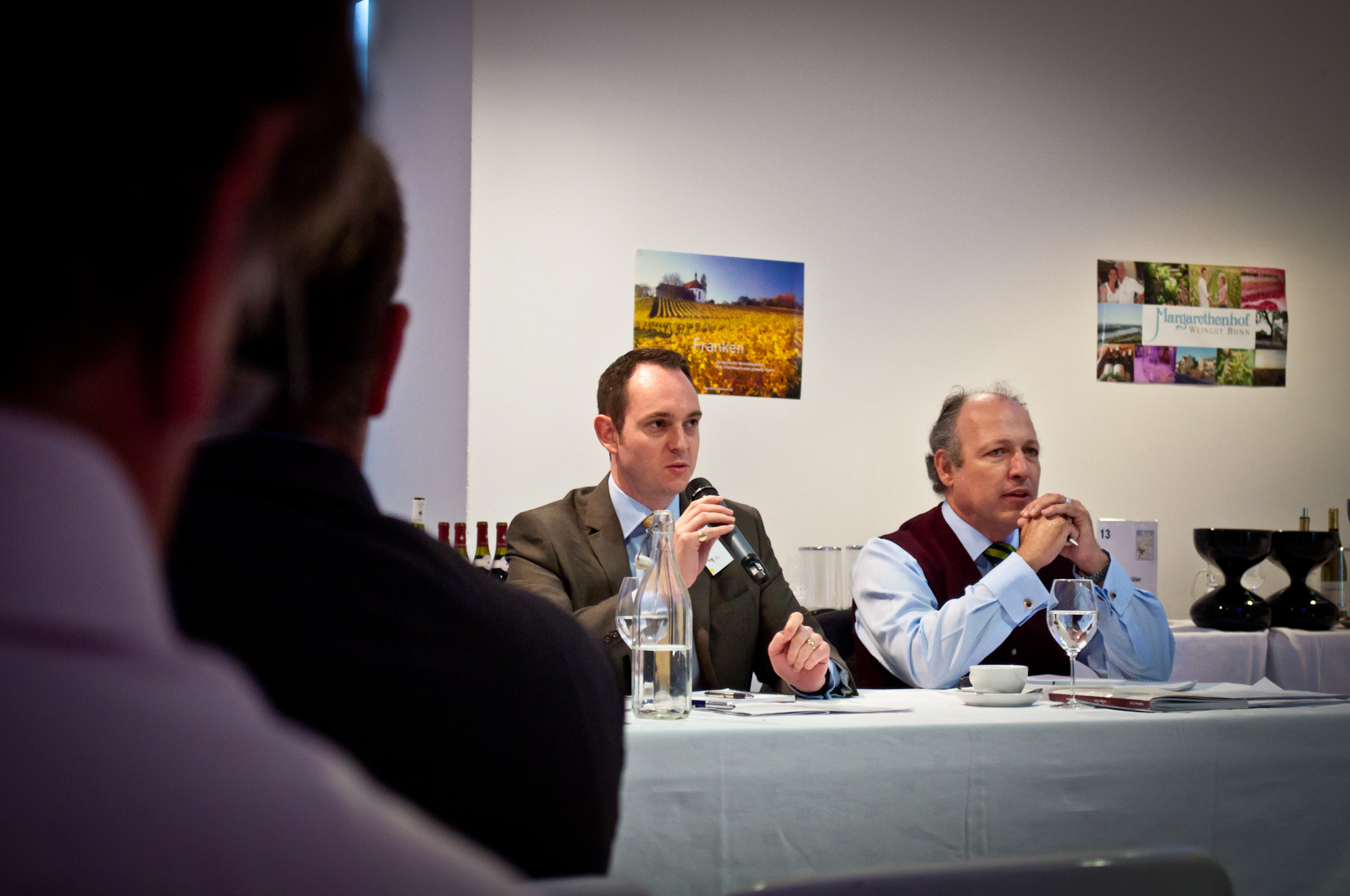 To help get around this issues, it was also suggested to develop a new language to describe wines in a way that is actually meaningful to the consumer, focusses on what they will get out of a wine and gets around the issue of "trocken". It was argued that word of mouth was crucial for the success of products, and so you need to give the consumer ways to describe a wine to their friends. In this context I would have added another recommendation, and that is that a good social media campaign would be just the right way of supporting this process. This was a topic that the panel did not really engage with, apart from suggesting that e-commerce could be a good route for German wine (which is not exactly the same as social media).
What should German wine be about? Distilling various comments from panellists you arrive at the following description. German wine is light, crisp, restrained and fruity. It is easy to enjoy and will not give you a hangover as it is low on alcohol, but it is also sophisticated, with a bit of an edge. And it is a carefully crafted product, a result of German precision that comes from smaller producers who care about the environment. As you will see, some parts of the description play with the German stereotype, while other bits apply more to the higher end of the market. The challenge, it seems to me, is to take elements of this and apply them to the premier, mid-range and mass market in such a way that the whole can still be seen as coherent.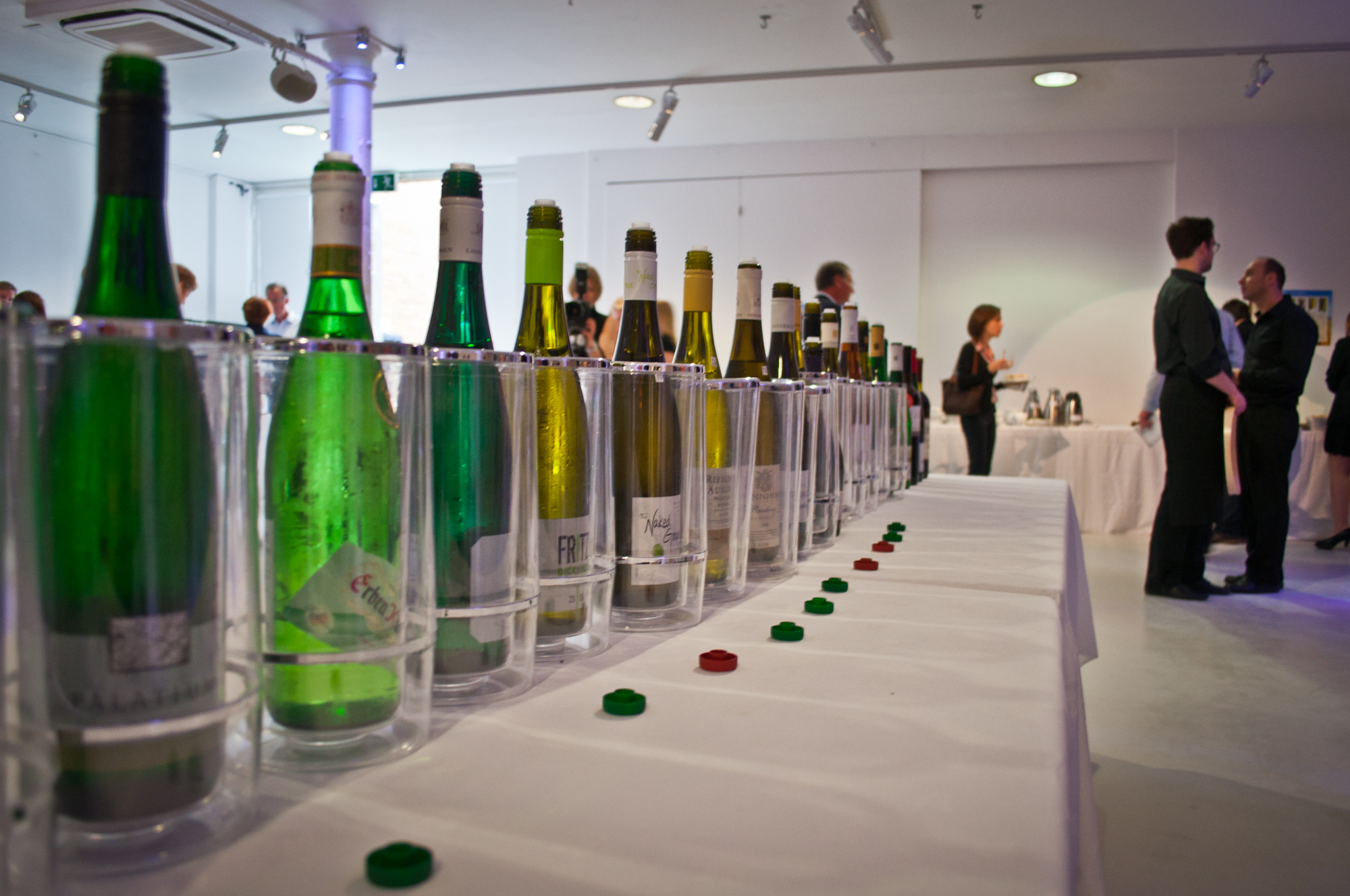 Going back to the Salwey wines, I believe that their approach would actually work extremely well for bringing German wine to new customers in the UK (or elsewhere). Much that happens in the wine world is totally irrelevant for people who just want to quickly grab a bottle from the supermarket, on their way to a party or dinner with friends, or select something from the menu in a pub. Just take the Salwey "Sommer Cuvée", rename it as "Blend of Summer" and everyone would instantly get what the wine is about. Don't make a fuss about varieties or that it is from Germany. If the consumer likes the wine, they will eventually check out the back label and might be surprised that they have just enjoyed a blend of Riesling and Silvaner from Baden.
Panellists also cautioned against focussing too much on the message that Germany equals low alcohol - customers are concerned that with very low alcohol they "might not get enough bang for the bucks". Apparently, 11-13% is the "sweet spot", at least in restaurants. On the other hand, you see that brands like Blue Nun are quite successful with low alcohol, although they now seem to target female customers who may fear less for their masculinity when drinking light wines.
So in the end, to me it all comes down to think about which market segment you want to target, and what the key message of benefit is that you bring to your customers there. And for the internationally handsome wine snobs like me, please keep the complexity. The product, anyway, is good, very good in fact, and it does not have to change.
Riesling & Co tasting
Speaking of the product, there is also the Riesling and Co. tasting to report on. After the discussion, 22 German producers presented their wines with half a dozen others, including big names like Dönnhoff, Leitz and Loosen, being represented by ABS Wine Agencies. There was also a table showcasing the range of German wines available from UK supermarkets and some that are being sold by UK independent merchants. As I regularly write about German supermarket wines and the likes of Dönnhoff, I will keep this bit of the article short and instead just share a few notes from my somewhat random tour of the tables.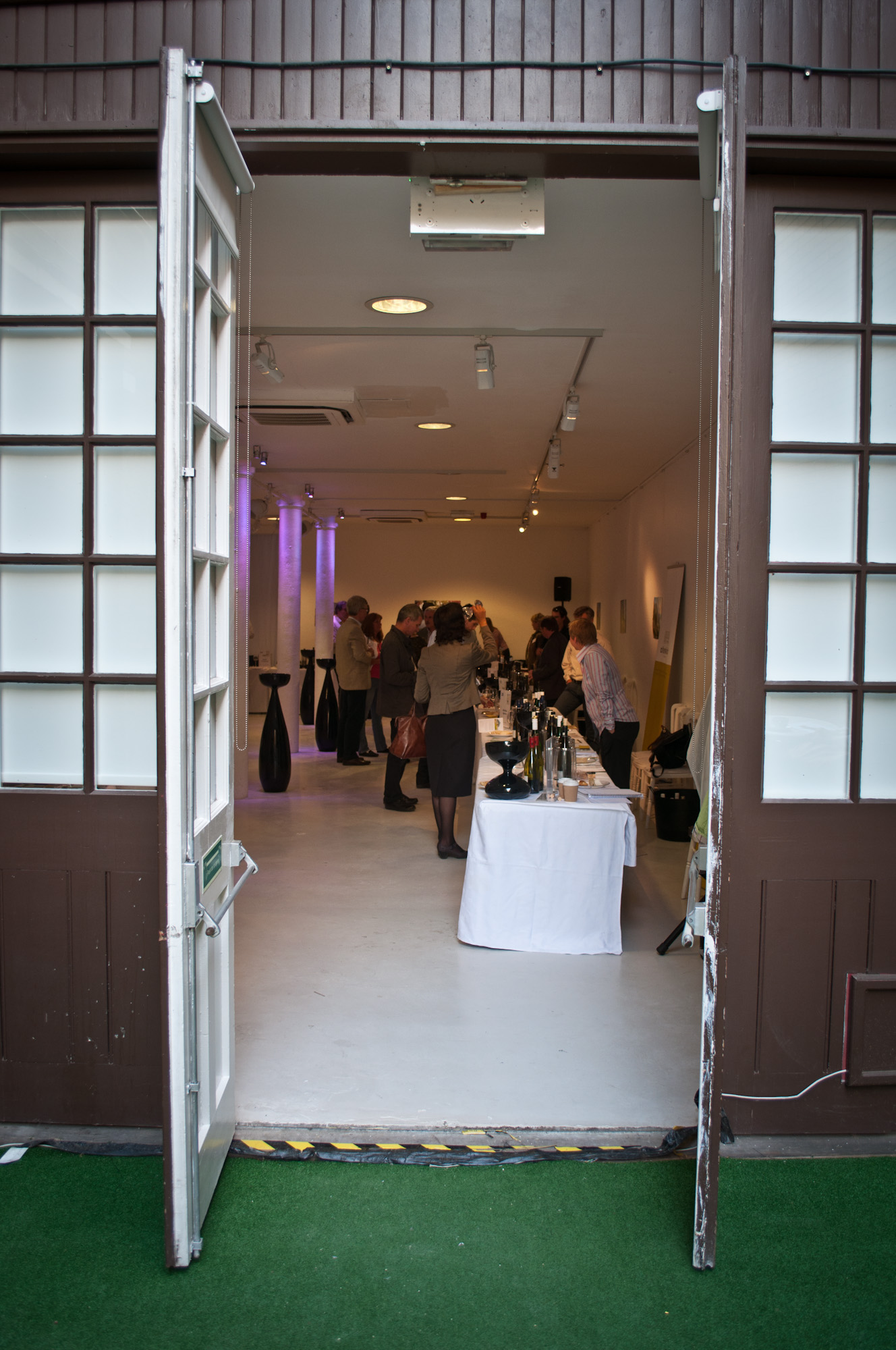 I started my tour at Weingut Bergdolt-Reif & Nett. The history of the Pfalz winery goes back to 1838, when the cellars were built. Christian Nett, who is now in charge of the cellar, is a little bit younger, but does not lack ambition. While we were discussing German wine in the UK market, I tasted my way through a good collection of wines from the 2009 and 2010 vintages. The 2010 Riesling "Tradition" had peach, citrus and pear aromas and flavours and should make enjoyable every-day drinking, whereas the dry 2009 Muscat "Avantgarde" had a lovely, very typical elderflower nose. For fresh and crisp I liked the 2010 Silvaner, and the 2009 Pinot Noir "Avantgarde" was probably the most accomplished wine with mineral, red berries and vegetable/undergrowth flavours. Christian also introduced me to a Kerner varietal. The aromatic late harvest is mostly sold to long-standing customers, and Christian was uncertain whether the Kerner variety would have much future in the market.
Another, even younger winemaker did I find at the Weingut Bunn, Margaretenhof table. Lisa Bunn, who had just recently finished her studies at the reputable Geisenheim Grape Breeding Institute, talked me through a good and reasonably priced collection of, mostly, 2009 wines.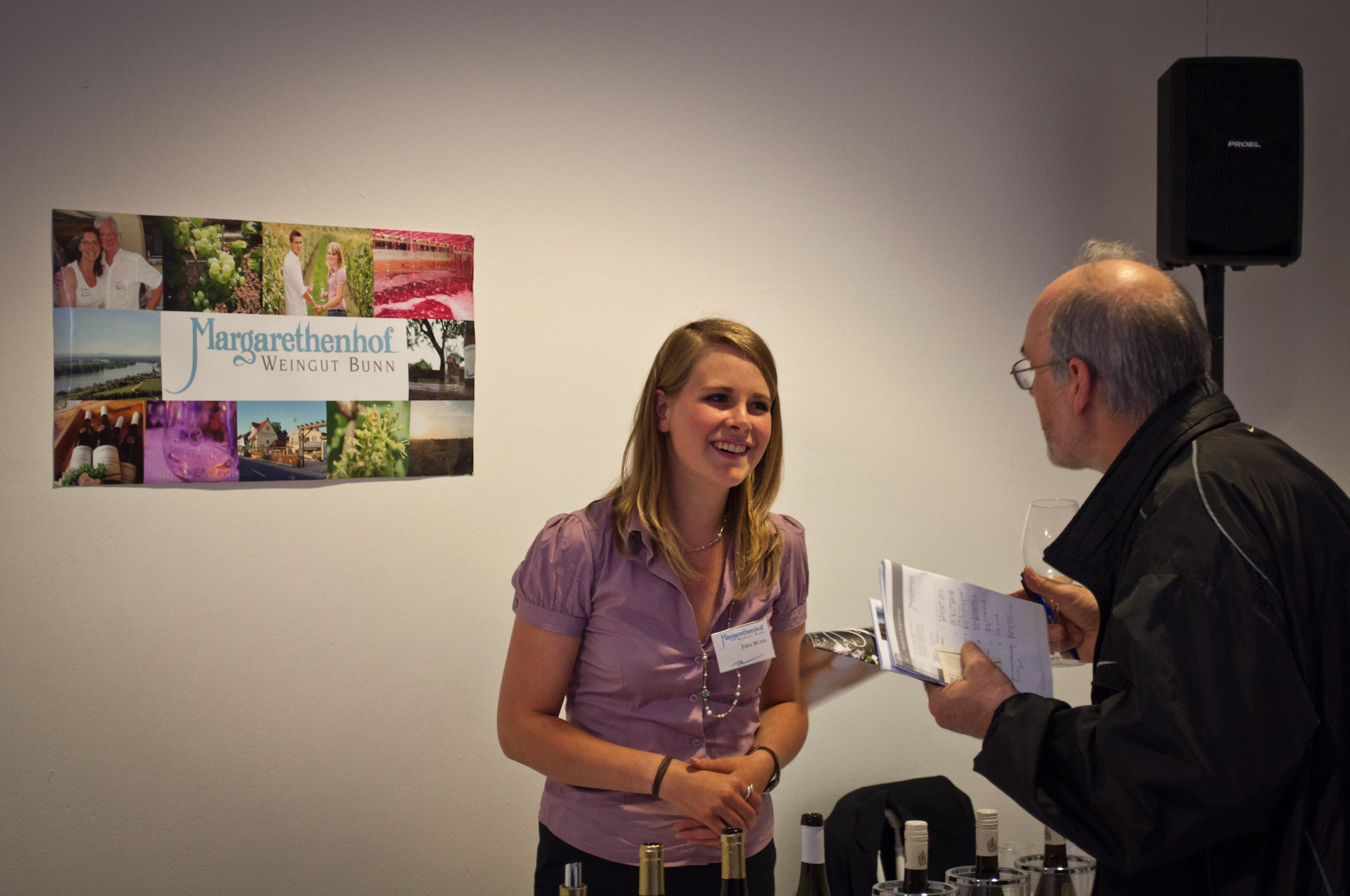 From a dry and fresh Chardonnay with delicate mineral and lively fruit and acidity to a slightly more compact, serious Pinot Gris with nut, spice and vegetable notes to a citrus, apple, tobacco and herb Spätlese from the Hipping vineyard I found all wines consistent and enjoyable. I also like the 2009 Riesling Auslese, although stylistically and in terms of substance it reminded me more of a late harvest (it also "only" has 20 g of residual sugar per litre).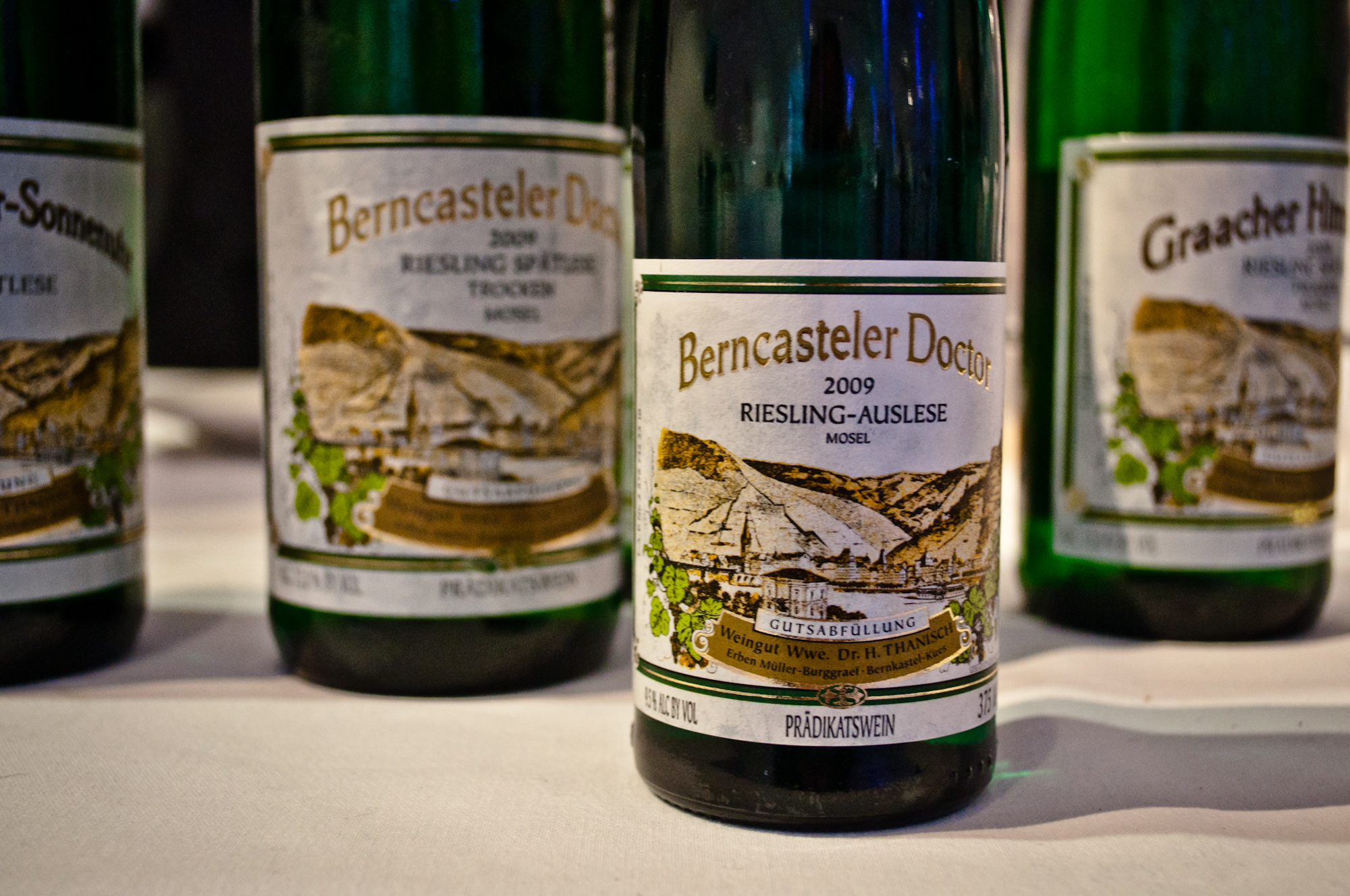 The Mosel producer I had to visit was Weingut Witwe Dr. H. Thanisch. Erben Müller-Burggraef. That's quite a mouthful of a name, the result of hundreds of years of history with estates being divided into different family branches. Thanisch have access to some of Germany's most prestigious vineyards, among them Wehlener Sonnenuhr, Berncasteler Doctor and Graacher Himmelreich. Unsurprisingly, I tasted some very good wines here, notably the 2009 Spätlese from the Doctor, but looking up the prices online I would say that you pay a premium for the name.
To refresh myself I said hello to Betty Enchelmaier, who was looking after the lovely sparkling wines from Sekthaus Solter. I have tasted the wines earlier this year, at the Winebarn tasting in London, so I will keep this short and just feature the Reserve Riesling Brut 2007, a great refreshing sparkler that keeps a lot of the Riesling substance with lovely stone fruit, apple and herbs; juicy with a good finish. If you want your sparkler more like Champagne, Solter have a range of Pinot based wines, including good Blanc de Blancs that have substance and all the more yeasty aromas.
The price for the most elaborate coat of arms goes to Domdechant Werner'sches Weingut (see top of this article). The 2010 Riesling Kabinett from the Hochheimer Hölle vineyard was aromatic with nicely balanced acidity and very enjoyable. Balanced is a word I wrote down on several occasions while sampling the relatively consistent collection of Riesling from several vintages.
Another producer we had "visited" before was the Shelter Winery (named because the cellar is actually in a bunker of a disused airfield in Baden); Julian had tasted their Pinot Noir at a tasting in Munich, and I agree with his assessment of "insanely herbal and spicy, concentrated Pinot Noir"; "würzig" features a lot in my notes. I also enjoyed the 2010 Blanc de Noir that was refreshing yet with lots of character.
Another Riesling-focussed producer is Weingut Altenkirch, from the Rheingau Village of Lorch. I found the 2009 vintage to be of consistently good quality, with enjoyable and fun to drink entry level wines (a good Grauschiefer dry Riesling and an enjoyable off-dry Quarzschiefer) and the more substantial dry Riesling from the Lorcher Schlossberg (mineral and juicy fruit) and Bodenthal-Steinberg (mineral, balance, flavoursome, depth). I also enjoyed the 2009 Riesling Sekt that felt like a mineral sparkling bomb in my mouth.
Several of the producers I talked to commented how hard they found it to get into the British market. Seeing how reasonably priced some of these wines are in Germany, value should certainly not stop them from being successful in the UK. Nor should the fact that sweet Riesling is only part of what they do.