New York City wine merchants, part 2: Soho Wines, ABC Wine Company, September Wines, Smith & Vine
See me walking down Fifth Avenue, a walking cane here at my side. I take it everywhere I walk, I'm an Englishman in New York. - Well, almost. Even though I like to think that four years in London give me some English credentials, I have never owned a walking cane. Nor a bowler hat for that matter. The part about Fifth Avenue is true though, as a couple of weeks ago the Wine Rambler went on the road again for another New York adventure. It included a visit to a biodynamic winery on Long Island, and there also had to be a follow-up from last year's random tour of NYC wine merchants. I wish I could take you with me, all the way to New York City. So come with me, gentle reader, for another voyage of exploration. Ooh, and when you wake up in the mornin' with your head on fire and your eyes too bloody to see, go on and cry in your coffee but don't come bitchin' to me! (And if you can identify all music references in this text without the help of the internet please do visit me in London for a hangover-free Riesling.)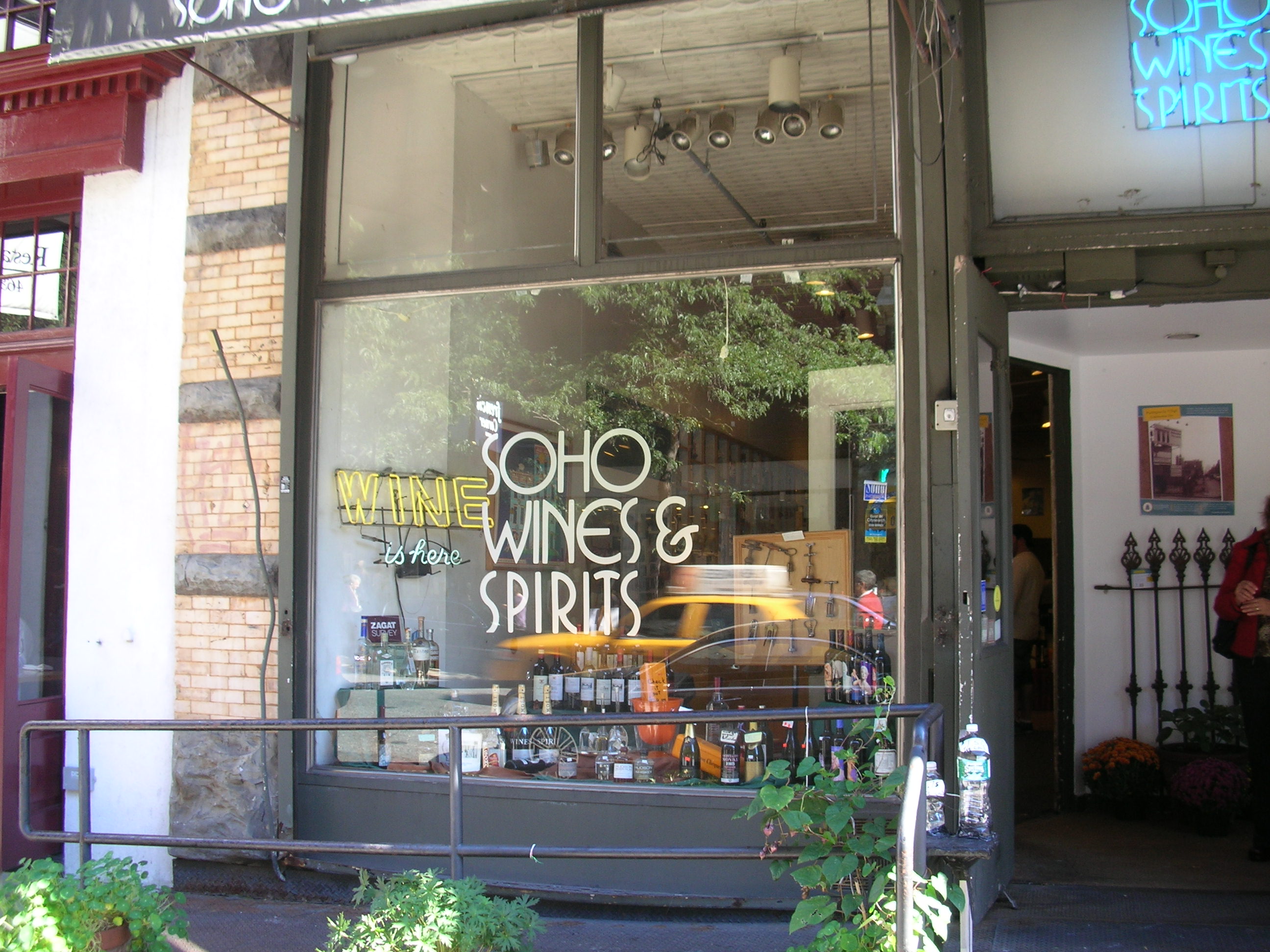 My first day in New York City found me randomly wandering the streets of downtown Manhattan, listening to the music of the traffic in the city, linger on the sidewalk where the neon signs are pretty. How can you lose, I thought, and indeed a neon sign suddenly popped up, guiding me to my first random wine shop: Soho Wines & Spirits.
Following the annoying habit of professors grading papers, whenever I enter a wine shop I find that I first check what I know best, i.e. the German language section, and then gauge the shop based on that. This time I made a deliberate effort not to do it - and was surprised by discovering a tiny selection of Greek wines (including Cabernet Sauvignon from Chateau Harlaftis or Agioritikos from Tsantali). In terms of shelf space though, France and the US (or rather California) dominate the shop, with a good range of Italian and Australian wines available too. Among the US wines I was quite excited to find a Kung Fu Girl Riesling waiting for me. For months this wine kept showing up in my Twitter feeds, so I was happy to eventually get my hands on a bottle.
Pleased with my random find, I moved on to the German language section. The Swiss wine wasn't quite German language though (Caves du Château d'Auvernier), but I was surprised that it is sold in New York City anyway as Swiss wine is a rare find even in German shops. Soho Wines also have some Austrian Grüner Veltliner, apparently hot property in NYC these days, and a small range of German Riesling, mostly off-dry stuff from the Mosel, costing about $9-20. I was not so sure about the cheaper wines, including a Liebfraumlich Spätlese, but if you are looking for some well known names you'd find Ayler-Krupp, Studert-Prüm, Dr. H. Thanisch or Willi Haag. In terms of representing the variety and excitement that is German wine this did not do very much for me, but I guess it reflects what the American public looks for. Overall, Soho Wines struck me as a shop more for moving through than for lingering on, and so I pressed on. The start button has been pushed already, Obi-Wan Kenobi is waiting for me in Union Square!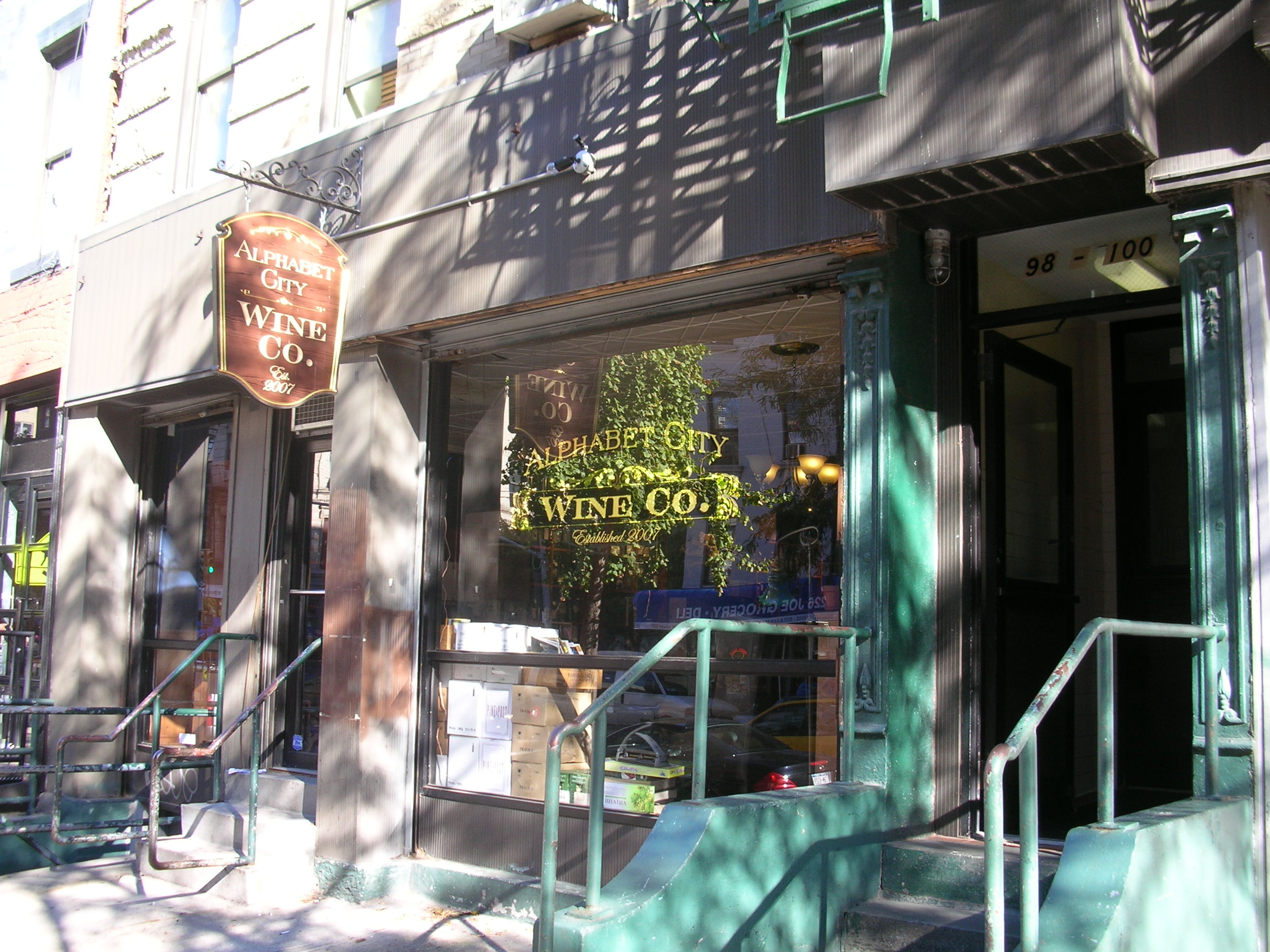 After passing through Union Square, I headed east. One day I was walkin' an' finally came upon a series of alphabet streets. A B C and D, but I went for C, the most of the hard-to-forget streets. It's really and truly the dilly of all m'pet streets. Also, Avenue C is home to the Alphabet City Wine Company, an independent shop with a clear mission: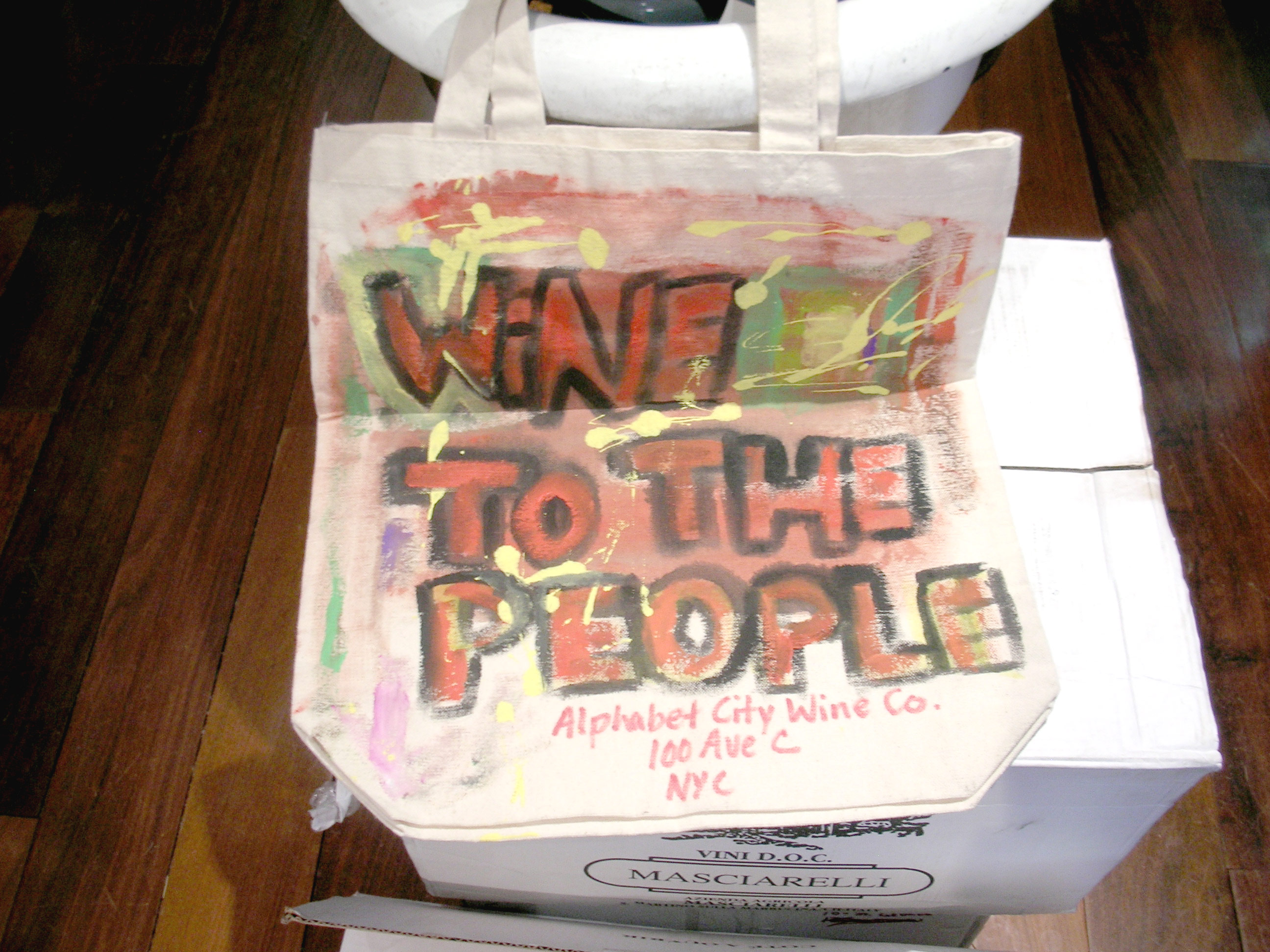 ABC focus on wine in the range between $10 and $20, to provide 'the People' with affordable wines at good value, or as the website says: 'Good wine is available in almost any price range. It is up to the wine merchant to care enough about their customer to find those gems.' The German wine section is small, but I found the inventory most unusual. First of all Riesling is in the minority. ABC stock the infamous Müller-Thurgau and the almost forgotten (judging from my experience so far perhaps for the right reasons) Elbling. Almost as unusual, they also have German red wine, a Dornfelder, a Pinot Noir and also a Blanc de Noir, a 'white' Spätburgunder. While I would probably have selected different producers, I have to give ABC credit for going beyond the German wine cliché, especially in the lower price range.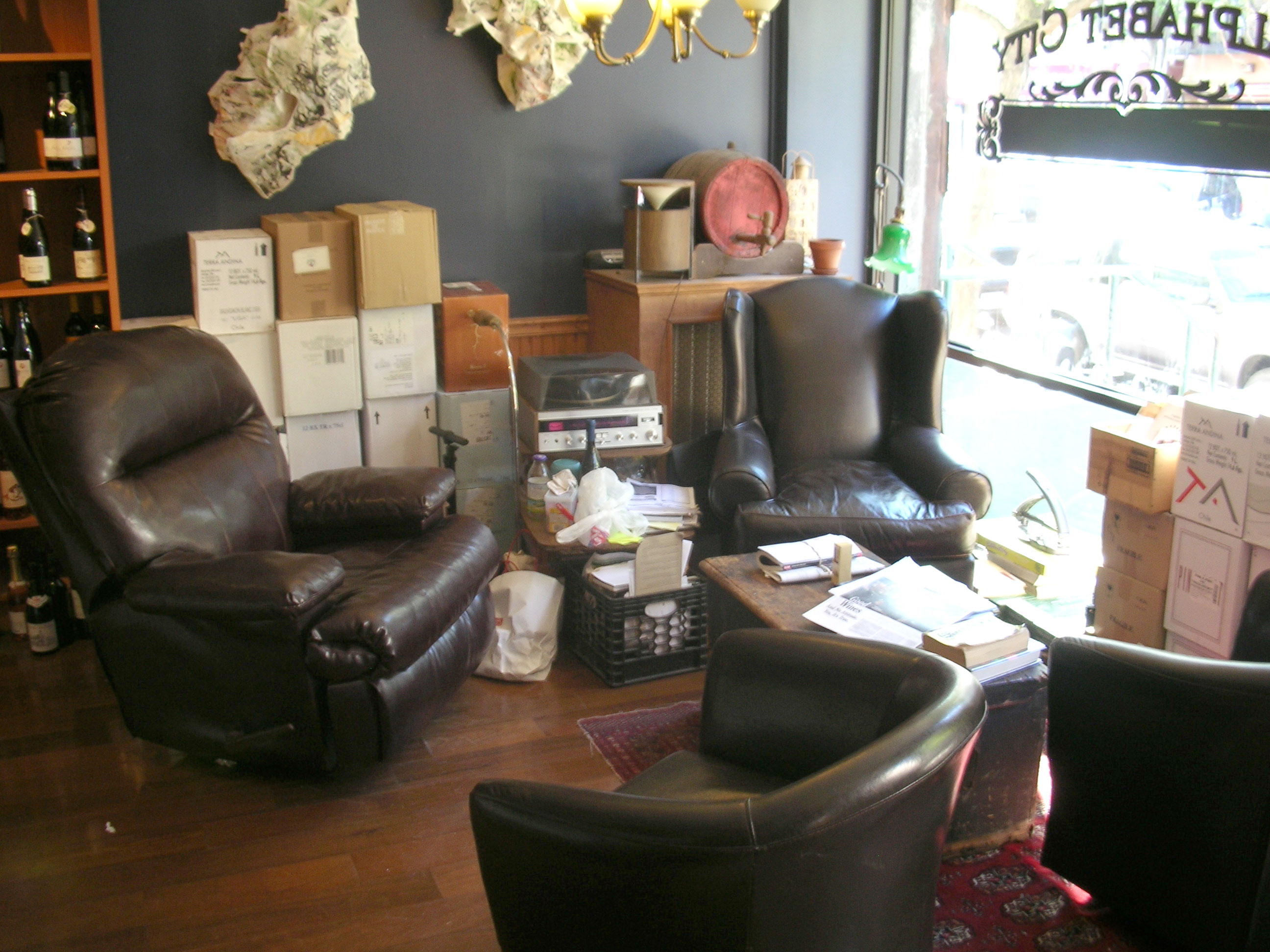 What I really enjoyed about the shop is the cosy atmosphere that invites you to stay a little longer, relax with a glass of wine (as I did during one of the regular Saturday night tasting sessions) and chat to the staff. If you want to go to a wine shop to read a book and watch time and pedestrians walk by, this is your shop. Yes it was groovy as it could be. Walk with me down Avenue C. Man, I really hope to stay. Come on baby, while we ramble, walk beside me while we ramble!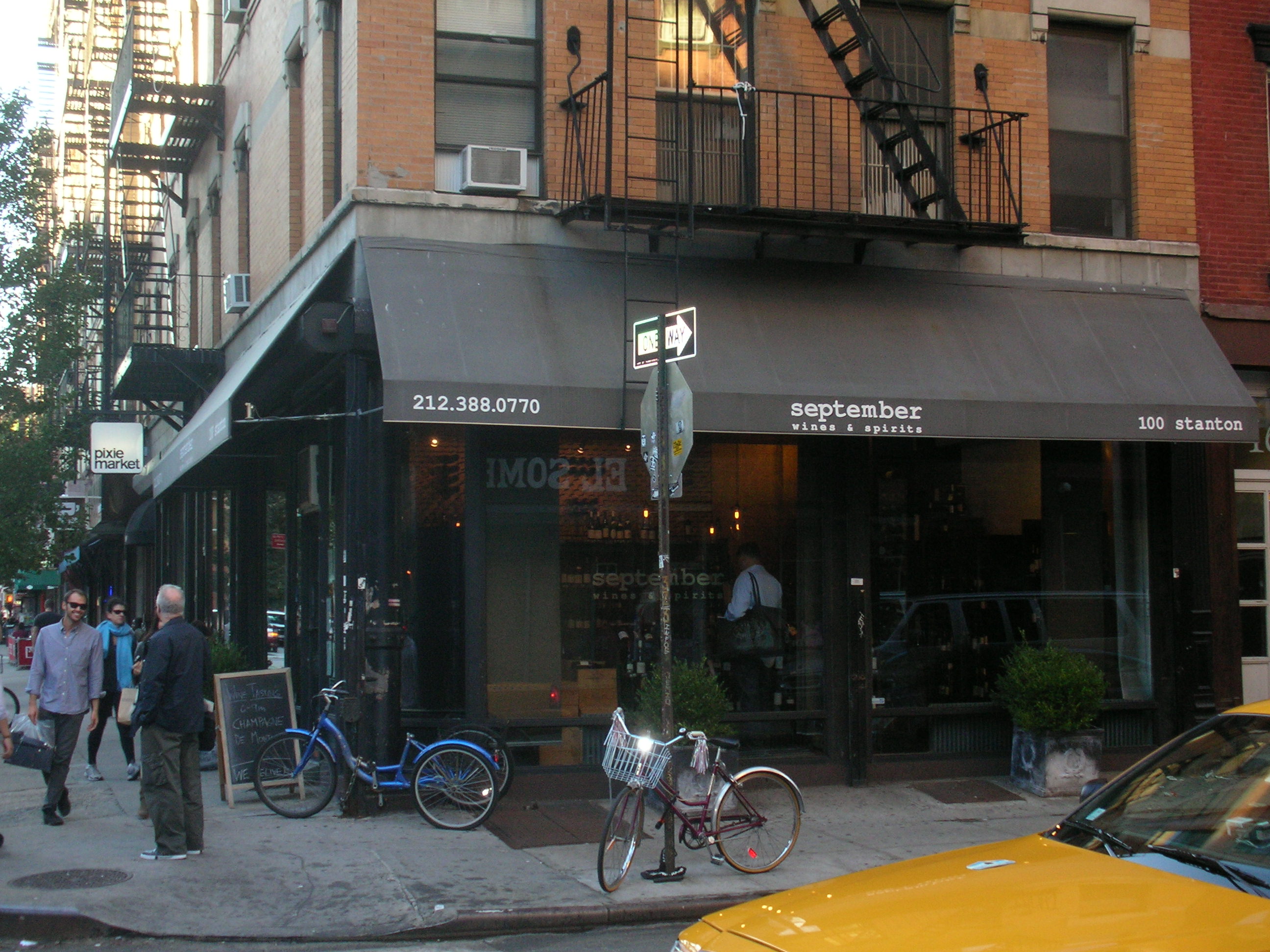 So follow the Wine Rambler south, towards the Lower East Side, on a nice autumnal walk to September Wines, where the morn meets the dew and the tide rises, a true glory box of a wine shop. For this one I feel I need to get out of my way and stop quoting from songs with a NYC focus, and that is because Portishead - which they were playing when I popped in - really suit the atmosphere in this stylish shop. A shop that my small, elderly compact camera could not do any justice (this was one of the moments when I wished I'd brought the SLR).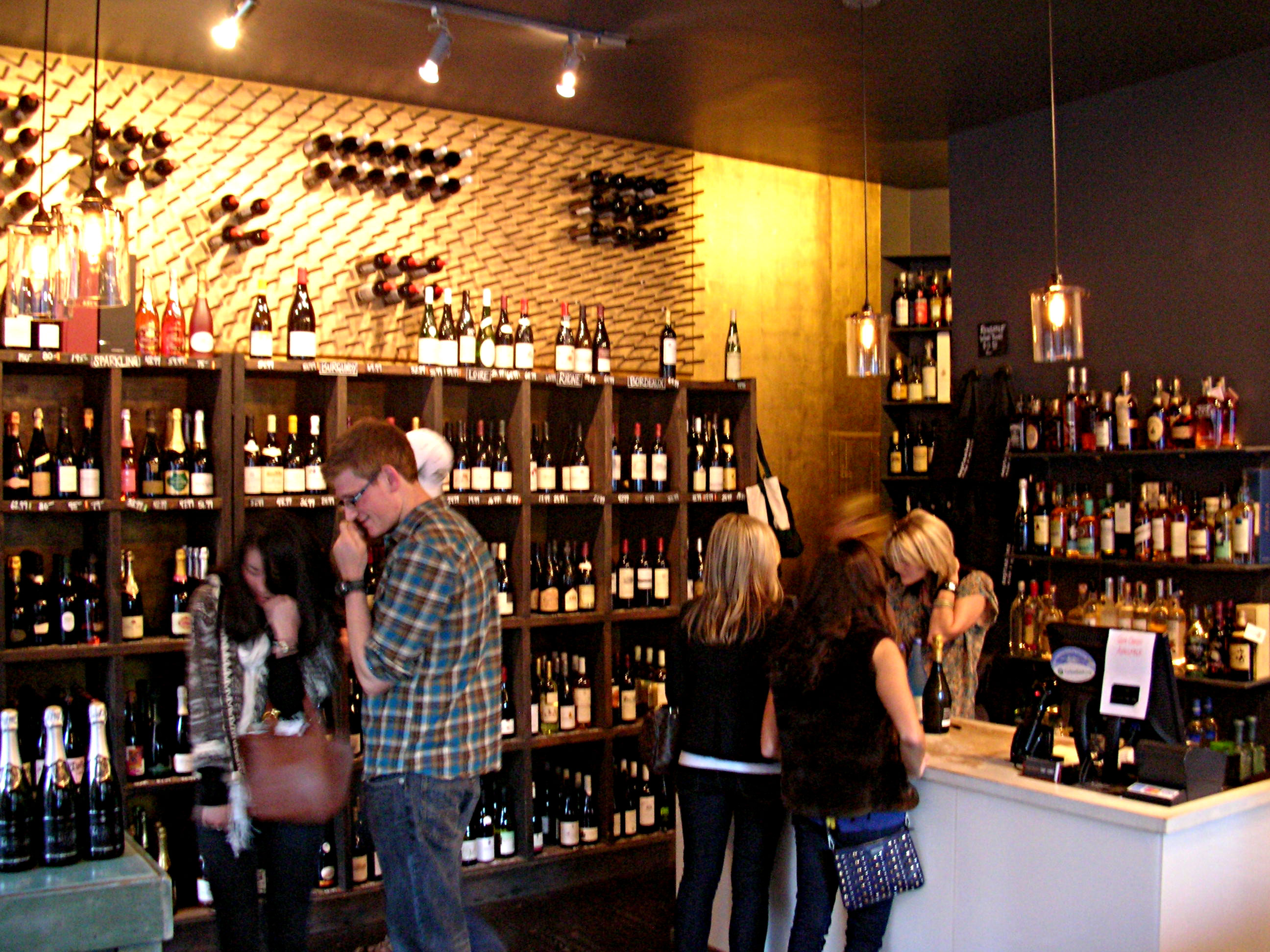 There was something about the light, the music, the way the bottles were presented, the cute girls working there - just the overall atmosphere that made the lively shop very likeable. In an ideal world, they'd kept playing Portishead with a massive thunderstorm coming down on New York City and the shop with all of us being sucked into an alternate dimension that was stylishly dark with shiny bits. 'Cause everyone's your friend in New York City, and everything looks beautiful when you're young and pretty. The streets are paved with diamonds and there's just so much to see. But I digress.
Luckily, September Wines is not only about atmosphere, there is also the wine. In terms of Germany, the range is not too big, but it includes our favourite Van Volxem Saar Riesling (for $21 one of the most interesting buys I have seen in NYC) and a few other Rieslings, for instance from Johannishof or St. Anna. I have to say that I found the Austrian range much more sexy though, with a small yet really good balance of wines. This included a Blauer Zweigelt from favourites Anita and Hans Nittnaus, Grüner Veltliner from Sepp Moser and Anton Bauer and a Riesling from Graf Hardegg. All of these wines I'd have bought, but as I live close to the source I went for an American Pinot Noir instead (review to follow). It was recommended by the very helpful staff member I pestered for US wine recommendations, and who also tolerated my excessive (yet unsuccessful) picture taking while they were getting ready for a tasting.
A few days later I was strolling through Brooklyn, which was very calm and almost empty on a Tuesday morning, making me feel like the only living boy in New York. However, I was not, as there was another boy working at Smith & Vine, a cute wine shop with an interesting selection of German and Austrian wines. And a fantastic ceiling.
So, what did I find? First of all a friendly and chatty owner, who told me that, following a recently completed refurbishment, he was now thinking to significantly expand his German wine section. This should really make it worth a visit for fans of German wine, as Smith & Vine do already have the most interesting German range I have found during this visit. Obviously, there is Riesling, for instance from the well known wineries Schloss Lieser, Leitz, Diel or Sankt Anna. Von Buhl are present with a rosé and a Pinot Noir, and the internationally famous JJ Prüm tempted me with a Beerenauslese. I would have happily bought most of these wines, and jester Leitz made me laugh with a wine entitled 'Leitz Out' (I've seen the lights go out on Broadway, I saw the Empire State laid low.). There are also several really interesting Austrian wines, including producers such as Loimer, Neumeister, Knoll, Hirsch, Wieninger, Stadlmann (with a Pinot Noir) and recent favourite Prager with a tempting Riesling. With Germany and Austria only being one section at Smith & Vine, there is much more to explore. In the back of the shop you will also find a wonderful selection of booze.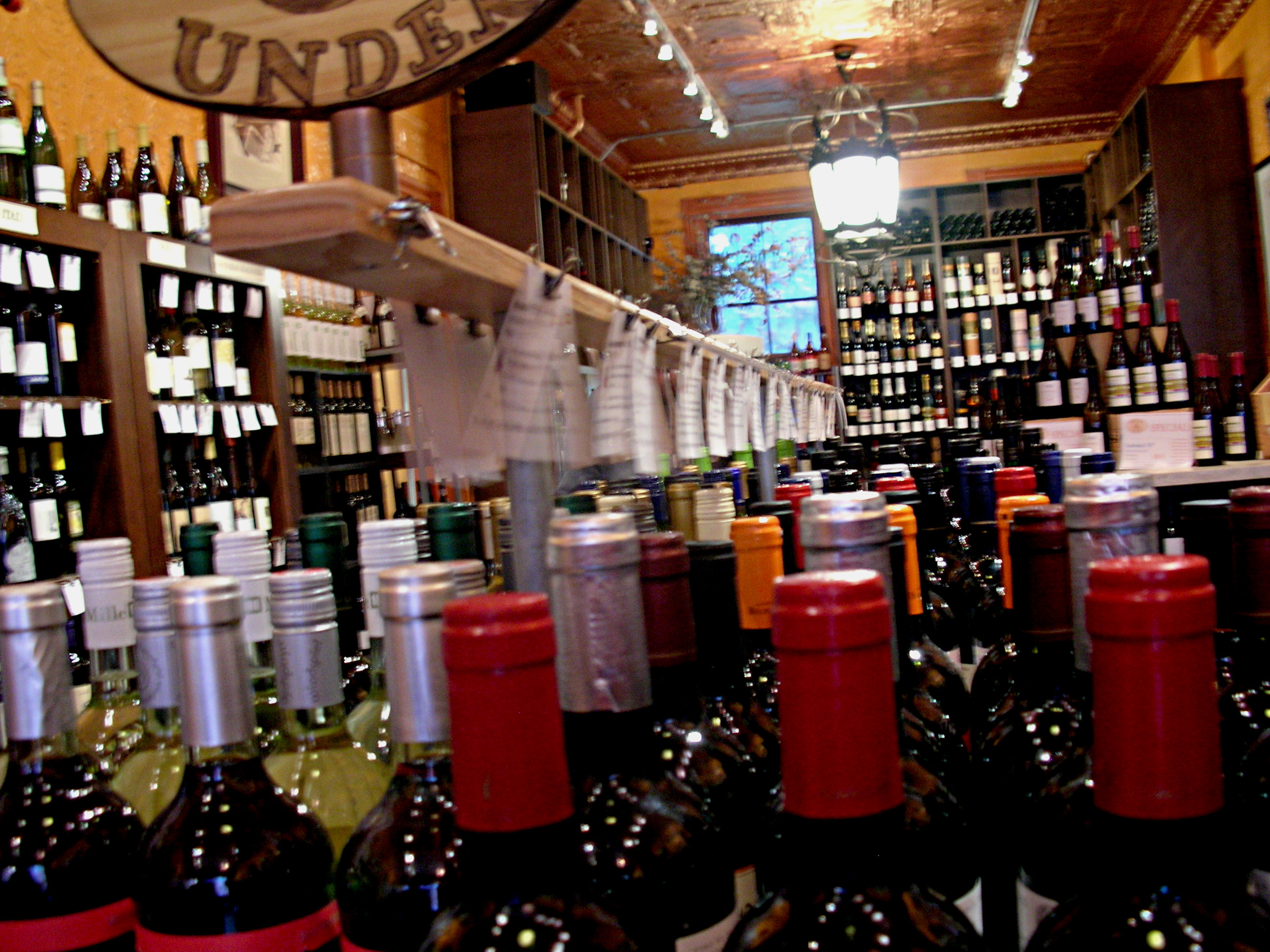 Leaving the good selection of wine aside, I really like the colours and the light, the way the shop is laid out and, as I mentioned before, the great ceiling. Go visit! See I've been to New York City. Seems like it was yesterday. I was standing like a pilgrim on the Great White Way. The girls were really pretty, but they wouldn't talk to me. I held out about a week, went back to London Town. At least with identifying this last lyrics snipped I will help you out...