A Tale of Two Vineyards - One Man's Journey Into Amateur Viticulture and Viniculture. A guest ramble by Steve Race
We all have our dreams. The Wine Ramblers sometimes imagine casually telling a guest who has just praised the marvellous Riesling we served them that it came from our own vineyard. While many have this dream (different varietal perhaps), only media celebrities ever seem to realise it. After all, you cannot just grow vines in your back garden. Or so I thought. Until I came across Steve Race. Steve has done exactly that - planting vines in an allotment in Yorkshire, of all places, and making his own wine.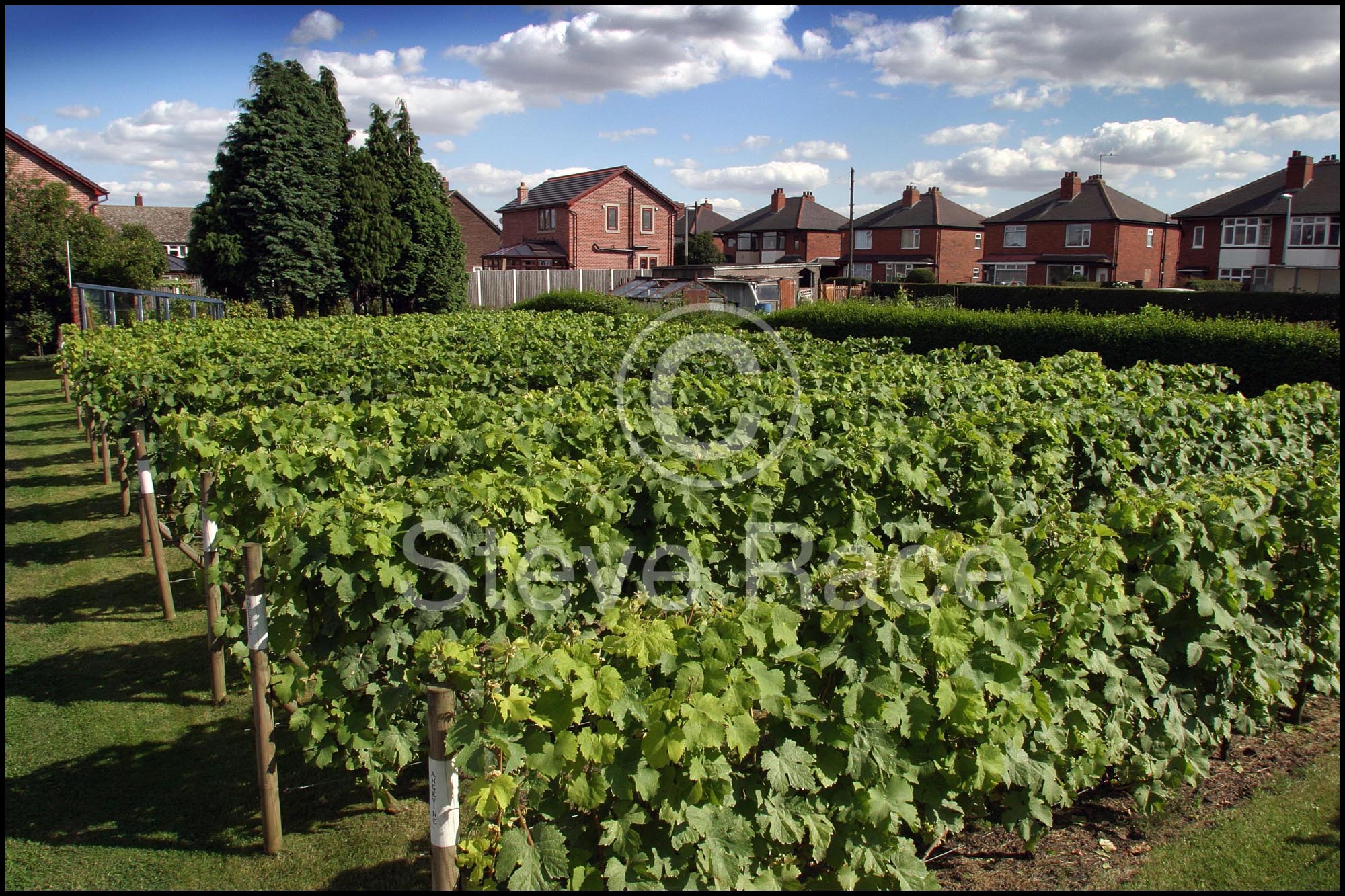 In this guest ramble, Steve shares some of his experiences with home wine growing and making, first in England, now in Spain. Enjoy, and learn.
The Early Days...
Wine has always held a fascination for me. However, home-brewing started out of necessity during my college years when I just required a cheap drink. It began with the usual 'Boots' beer kits. Then, when these failed to excite me I moved on to fruit-based wine-making. I experimented with various combinations over the years (mostly enjoying the making rather than the drinking!), eventually settling for blackberry for red, strawberry for rosé and pear for white. After-all, turning water into wine isn't the Biblical mystery it's made out to be (although obviously you need to be someone special to make it flow freely from a tap!). All you need is a demi-john, an air-lock, 5 litres of water, 1 kg of sugar, the juice of a lemon and some bakers' yeast (*), and Hey-Presto! in a month you'll have a basic clear (although flavourless) wine. To add a bit of flavour, you can supplement one or two of the litres of water with (litre) cartons of your favourite fruit juice. Try a combination of peach, apricot and orange juices and you're beginning to get somewhere close to the basic flavours a Chardonnay can give, but they never quite 'hit the mark' in the same way as the lush nectar of the God's I regularly sampled from a specialist wine merchant in Harrogate.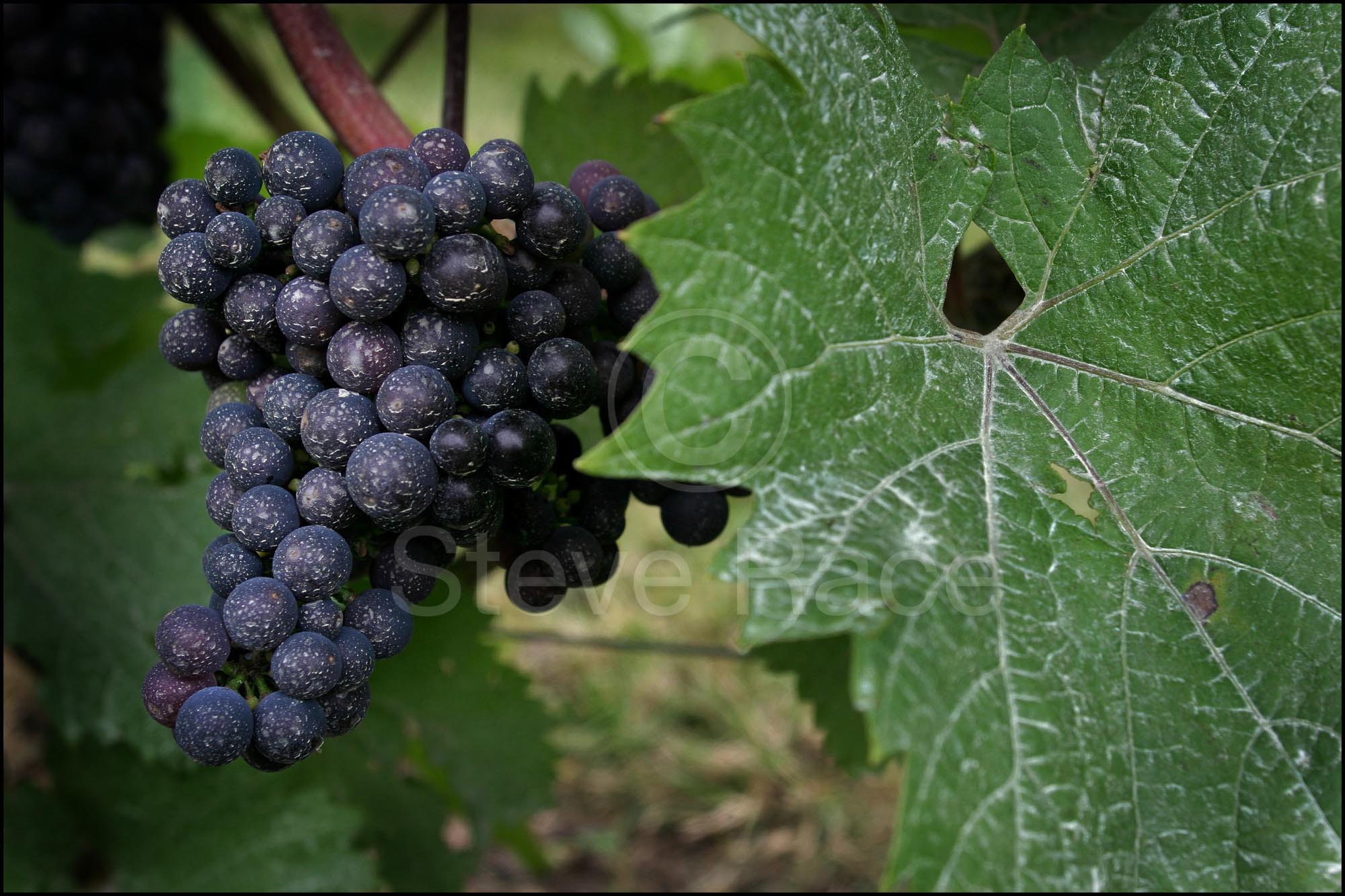 Forever lacking the true feeling of grape-based wines, it wasn't long before I started to contemplate the idea of growing my own grapes. It wasn't just the taste I liked, for the merchant was a man who was passionate about wine, and I could listen for hours as he waxed lyrical with stories of producers who flouted convention in search of perfection. Tales of those vignerons in the Rhone who tended vastly unproductive century old vines in the quest to produce something of immense flavour and intensity, or the likes of Mas De Daumas Gassac, who rather than be restricted by AC regulations in their search for a wine of Chateau Lafite quality, were only allowed to classify their wines as Vin Du Pay's having planted Cabernet Sauvignon in the Languedoc, Southern France. I became hooked, and inspired by the planting of a new vineyard on the outskirts of Leeds, the search was on...
The Domaine Fifty-Four North Vineyard
I secured an allotment close to my (then) home and in 1996 we planted our first hobby vineyard, and kept this going for our house wine until emigrating to Spain in 2006 (it's now in the capable hands of a friend, as it was a shame to grub it up when the vines had reached maturity). Set in Yorkshire, the vineyard is on a 500m sq allotment plot and is planted with a mix of red and white grapes, trellised North-South and Double Guyot pruned.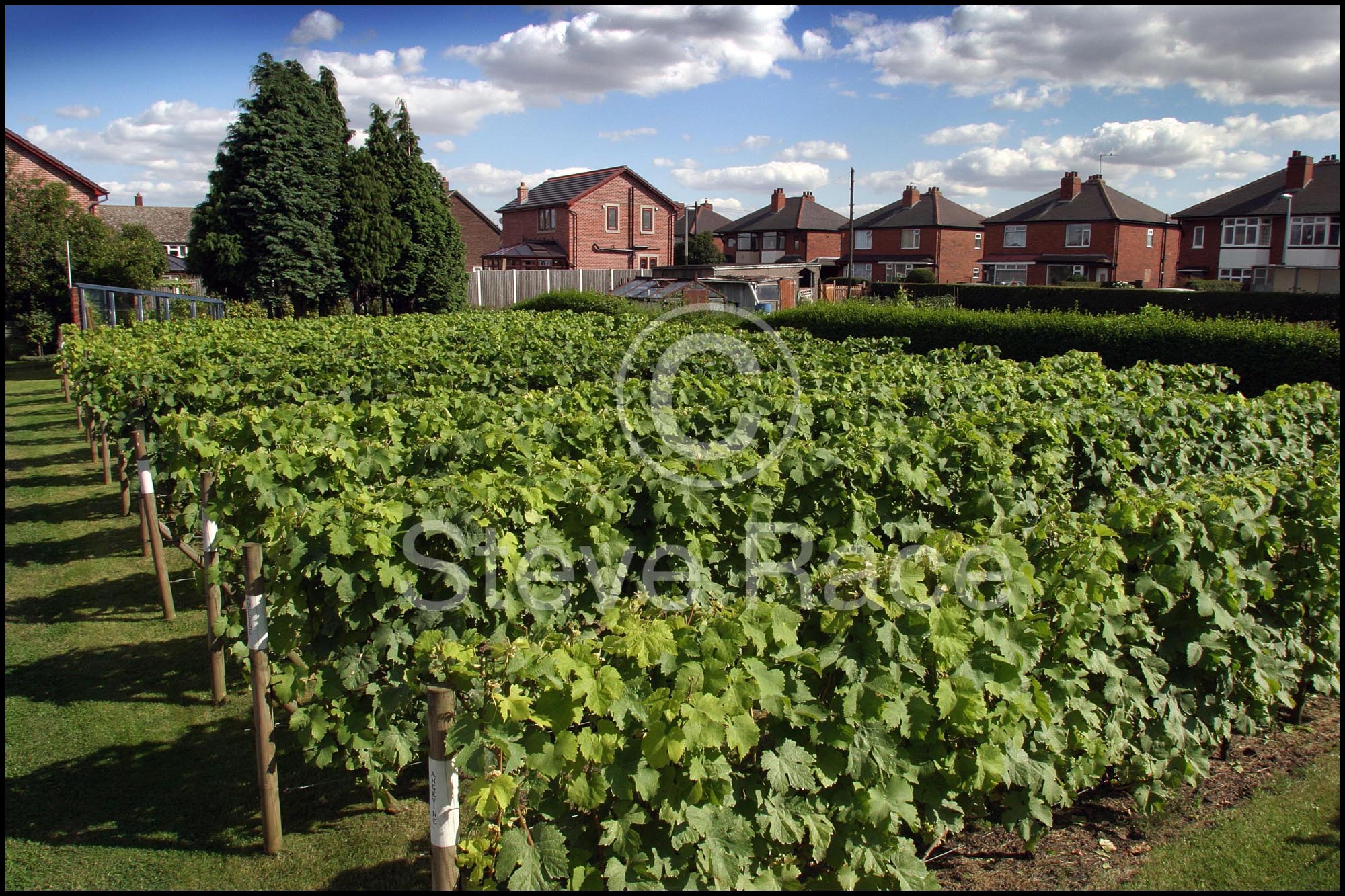 For the reds there are Dornfelder, Triomphe and Leon Millot; for the whites Madeleine Angevine and Madeleine Sylvaner. A area of this size can house around eighty vines (including a little free space for some vegetables) and I'd recommend it to anyone who has an interest in wine. Once established, it only requires a few hours of labour per week, and not only do you learn more about wine than can ever be gleaned from the inside of a glass, it can also become an all absorbing hobby, with the added benefit of 120 bottles of tax free wine per year!
Madeleine Angevine & Madeleine Sylvaner 2005
A worrying start, as on pulling the cork there was a faint smell of turpentine. The cork had degenerated (although still in sound condition where it contacts with the wine) and the level in the bottle had dropped by approximately 5cl's over the years. The wine was decanted for an hour while the photographs were taken. This became its saving grace... On the nose there was a strong floral sense, and this gave rise to the impression of Rambutan when preserved in syrup (...like the small tins of the fruit I remember buying from Asian Deli's).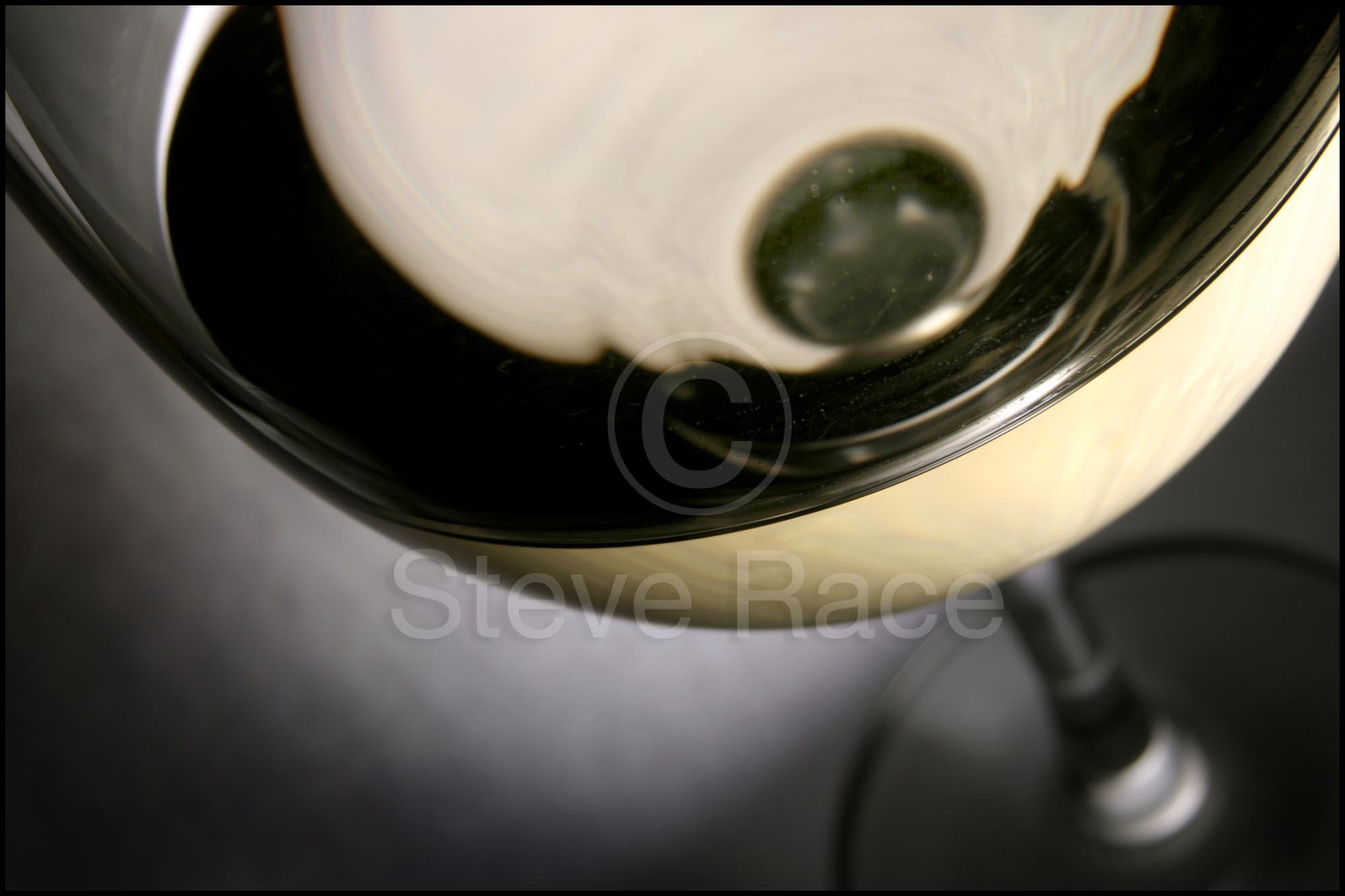 Originally the grapes were picked at a potential alcohol level of 9% to preserve the acidity, then chaptalised with sugar to a potential of 11% alcohol. They were then given 15 hours of skin contact after crushing and destalking and a pectic enzyme was used to extract flavour from the skins before being pressed and inoculated with the chosen yeast. This has led to creating a full-bodied wine in need of no oak for flavouring, and has given the wine a warmth of mouth-feel drawn from the higher alcohol content. On tasting, the acidity has held well, without being overpowering, and the soft fruit sensations of ripe melon and sun-warmed apricot come through. On the back of this, the hint of freshly grated lemon zest just catches the throat on the farewell. It has a good length, with the flavours developing then dissipating over a few minutes.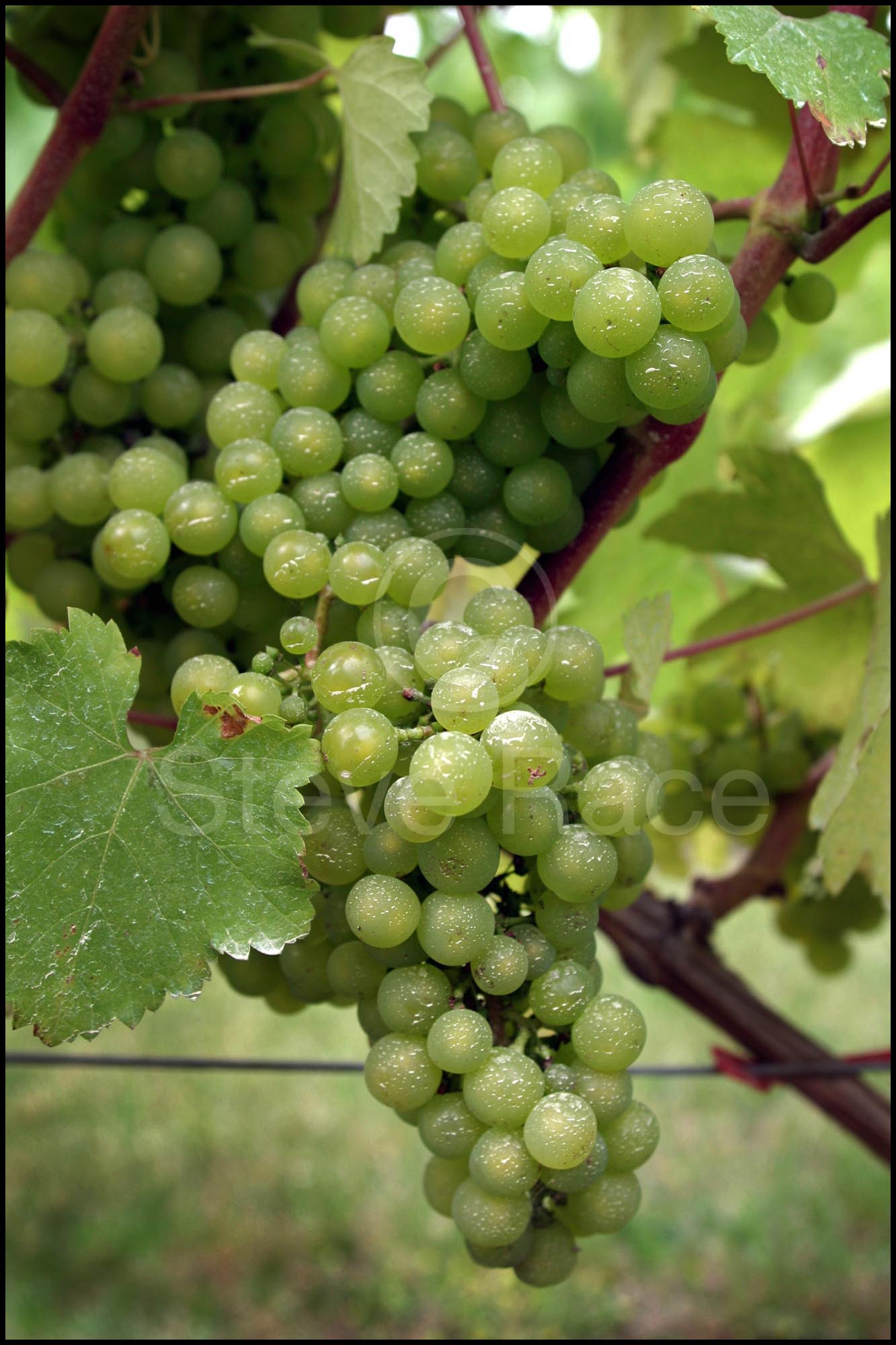 By rights, at six years old, this wine should be well over the hill as cool climate English wines are designed to be drunk young and fresh, but this wine still has body and guts and is showing no signs of senility. The techniques employed in its making are not the norm for English winemakers, but wanting to create a fully European style of white wine I followed a slightly different route... and I'm so glad that I did! As a vine, Madeleine Angevine is susceptible to mildew in a humid climate like England's (Madeleine Sylvaner less so) and therefore needs a regular spray program and careful canopy management to protect it, in addition to this, it's wine needs careful attention to prevent oxidation. Having said all that... I wish I still grew this variety.
Our standard technique for the harvesting and making of red wine:
The grapes are brought in from the vineyard, where they are put through a crusher-destalker. The skins and juice are then collected in sterile containers ready for fermentation. All matter other than grapes (leaves and stalks etc.) are removed and the must is sterilised before adding a pectic enzyme. This is allowed to work on the grape-pulp for twenty-four hours to further break down the skins and draw out more flavour. The must is then inoculated with the chosen yeast and fermentation is carried out over the ensuing week.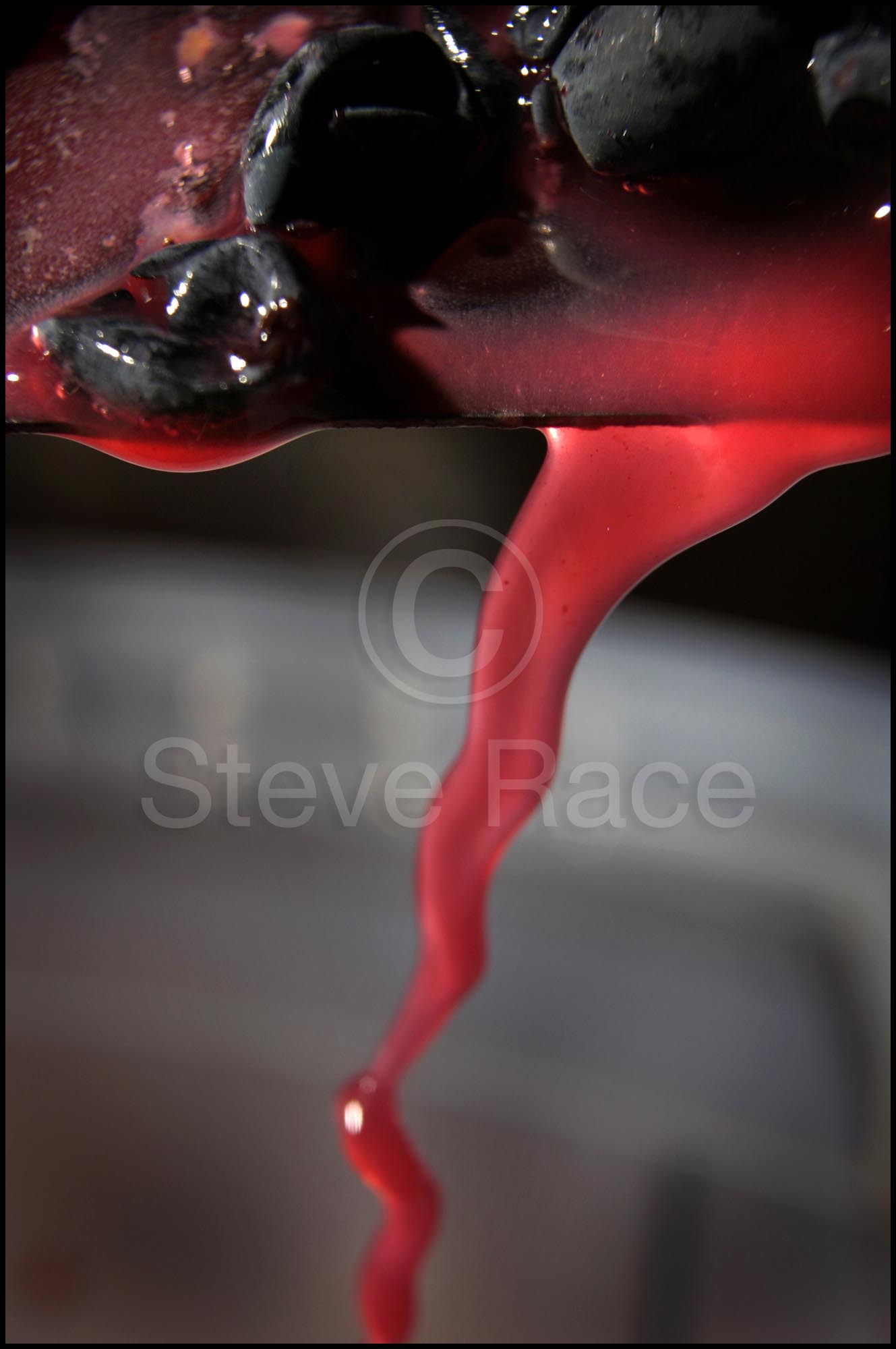 When aerobic fermentation ceases the wine is then pressed and held in containers under an air-lock, where anaerobic fermentation can continue. At the end of this, the wine is then racked and allowed to mature for a further twelve months in bulk before being bottled.
Dornfelder 2005
Fermented on the skins for seven days, using a 71B yeast. Picked at 11%, it needed a little sugar to bring it to the 12% alc/vol to give it the required 'mouth-feel'. This is a medium to light bodied wine, bone dry and yet low in tannin. On the nose there is a hint of cherries, as well as plums, and not dissimilar to a light Merlot.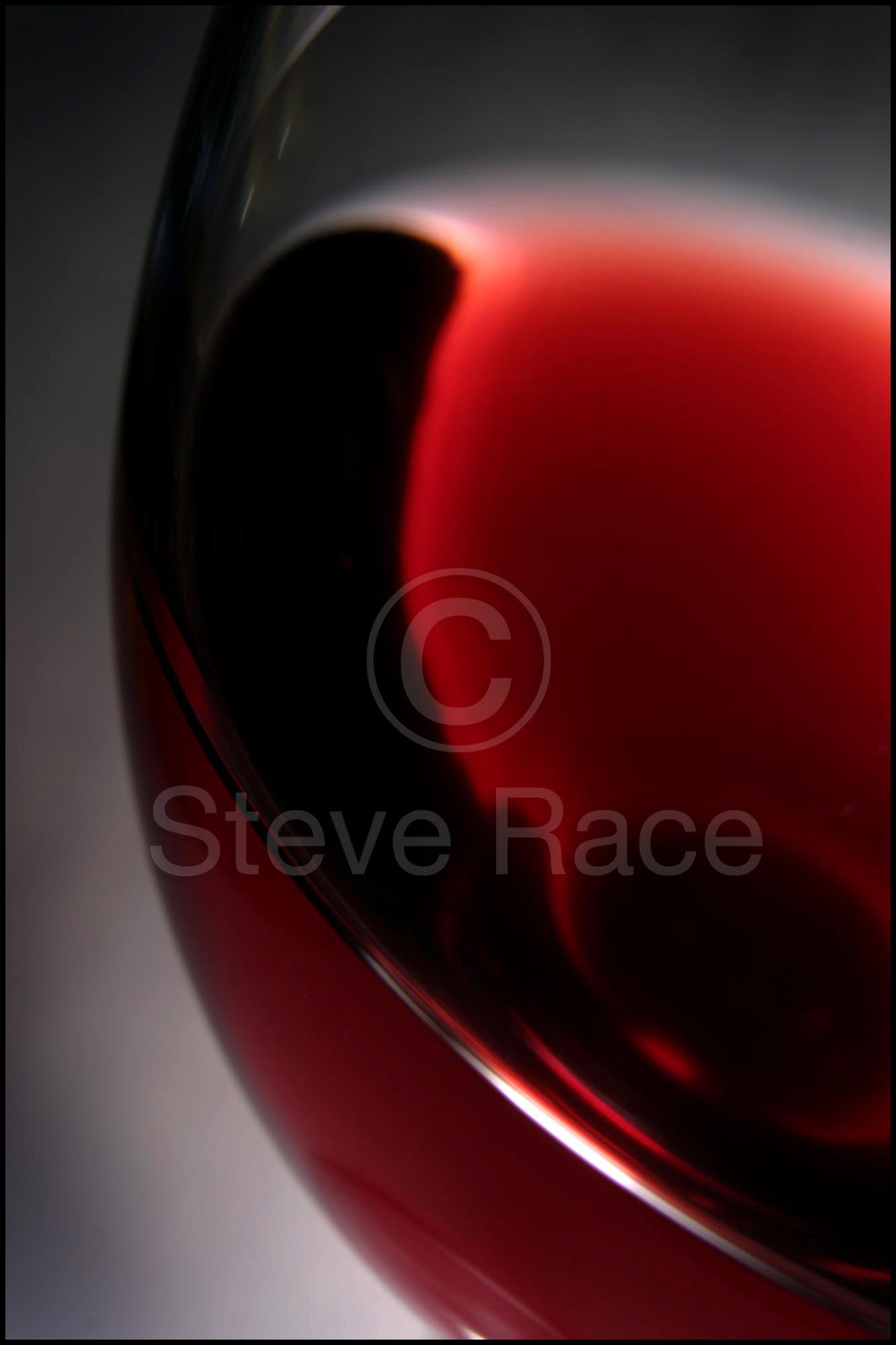 At first taste you are assaulted by the acidity, which is quite high and reminds me of my first experience of biting into fresh, home-grown redcurrants, but this subsides to develop into the usual mix of red-berry fruits. The finish is a little short, which disappoints, but the pleasure of growing such a wonderful vine far out-weighs this minor fault...
Triomphe & Leon Millot 2005
The 'usual' technique of crushing, destalking and fermenting for a week on the skins using a 71B yeast. It's a robust, full-bodied red coming in at 12% with no need for chaptalisation.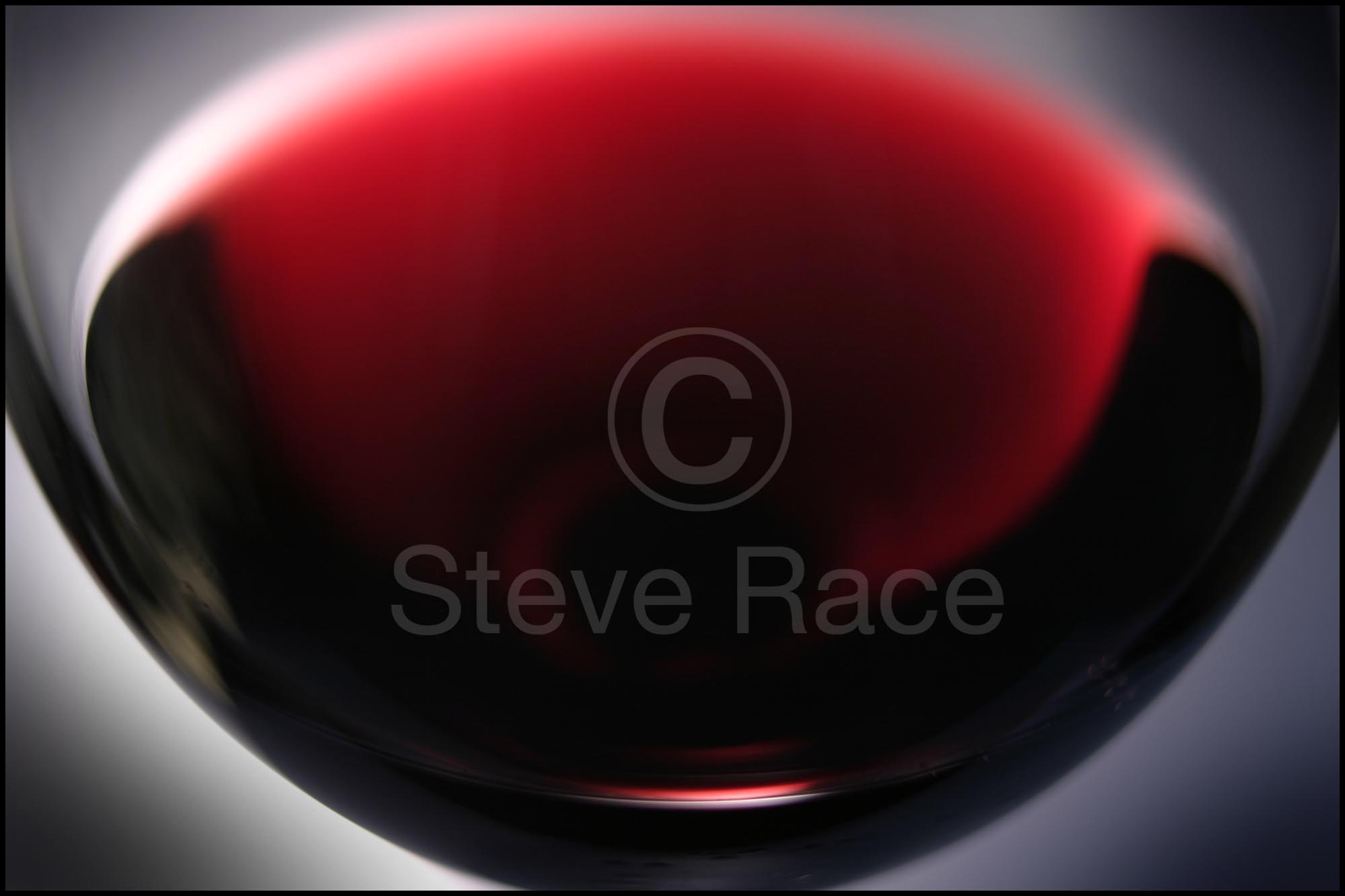 After five years, on the nose it is now quite plummy. At first taste there is that hybrid-ness that you can only get with this type of vine, but there follows a lush, full, blackberry and damson flavour with a long finish that stays with you and leaves you wanting more... The tannins are firm, feeling like they are leathering the sides of your mouth. I'm surprised I managed to keep my hands off it for so long... A triumph for Triomphe!
The Camp d'Estrelles Vineyard
Wherever we go I intend to grow grapes, so in 2008 we planted the Camp d'Estrelles vineyard, which is home to my favourite varieties. Providing you have access to land, planting a vineyard for your own house wine is not as expensive to do as you might imagine. Ours cost a total of £350.00 for 250 vines and enough posts and wire to trellis them. We have a mix of Syrah, Mourvedre and Grenache, as the wine from the hills of Hermitage are my passion, and I wanted to emulate the taste of this Southern French region. It's hotter and drier here (Spain) than France, so the wines will always be different, and may never carry the finesse of The Rhone wines, but it is just a hobby after-all.

Everything is trellised North-South and in full sun, but to be honest, it's so hot here you could grow them on a North facing slope just to help slow down the ripening season. Syrah I love as a grape, and although cane growth is strong, the tendrils aren't, therefore it's a very untidy vine. Mourvedre is a sturdy, upright vine that takes to the trellis well. Grenache is a crazy vine, and sends shoots in every direction but upwards, which is probably why they spur-prune here rather than cane-prune, but cane-pruning is the system I prefer, although I am now starting to think that I may need to resort to a spur system with a permanent framework, as vigour is annually low in a country with this little rainfall.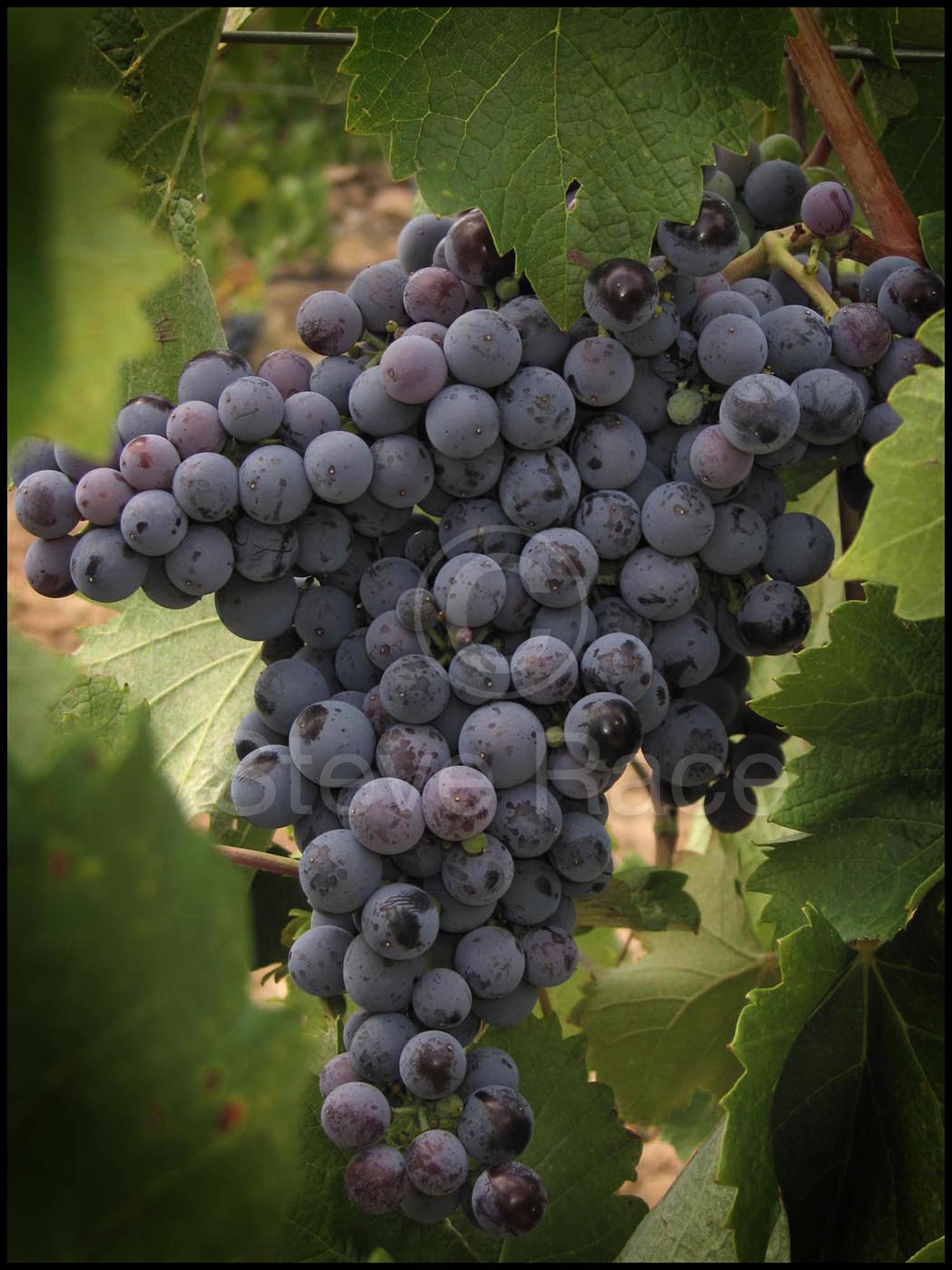 Needless to say harvesting is done early in the morning while the grapes are still cool. Fermentation is at room temperature, which is between 26C and 30C at this time of year (August), and I don't think the new winery I'm building will be much cooler (at the moment, all work is carried out in the kitchen!) even though the walls are 40cm's thick and made of stone.
Syrah 2010
The grapes were picked at SG 1.105, giving a rather high potential alcohol value of 14.9% (this value is a little high, and we intended aiming for between 12.9% and 13.5%, but circumstances beyond our control meant that the harvest was delayed). They were then crushed, destalked and fermented on the skins for nine days using a 71B yeast.
Deep purple in colour, thick and inky, this is a full-bodied wine make no mistake. A heady brew, the high alcohol content means that you can almost smell the heat of the summer Sun beating down relentlessly upon the parched terraces. A gentle swirl reveals ripe cherries coming through on the nose. The taste is firm, but not too tannic. Destalking has obviously helped to tame it to some extent...it's youth is still drawing in the sides of the mouth. Cracked peppercorns couple with ripe blackberry flavours to engulf the senses. The finish is good and well drawn out, with the warming effect of the alcohol adding a subtle 'glow' as it passes gently away.
Mourvedre 2010
The grapes were picked at SG 1.090, giving a potential alcohol value of 12%. They were then crushed, destalked and fermented on the skins for nine days using a 71B yeast.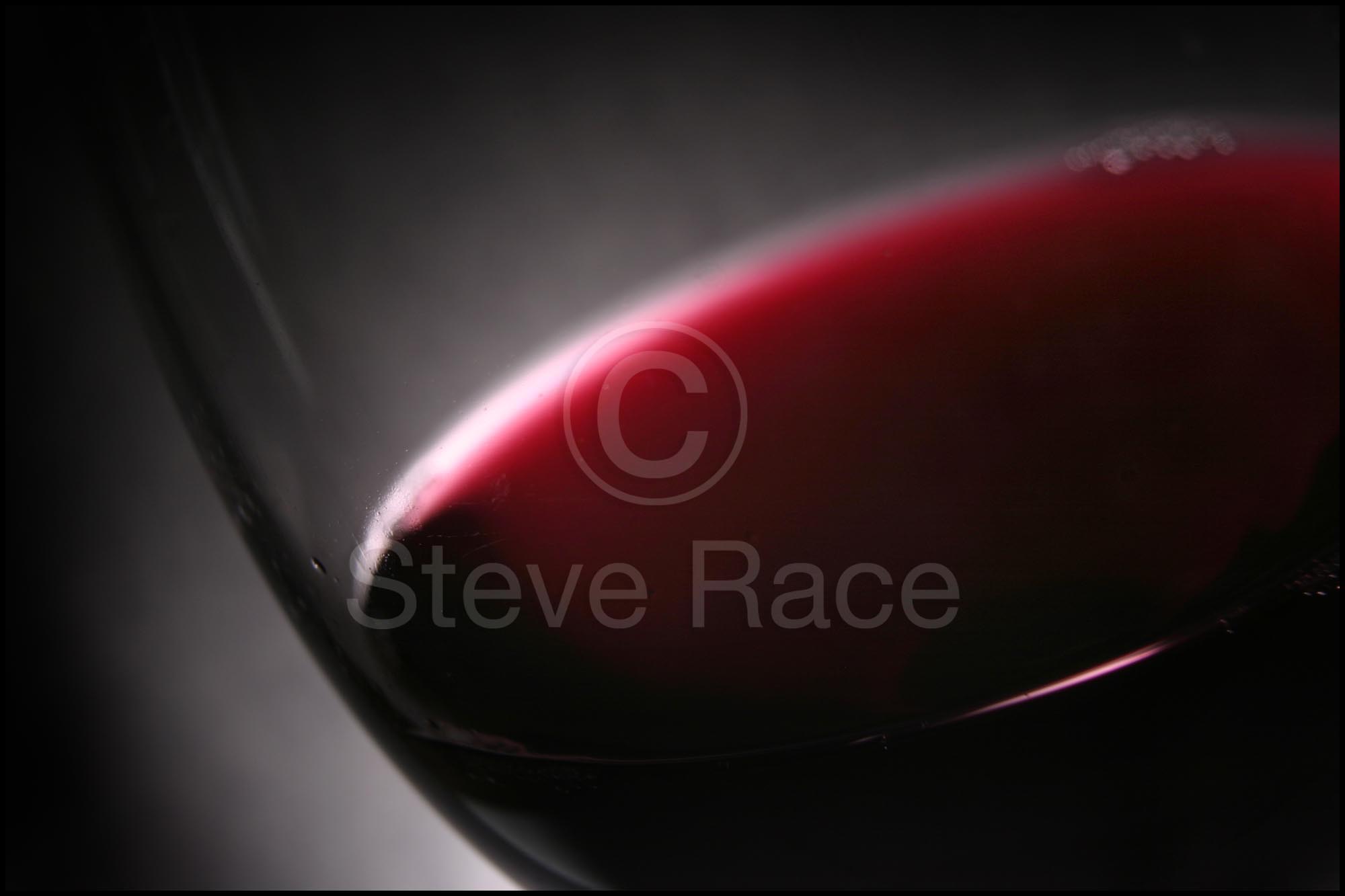 Dark, cherry-brick coloured, a well-structured looking medium-bodied wine. On the nose is an intensity of plums I've not come across in a long time. The tannins are firm and mouth-drawing from youth. Bone dry and rich and fruit-filled, damsons and blackberries are the primary autumnal fruits coming through. A strong and lingering finish.
Syrah Pomace Wine 2011
The skins from the original pressing were returned to a sterile container and then soaked in boiling water for 24 hours, sugar was added to bring the liquor up to 12% potential alcohol by volume (SG 1.090) and the juice of a lemon was added to replace the lost acidity. A normal bakers yeast was added (as I didn't want to waste any of my precious 71B yeast) when the solution had cooled to 25C and this was then allowed to ferment on the skins for two weeks. The resulting wine was then pressed (SG 1.020) and continued to ferment under an air-lock for a further forty-five days. Fermentation ended with an SG of 1.002.
This has created a light-bodied wine with little in the way of 'nose'. There is a little fruit-fullness, but nothing in comparison to the original. The residual sugar has left a sweetness to the wine which could be avoided by using a dedicated wine yeast, as the alcohol tolerance of the bakers yeast was obviously not up to the task. Bone-dry, this could make a wine that is tolerable as a chilled, refreshing drink after a days labour, but to be honest, if you respect your taste-buds then you would probably pass on this one.
Would I make it again? If, like me you seek self-sufficiency, then it is a way of stretching a limited resource without buying in more grapes, and I'm sure I'll try it again with a specified wine yeast. Due to it's sweetness however, this batch may just make the grade as a mixer...
...as for the Grenache, we will have to wait a little longer. The 2010 vintage suffered heavily from wasp damage. A wine was made from what was available and came in at 12% potential alcohol level. This is obviously under-ripe for this variety and the resulting wine was thin and insipid. In 2011 we were hit by wasps yet again as the grapes were coming up to ripeness (the thin skins are just too inviting for the wasps to resist...!), but we were lucky enough to get them up to 13% alc and a resulting wine was made. Early indications are that this wine is an improvement on the 2010...
You can follow our regular posts on Twitter: http://twitter.com/CampdEstrelles and Facebook: http://www.facebook.com/CampdEstrelles where you can see pictures of the vineyards' progress, or visit the websites photo gallery: http://www.campdestrelles.com/apps/photos/
(*) When not using a grape based liquor, then yeast works better when in the company of a yeast nutrient.
Update 4th February: These are amateur vineyards and as such, unfortunately these wines are not for sale as this would contravene planting regulations. The purpose of this article is to demonstrate how easy it can be to own your own vineyard and make your own wine, and in so doing, hopefully encourage as many as possible to pursue this fascinating pass-time.
Should the "virtual" tasting of these wines interest you and you would like to try something similar, then I urge you to do so. Although every wine differs due to site, soil and micro-climate (...via that wonderfully French catch-all phrase of "Terrior"), there are many places growing the grape varieties I have described. Many English vineyards offer these wines commercially, and I suggest a browse through the UKVA (the United Kingdom Vineyard Association) website or the English Wine Producers listings may be of some help. As Grenache and Mourvedre (in Spanish: Garnacha & Monastrell) are two of the most popular vines in Northern Spain it shouldn't be too hard to track down a varietal wine of these. Syrah on the other hand, although gaining in popularity here, is generally used in blends.