Hungary's unique white wines - a guest ramble by Molly Hovorka
For a little while now the Wine Rambler has been interested in wine from Hungary and Eastern Europe and we have been lucky enough to taste a few original and unusual wines from this often overlooked part of the wine world. After sharing our latest adventure, a Hungarian Cabernet Franc, on Twitter, we realised that we were not alone with this interest. Molly Hovorka, for instance contacted us with suggestions on which Hungarian wines and producers to explore further. In particular, she encouraged us to look into the indigenous varieties of Hungary if we wanted to find a few unusual surprises. If you too are curious to explore wines a little out of the ordinary, you may want to read what she has to say on:
Hungary's unique white wines, by Molly Hovorka
Ask most non-Hungarians what they think of Hungarian wine and you will likely be met with one of four reactions:
A blank stare
A drunken tale of visiting Eger's 200+ cellar row while backpacking
A fond memory of tasting a Tokaji Aszu dessert wine
A grimace at the thought of Hungarian Bull's Blood supermarket plonk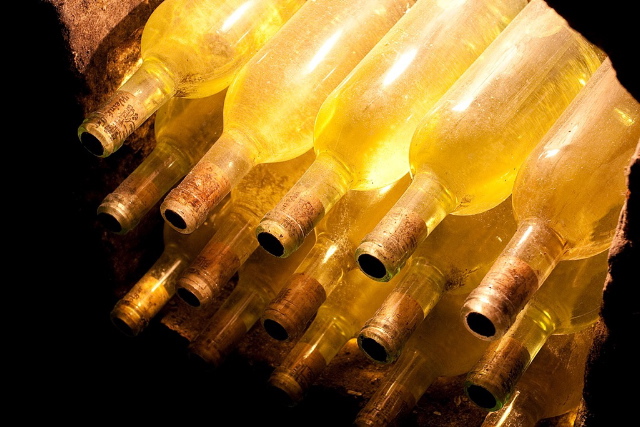 Despite its still relatively unknown reputation, there are many, many wonderful Hungarian wines to be had, as is evidenced by the growing number of importers and distributors of Hungarian wine, particularly in Germany, the UK, and the US. This growth in new markets, however, has not been without impact on production with winemakers planting more and more "marketable" grapes like Cabernet Sauvignon, Pinot Noir, and Chardonnay. There has also been a definite rise in the construction of state-of-the-art cellars, investments in top-of-the-line equipment, and the influx of new world wine consultants.
In my view, some of these changes are a definite mistake. While there is an undeniable market for grapes like Cabernet Sauvignon, Hungary simply does not have a competitive advantage relative to other countries in the more popular varietals. It lacks the land necessary to scale production, and the quality and consistency are often below what you would find in similarly priced wines from Spain, Australia, Italy, or California. That is not to say that there are no gems; there certainly are. However, I do think that Hungarian winemakers could do more to capitalize on some of the country's unique varietals, creating the kinds of distinctive wines that wine lovers are excited to discover and share. It is these types of wines that bring something truly different to the market.
Hungary's white wines are perhaps best suited to this task. From their difficult-to-pronounce names to their distinguishing characteristics to their small production, these wines are sure to be among the most unique in your collection. The following primer provides an introduction to familiarize you with these special grapes.
Cserszegi F?szeres
Pronunciation: CHER-SEG-I FOO-SEHR-ESH
Where it is grown: Alföld, Etyek-Buda, North Balaton
What makes it special/characteristics: Marketed as the "unpronounceable grape," Cserszegi F?szeres is a hybrid between Irsai Olivér and a variety of Gewürztraminer. "F?szeres" literally means spicy, and it is indeed marked by a spicy flavor along with tart fruits and floral and wet slate aromas.
Producers: Jásdi, Hilltop
Irsai Olivér
Pronunciation: EER-SHA-EE OL-IYV-AYR
Where it is grown: Pannonhalma-Sokoróalja, Balatonboglár, Mátraalja and Neszmély
What makes it special/characteristics: Irsai Olivér is another hybrid, this time from Pozsonyi Fehér (White of Pozsony - the Hungarian name for Bratislava) and Csabagyöngye (Pearl of Csaba). Csabagyöngye, in turn, is a cross between Muscat Ottonel and Bronnerstraube. This early-ripening is strongly reminiscent of Muscat with its floral aromas and peach and apricot flavors.
Producers: Sz?ke Mátyás, Nyakas
Királyleányka
Pronunciation: KIR-AAHY-LE-AAHN-KAH
Where it is grown: Balatonboglár, Etyek, Neszmély, Pannonhalma-Sokoróalja
What makes it special/characteristics: Literally the king's girl, or princess, this native Hungarian grape originally hails from Transylvania. It is marked by its full body and clean, fruity taste.
Producers: Thummerer, Etyeki Kúria
Kéknyel?
Pronunciation: KAYK-NYEH-LOO
Where it is grown: Badacsony
What makes it special/characteristics: The "blue stem" is indeed one of Hungary's rarest wines. While most grape plants have both male and female characteristics and are therefore self-pollinating, Kéknyel? requires planting alternate rows of male and female vines so that pollination can occur. It is medium bodied with a light floral and peach aroma, very high acid, and some petrol and mineral flavors reminiscent of Riesling.
Producers: Szeremley Huba
About the author: Molly Hovorka is the creator of Baking in Stilettos, a blog about food, wine, and life in Hungary.