Trash or treasure? A random tasting of aged wines
This rather pointless little posting is for fans of aged wines. I don't mean wines cellar-matured to an ideal drinking point, but those left to grow old beyond any responsible borderline moment. It is for those of you who might hunt for old wines on eBay or via specialised merchants, but would never stoop so low as to actually drink what other people throw out in disgust. You don't have to, because this is where your self-sacrificing correspondent comes in. Let me stress, though, that I was not, I was emphatically not rummaging through my next door neighbours' garbage in the hope of finding discarded, but still filled wine bottles. It was rather that someone had left the four of them standing outside of the bin, maybe having been tipped off that there is a pervert living nearby who might have a use for that kind of stuff. He could indeed.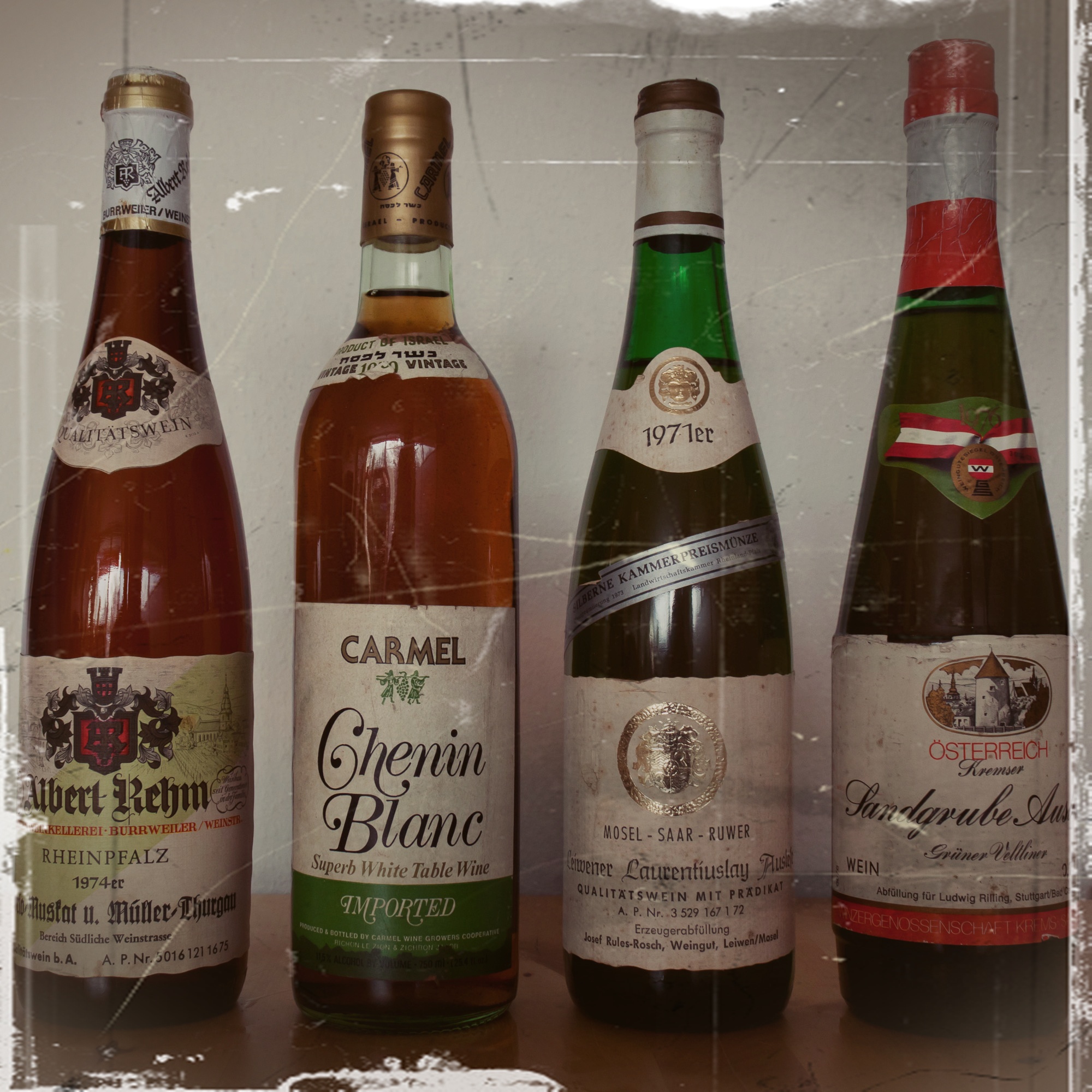 Here, then, is a little report about four random wines whose history is open to anyone's imagination and who have absolutely nothing to lose in terms of taste.
Let's start with the oldest. No, in fact, let's start with the observation that aged white wines have wonderful amber colour, in these cases sometimes beautifully clear, sometimes a little muddy, which then proved a bad sign. So, the oldest was the Leiwener Laurentiuslay Auslese from the Mosel, and from the Josef Rules-Rosch winery, which I had never heard of before, but which still exists under the same name. Cough drops and other medicinal smells in the nose, dried fruit, fruit cake that has been forgotten in the oven. Interesting (at the use of the word "interesting" in this situation, Mrs. Munich Wine Rambler is in the habit of making retching noises). Musty, undeniably musty on the palate, but lively acidity there as well. Structurally intact, only aromatically challenged, I would even consider this with a piece of nut cake.
The 1974 Morio-Muskat and Müller-Thurgau blend from Albert Rehm of the Pfalz was, there's no denying it, gone, completely oxidised, only traces of burned nuts. No fun. The 1976 Grüner Veltliner Auslese Kremser Sandgrube, from the Krems growers' cooperative (equally, still in business today), had a very similar sweet and mouldy nose, with carrot juice to add to the medicine. Quite bitter on the palate, a little off-putting at first, but with dried apricot flavour and a burned finish that, again, might make it a drinkable wine to partner a like-minded dessert.
Finally, how the hell did a bottle of Chenin Blanc from Israel's largest wine grower, Carmel, end up with those other three? Stupidly, I forgot to note the vintage, but it must have been late 70s or early 80s. Unexpectedly, this was the freshest of the bunch, though not the most interesting: A very waxy and dry Chenin, but with some dried pear flavours that were actually, erm, nice. There you go.
Instead of a conclusion, let's hear from alternative bluegrass veterans Old And In The Way once more, singing about what happens when you drink too many old wines: You're on the wicked path of sin.