Salwey, Riesling RS trocken, 2008
If it comes to the Salwey winery, we have so far mostly sampled their range of excellent Pinots - Noir, Gris/Grigio and Blanc. Located in the warmest area of Germany, the volcanic Kaiserstuhl in the South West, the Salwey vineyards are very well suited for growing Pinot. As it turns out, they also make good Riesling there, and I had one of them recently with a nice piece of fish and English asparagus.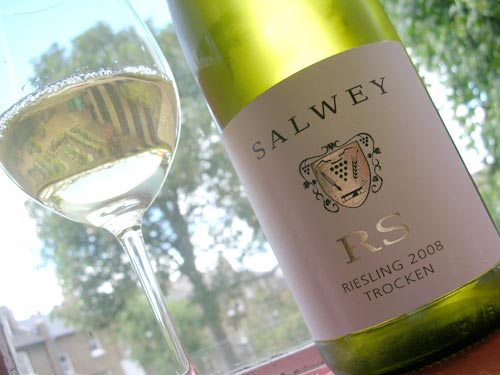 torsten
Tuesday, 08/06/2010
Salwey, Oberrotweiler Kirchberg "RS", Spätburgunder, 2004
Deep, but transparent cherry red, going brown around the edge.
Wonderful mature pinot smell, wet forest floor, plum juice, quite dense and so seductive.
Dense, but also transparent fruit, salty mineral flavours, noticeable, but by now perfectly integrated oak. It ends like a great lunch, with chocolate and coffee notes.
Excellent, a real pleasure to smell and drink.
This was my second-to-last bottle, and I didn't enjoy the previous ones nearly as much. Maybe my palate is adjusting more and more to the lighter, more elegant style of Spätburgunder (possible), or else this wine has just reached the drinking age that brings out its very best (also possible, four to six years being generally a good age to drink the better german pinots at, in my humble experience).
Julian
Sunday, 13/12/2009
Salwey, Silvaner Spätlese, Kirchberg *** 2005
It is still 2009, the year of the Silvaner grape in Germany - and the Wine Rambler is of course drinking Silvaner. After a full committee meeting last Saturday enjoyed an outstanding Silvaner from Franconia, the London branch of the Wine Rambler jumped right back into Silvaner, this time with a more aged wine - another outstanding example of what a competent winemaker can do with this grape.
torsten
Monday, 02/11/2009